Carousel Ranch Celebrates
20th Year of
"Heart of the West"
Annual Fundraiser Includes Children's Demonstration
Presented by the Princess Cruises Community Foundation, Carousel Ranch's annual fundraiser, Heart of the West, is gearing up to be the best yet! Held on the Western grounds of the equestrian therapy organization, HOTW will be catered by Salt Creek Grille with a bar hosted by Vincent Hill.
Guests will peruse silent auction items and have a chance to bid on live auction prizes like a trip to France, a studio-recording session with a Grammy-award-winning music producer, an Unlimited Sweat annual membership to Organic Sweat Shack, a "NCIS" set visit and much more. But the real draw is the children's demonstration, a tear-jerking experience that features Carousel Ranch special-need students wowing on their faithful steeds.
Be sure to wear your dancing boots, because the fun goes well into the night, thanks to Heart of the West After Dark. Line dancing, casino tables and tours of the new Tack Shack and Ready to Work! Classroom will be held by the Ranch's first group of RTW students.
GIVE WHERE YOU LIVE SCV
The Carousel Ranch Story
Carousel Ranch is a community treasure that is changing lives. For anyone not familiar, this nonprofit organization has provided developmental therapeutic and recreational programs for children with special needs through equestrian therapy for two decades. To feel the impact, imagine a teenage girl confined to a wheelchair being lifted onto the back of a horse and knowing what it feels like to walk for the first time in her life. Or watching a young boy with limited use of his right arm and leg balance atop his favorite mare. For every child served by the program there are powerful stories to tell.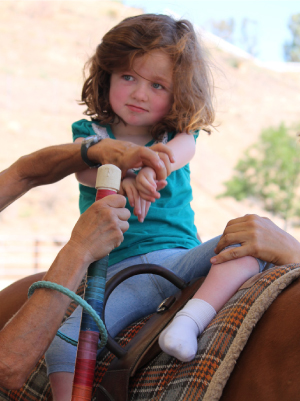 Meet Elliot, a delicate 6-year-old with an adventurous spirit. Elliot was born with Arthrogryposis Multiplex Congenita, a big word for a little girl. She must wear full leg braces to walk, but her time on the horse is brace-free, giving her legs a chance to work in other ways. Although non-verbal, she strives to communicate with her favorite horses, Banner and Mo. We hope readers share our passion for the work of Carousel Ranch and join us in offering support to the 20th Annual Heart of the West on Saturday, August 27. To learn more or to donate, visit www.carouselranch.org.
MISSION VALLEY BANK IS MORE THAN A COMMUNITY BANK
Celebrating its 15th Anniversary, Mission Valley Bank's local roots run deep, motivated by the desire to be an integral part of the area they serve. A strong community thrives on personal relationships and Mission Valley Bank supports - and is honored to be supported by - the Santa Clarita Valley. Mission Valley Bank is more than just another local bank. They are a full-service, independent, commercial bank that is locally-owned, community minded and relationship driven. They're proud to have earned their reputation as Trusted Advisors. Mission Valley Bank is as dedicated to their customers' success as they are. They appreciate their business and welcome the opportunity to earn yours.
Mission Valley Bank Centre Pointe Business Banking Office 775-4113