The home's great room is made to feel even more airy, thanks to the oversized slider's easy access to the California backyard. The "Knights Home" sign and clock were made at AR Workshop. "I made the storage piece in the mudroom," says Knights, who was sure to adorn it with plenty of plaids and pumpkins for a hearty touch of farmhouse charm.
The Saugus home of Rhonda Knights is comfortable, cozy - and entirely customized by Knights herself. The co-owner of AR Workshop (288-1903), Knights knows her way around woodworking tools, paint and stencils, and it shows. "A great deal of the decor, as well as the wall accents like shiplap, the beams, a lot of the furniture pieces, the barn doors - I made it," says the entrepreneur.
While the house's exterior architecture leans formal, there's no doubt that Knights's farmhouse-charm aesthetic is right at home here, thanks to cheery flowers, calming fountain and plenty of handcrafted wood elements made at AR Workshop.
Doing DIY made sense - and cents. "One of my life's goals is to show people that you don't have to spend a fortune to have a really nice home that you're proud of," says Knights. "Even if you don't do it all yourself, working with people like me who can help you with bigger projects and get you started on smaller ones - that can really stretch a budget. You still get the custom look, but not the normal custom price."
Knights's family visits weekly for dinners around the large dining table and serving's made more convenient with the addition of a lazy susan, handcrafted at AR Workshop. "I really enjoy decorating for this season and it's nice to share it with family," says Knights.
No place is that more evident than at Knights's business, AR Workshop, which she co-owns with her daughter, Brianna. Explains Knights: "At AR Workshop, you're able to handcraft something special and unique - something that looks as good as if you paid a pro to do it for you. From holiday signs to decor to functional pieces like clocks, pet beds and lazy susans - it gets people thinking that they can do more... and they can!"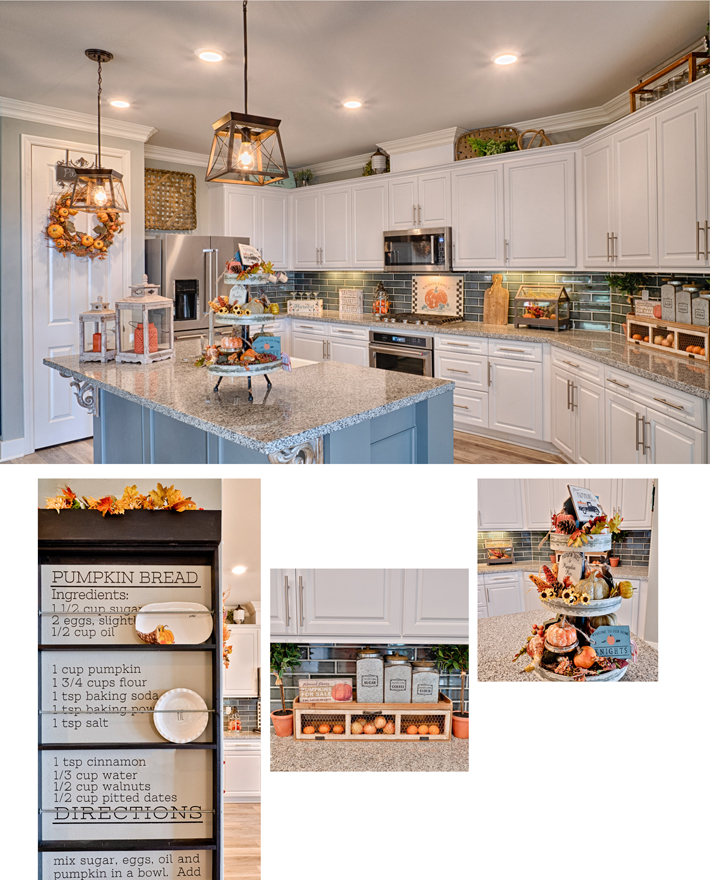 Knights installed much of the kitchen herself, including the grey-green oversized subway tiles, which shimmer above the granite countertops. Miniature seasonal signs perched on a three-tiered server add charm. The island was a labor of love. "It started as general wallboard," shares Knights. "I installed corbels, furred it out, added wood all the way around and painted it in Fieldstone. Now it looks like a much more expensive piece - and those details were affordable." The pumpkin-bread recipe, stenciled onto the wall, was Knights's mother's. "I built a plate rack over it for dimension," says Knights. "It's a real conversation piece and now I have part of her with us, always."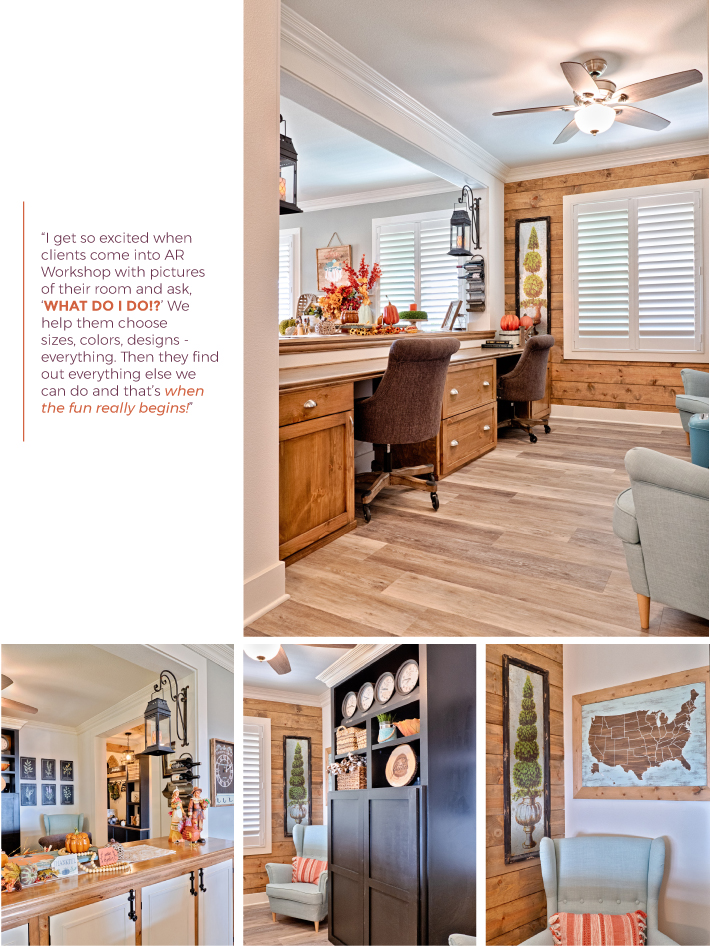 The homeowner built out the plain ponywall, creating more functional space - including workstations on one side and cabinets on the other. Accent walls were covered in stained shiplap, a bright contrast to the black storage piece Knights built to contain her business files more attractively. The map of America was handcrafted at AR Workshop.
The gunmetal-grey board and batton, faux beams crafted from stained ¾-inch pine and barn door (There are four throughout the home!) were made and installed by Knights. "These are the kinds of details you'll find in really expensive custom homes, but you can put them in a tract home, too, and make it feel just as personalized," says the homeowner.
The guest room is made even more cozy with the addition of a chunky knit blanket and "Be Our Guest" sign, both handcrafted at AR Workshop. Floor-to-ceiling shiplap adds delicious texture to the space.
This home, a new build, was only purchased a year ago - but every corner now is filled with custom details and accents that make it a welcome escape for extended family. "We all get together here around the big kitchen table and have dinner at least once a week," says Knights. "I love creating places where people can gather, relax and feel welcome and at ease."