Just when you thought every hour was a happy hour at
Xevichez
, the Mexican/Japanese fusion sushi wizards created a Happy Hour sharper than the blades they use to slice their delivered-daily fish and seafood. From 2pm to 6pm Monday through Friday, Xevichez' All You Can Eat sushi special is only $20 - and you can wash it all down with $3 draft beers and $5 micheladas. They also added a lot of popular wines to their already impressive menu, including Angeline Reserve Cabernet, Seaglass Pinot Grigio, Line 39 Pinot Noir and more. Smaller appetite? Order the Lunch Special and get one fresh roll, soup, salad and a soft drink for only $9.99. Xevichez is open until 10pm six days a week and until 11pm on Fridays.
288-1477
What's the most important meal of the day? If your answer is, "Whatever meal I'm eating at
Chronic Tacos
at the time," your answer is correct. Yes, Chronic Tacos even serves breakfast, and with its incomparable Breakfast Burrito, you'll instantly become a fan of Mexican in the morning. Already had breakfast? With St. Patrick's Day right around the corner, get festive with their Potato Taco that will provide you with all the luck 'o the Irish wrapped lovingly in a gluten-free corn tortilla. Yup, Chronic Tacos is the place to go for gluten free! Nosh on their taquitos, fresh-made savory salads and more, totally guilt-free. 360-1800
--------------------------------------
Meet the Chef
At the heart of every successful restaurant is its kitchen - the engine that drives every facet of culinary production. At Sabor Cocina Mexicana, Leticia "Lety" Hansen drives that engine, serving as both chef and owner of the restaurant, ensuring that every dish at Sabor puts her philosophy of food on full display. Hansen believes in only using the highest-quality, all-natural ingredients including corn-fed Midwestern beef; Jidori free-range all-natural-fed locally-raised chicken, fresh wild-caught seafood; and Salmon Creek Farms wheat- and barley-fed pork, each prepared with her "Modern Mexican" flare. Try the Chile Relleno de Pavo, featuring ground turkey picadillo, and finish with the delectable Crepas Mexicana for a meal you won't soon forget. 259-9002
--------------------------------------
You know what shreds the idea of ordering pizza for your next social gathering?
Shredded Tacos
Party Packs, that's what. Tell the delivery driver to keep that pound of lukewarm artificial cheese in the Toyota and upgrade your experience by picking up the Taco Happiness Party Pack - 20 tacos, rice, beans, chips and Jean's famous salsa. Add some freshly-made quesadillas, salads, guacamole and sour cream to your order for a night in that makes you want to shout out! No need to go to the store for plates, utensils and napkins, either - it's all included. Shredded Tacos is located in the Valencia Village Shopping center near the Paseo Club. For the ultimate in convenience, order online or call ahead. 295-5536
Dates are always a gamble. If you're going to roll the dice, choose the trick kind and go for a sure thing with
Marston's
Cooking with Chef Jim event the last Monday of the month. Chef will share priceless culinary secrets (and recipes!) as you feast upon his tantalizing creations and drink discounted cocktails, beer and wine. Don't be too cool for Chef Jim's cooking school; make your reservation now because these spots fill fast. The next class is on Monday, March 27 and,
as of time of print, there's still a few openings available.
253-9910
Who says Santa Clarita goes to bed early? (Ok, you do most nights of the week. But now there's reason to make an exception!). Continue the magic of the evening with the new Late Night Happy Hour every Friday and Saturday night on the heated patio of
Salt Creek Grille
. From 10pm to close, enjoy three new scrumptious treats from the brilliant mind of Pastry Chef Kristina Waggoner. Choose from the Coconut Lime Cheesecake, a velvety lime cheesecake with a lime zest graham cracker crust topped with whipped cream and toasted coconut; Red Velvet Layered Cake, a tall layered cake with a Layer of Traditional New York-style cheesecake between two layers of red velvet cake topped with cream cheese frosting; and our fave, the S'Mores Cake. This dessert is the ultimate campfire favorite elevated to a whole new level, literally, because Chef Kristina took her infamous A Rich Triple Chocolate Cake, added a Graham Cracker Crust and topped it with her Homemade Marshmallows that are fire toasted just before they are delivered to your table. Missing your curfew just got sweet! 222-9999
Dating is all about spending time with someone you like enough to share a beer with, so we can't think of a better date-night spot than
Wolf Creek Restaurant & Brewing Co.
And, if the adage we just made up - "You are what you drink" - is true, drinking the Golden Eagle at Wolf Creek will make you irresistible. Yes, Wolf Creek's pretty much your wing-person, because if you're Match.com results are lacking they'll set you up with a tall blonde - the Golden Eagle. With its clean malt flavor and mild hop bitterness, this award-winning, delightfully refreshing ale is also philanthropic; 50 cents from every Golden Eagle purchased at Wolf Creek goes to a remarkable non-profit organization in Santa Clarita as part of their Community Pints program. The March recipient is Hands on SCV. 263-9653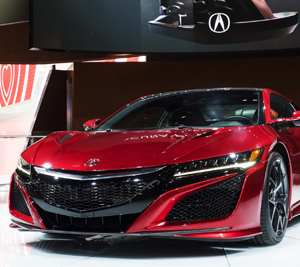 Smart, sporty, sexy. Doesn't that sum up how many would like the world to see us? While it may or may not be attainable in the flesh, it certainly is within our reach with the car we drive. Actually, the car we drive is not only a personal choice but often a professional one. Image plays into the decision, as does the professional reputation we want to project. Maybe it's a family car, luxury sedan or sporty coupe that best fits our lifestyle and work needs. If the persona to embody is prestige, you're in luck.
While the competition was notably fierce, the 2017 Acura NSX has been named Business Insider's 2016 Car of the Year. Acura's NSX supercar is not only a worthy, exciting winner and a triumph for Acura, but it has also revived one of the greatest love stories in the history of the automobile. You see, the first-generation NSX - New Sportscar eXperimental - sold under the Acura luxury brand name in the US in 1990 and was a real game changer.
After 15 years, the NSX retired in 2005 and work began on its successor. Now the wait is over. With its sleek design, and generating 573 horsepower, the twin-turbocharged V-6 offers on-demand power. With traction going to all four wheels, the NSX offers endless grip around corners. And even better, Acura's decision to go with hybrid technology was sheer genius.
Ready to park one in your driveway? There's an array of stunning exterior colors to choose from but a personal favorite of ours is one fittingly named, "Valencia Red Pearl." Ready to see the NSX up close and personal? Head over to
Valencia Acura
. www.valenciaacura.com
One of the most effective, affordable upgrades you can make to your car is window tinting. Visually, your car will look much more appealing with tinted glass - but you get more than just good looks with tinted windows. You can block out 60 percent of the heat, 80 percent of infrared light and 99 percent of UV rays by having your windows tinted. Look cool and keep cool by getting your windows tinted by
Genesis 1 Auto Concepts
, where they perform all labor quickly and right inside their dust-free shop. 678-0990