The contrast of the grand sparkling chandelier and exposed wood beams - all at once displaying peak luxury and rustic sensibility - sets the tone for the entire home.
Local business owners of the branding and design firm, WeKreative Co., knew that this home was "it" at first glance.
"From the moment we walked into the house, we knew it was something special," they recall. "Though it hadn't been updated for decades, we knew there were many unique features that made this an interesting house and with hard work, patience and creativity, we could make it our home."
Sentimental treasures and gleaming textured orbs of navy, mustard and mauve play together in the towering tree designed by Jeanna Loves Christmas. Built-in velvet upholstery poised above a parquet-patterned wood floor give guests a front-row seat to the season's best view, but this install was actually intentioned for another purpose. "At the request of our daughter, we added a 'reading nook' where she can comfortably sit and read while looking out the window hoping for rain," recalls the homeowner.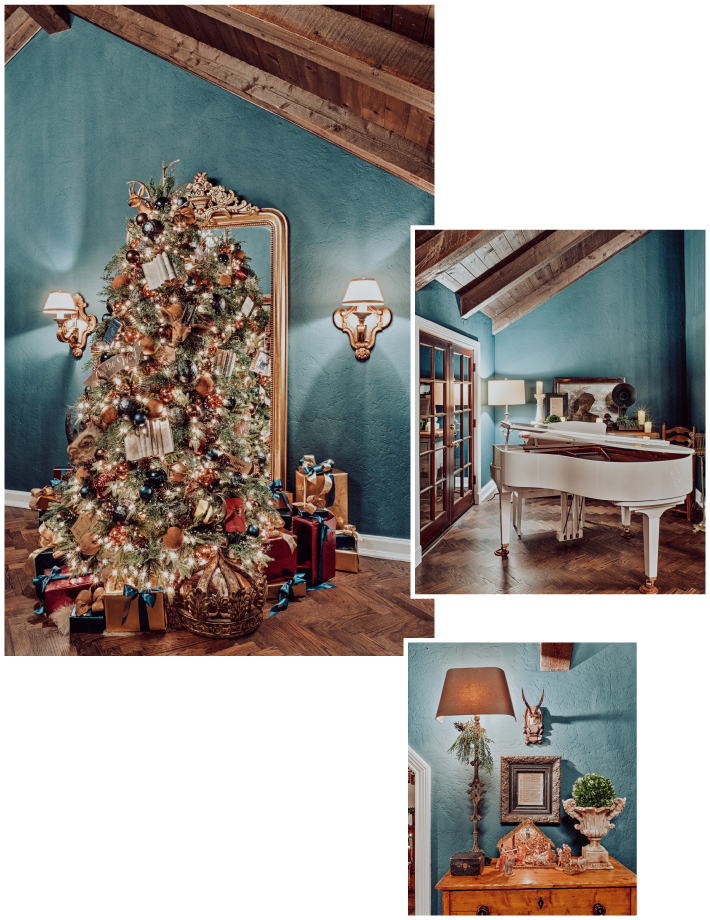 An eclectic collection of books and oddities becomes ornamental atop a glimmering pile of gifts embraced by satin bows. The white grand piano pops against the muted tones surrounding it. "Music has always been an important part of our home and, with the piano in this location, it can be heard nearly throughout the entire house," shares the music lovers. The nativity was a gift from the homeowner's parents and is a special part of their Christmas tradition. It represents the heart of why they celebrate.
The previous owner was local renowned architect and builder, William Cloyd. He spent years bringing elements from around the world back home to add to this house. These stairs were once in the Los Angeles home of 1930's actor Edward Horton.
This fireplace is the reason we fell in love with this house! We instantly imagined evenings sitting by it with our kids. We know how rare this one is in a home in Santa Clarita. Just looking at it makes us feel like we are in a cottage in the English countryside," shares the homeowner. The welcoming gathering spot - right beneath an ornate vintage mirror - is the perfect place to reflect on the year gone past.
Modern appliances, hand-carved details and stone facades play nice in a kitchen that thrives on contrast.
The stone wall backsplash adds a sense of history to the space. "We wanted a backsplash that was more appropriate to the style and historic feeling of the home, so we came up with a solution that felt like discovering an ancient wall behind plaster," explains the homeowner.
A whimsical tree poised over a cotton-candy cloud shimmies up next to a cookie-prep station with all the fixings for the Big Guy himself. "We didn't want a wall of identical cabinetry, so we decided to incorporate a piece of furniture into our kitchen design that would allow us to update the decor seasonally," says the homeowner. "This has been a great feature in our home and always makes the space feel fresh and colorful throughout the year."
"Like many whose lives include a significant amount of coffee," laughs the homeowner, "we have accumulated far too many mugs. However, this gives us lots of opportunities to add a personal and timely touch to our kitchen with each season that passes by."