Doing it all yourself is so 2009; today's smart party planner knows that the key to a successful event - or even just a great night out - is outsourcing. Our Ultimate Guide lets you pick your pleasure. It's the quintessential "your place or mine?," filled with private-event banquet spaces, take-out catering options, fine-dining deliciousness and so much more.
Valencia Country Club
Valencia Country Club is the place for your intimate gatherings, grand affairs - and everything in between. Treat up to 200 of your favorite people to a distinctive gourmet holiday menu this season - and treat yourself, too, because your early reservation will score you complimentary red and green Christmas tree folded napkins; twinkling tea light candles, exquisite holiday decor and more! Your guests will drink in the panoramic views while sipping on highly-rated wines and noshing on fabulous foods like Brie and Pear in Phyllo; Herb-breaded Artichoke Hearts with Goat Cheese; Winter Salad with baby field greens, candied pecans, port-poached pink lady apples, bleu cheese crumbles and dried cranberries in a white balsamic vinaigrette; Roasted Butternut Squash Soup; Herb Marinated Rack of Lamb with a fresh mint sauce served with Peruvian potatoes and roasted butternut squash; and Creme Brulee. Only have a few you want to gather with? Reserve a table at VCC's Holiday Extravaganza, a fantastically-fun way to celebrate the holidays with smaller groups. Gift your favorite people with a night of music, dancing, carolers, a Prime Rib buffet and dessert bar. Tickets are only $45 a person and are sold in tables of eight. Talk to Tiffany Grumer to discover more and schedule your date.
799-1263
Tournament Players Club Valencia & Oaks Grille
Offering four banquet venues, the TPC Valencia features versatile accommodations for hosting events for as many as 200 guests. Our seasonal fave: the luxe clubhouse that emulates old-California ranch style architecture, featuring interiors of distressed alderwood trim, vaulted ceilings, stacked-stone accents and panoramic views. Event groups can choose a pre-selected menu option or work with TPC's chefs to customize a distinctive one-of-a-kind menu. Craving something different? Try Oaks Grille's gourmet, seasonal, locally-sourced menu with surprises ranging from octopus to wild seasonal selections like bison and venison. It's all divinely prepared on site, including Oaks Grille's handmade sausages. Oaks Grille is open to the public and boasts one of the most gorgeous views of heritage oaks in Santa Clarita.
288-1995 extension 131
Marston's Restaurant
Whether your celebration is a breakfast, lunch or a dinner party, Marston's owner, Chef Jim, will create a custom menu that will make your event truly special. (Just be sure to book them early; there's a reason they're so popular!). Marston's, conveniently located in the Bridgeport Marketplace, is available for space rental (You can actually book the entire restaurant on Mondays, when they are usually closed.), which is often used for business and club meetings, holiday dinners, receptions and more. They work with clients to cultivate memorable prix-fixe menus to meet your budget, too. The food is tops, made from fresh, seasonal, locally-sourced ingredients. From "The Works" fantastic French toast topped with berries, candied pecans and whip cream to their Chicken Pot Pie made with squash, English peas, tomato, mushrooms and potatoes in a creamy basil-garlic sauce topped with puff pastry, you'll be grateful for every meal at Marston's.
253-9910
Salt Creek Grille
Salt Creek Grille is where you already go for a dependably-delicious meal, but if it's not also on the top of your list for catering and events, you and your guests are missing out. Salt Creek Grille Catering impresses with distinctive, off-menu meals that are as creative as they are delicious. Enjoy their wow-worthy flavors custom designed for your event on site at Salt Creek's covered patio, near the fire pit or in their private Valencia room. Of course, 'tis the season for their new fall dessert menu and it doesn't disappoint. Try Pastry Chef Kristina Waggoner's Pecan Pumpkin Cheesecake, a triple-layered cheesecake with pumpkin and pecan pie that's drizzled with homemade caramel sauce; the Butterscotch Creme Brulee that is topped with a salted butterscotch cookie and finished with a triple-cracked brulee top; and the Caramel Apple Bread Pudding baked with cinnamon caramel apple and served with a scoop of gourmet vanilla-bean ice cream.
222-9999
Vines Restaurant & Bar at Hyatt Regency Valencia
Frequently referred to as "the best happy hour in town," Vines' daily dish of happiness is served from 4pm to 7pm. Stop in soon to take advantage of their new Happy Hour selections, rotating daily. More in the mood for a quick mid-day bite? Vines' weekday lunches will leave you satiated, never rushed. Choose from lunch entrees, sandwiches, salads, soups and more - all prepared with ultra-fresh ingredients. Vines' new Healthy Balance Menu is available for both lunch and dinner; featuring a customizable collection of environmentally-friendly selections like Sustainable Skuna Bay Salmon, these tasty plates are good for you and Mother Earth. Hoping to make the holidays more simple this year? Join them for the most impressive Thanksgiving buffet you'd ever hope to see, or have them prepare your gourmet spread to serve at home. Either way, the convenience and flavor are some of the best reasons to be thankful this season.
678-4044
Newhall Refinery
This fall, Newhall Refinery will be joining with select growers, brewers and distillers to put on amazing events. Executive Chef Dustin Boole and their special-events team will host two multi-course wine-pairing dinners and the first-ever whisky and beer collaboration. On Wednesday, October 19, they'll host the Alexander Murray and Firestone Walker beer and whisky collaboration where guests will have the opportunity to meet with the owners of both brands while tasting flights of Scotch Whisky distilled in Firestone Walker beer barrels alongside specialty beer flights and traditional Scottish food dishes. No advanced ticket purchase required; arrive early for a seat. On Wednesday, November 2 is their Fall Harvest Wine & Dine Event, celebrating the bounty of the season. Guests can expect a variety of wines and five courses featuring the best of harvest both on the plate and in the glass. Featuring J.Lohr Winery from Paso Robles, each course will be rich with fall and holiday flavors and expertly paired with exclusive wines only available at this event. Check out their stunning private-event room while you're there.
388-4477
Wolf Creek Restaurant & Brewing Co.
Wolf Creek won't just wow your guests with fun fusion food that has made them an SCV staple for nearly 20 years - they'll also walk that food from the restaurant and straight to your car, where they'll safely process your payment and then send you on your way with food for one - or 50! You can even take their fantastic seasonal brews, like fall's Pumpkinweizen, to go, along with Pastry Chef Meghan's made-on-site creations. Plus, have you seen Wolf Creek's newly-remodeled private-event dining area? It's fab, which is the same thing you can say about their affordable - and delicious - catering menu. Treat your guests to selections like Bite-sized Roasted Pork Tenderloin with Raspberry Chipotle Glaze, Shrimp and Scallop Ceviche in Tortilla Cups, Prosciutto-wrapped Melon and Asparagus, Spicy Thai Pasta, Sundried Tomato Pesto Pizza, Citrus Chipotle Chicken, Oven-roasted Prime Rib, Six-layer Coffee Toffee Torte, Banana Cake with Cream Cheese Frosting and much more. 263-9653
Wolf Creek Brewery
Founded in 1997, Wolf Creek has become synonymous with gold-standard craft beer and fantastic food. You were probably introduced to both (Over a Desperado, if you were lucky.) via the restaurant in Valencia - but have you been to the brewery nearby on Rye Canyon Loop? This amazing indoor-outdoor space is where you go for tasting flights... and flights of fancy! Their calendar is jampacked with live music, food truck events, corn-hole tournaments, big draws like Oktoberfest (October 21 and 22!) and more. (See the whole shebang on www.wolfcreekbrewery.com.). Plus, you can rent the venue; it will accommodate up to 200 guests. 294-9977
Sabor Cocina Mexicana
As the end of the year approaches, all of our senses are focused on the favorite flavors of the season one can't help but love. It is the time of the year we want to spend with our loved ones; an opportunity to gratefully reflect on what the months before have brought us. Fall is synonymous with holidays and childhood memories - as well as the opportunity to make new ones. With all this in mind, Sabor Cocina Mexicana has crafted a seasonal menu that includes all of the amazing fall flavors that will serve as a reminder of memories of the past and opportunities for the future. Enjoy them beside the people that matter the most to you during a private or semi-private event in the exquisitely-appointed Bridgeport Marketplace restaurant. While you're there, don't miss a chance to taste the Chile Relleno de Pavo made with roasted chile pasilla, turkey picadillo, crema, queso fresco, pumpkin seeds and butternut squash sauce.
259-9002
Chronic Tacos
With two convenient locations in the SCV, Chronic Tacos' Valencia and Saugus locations can create individual plates of fresh-Mex perfection... or they can cater to your crew with burrito platters, family-style trays of their famous sides, build-your-own-taco set ups and more. An easy plan: treat yourself to a just-made fresh Tostada Bowl customized with your choice of meat, rice and beans when you pick up your order. That will give you the strength - physical and mental - to avoid tearing into the heavenly-smelling selections before guests arrive. Really want to impress your palate? Try the Harris Ranch natural Carne Asada. It's incredible. Bonus: Get your Chronic on when you're away from home. The craveable company also has restaurants in Palmdale and is opening new locations in Burbank and Le Puente, too.
360-1800



Margaritas Mexican Grill
Here's delicious news: Margaritas Mexican Grill has a special catering menu for parties of 30 or more. Plus, if you're looking for a special venue for your private event, you'll be thrilled to know that Margaritas also has a private banquet room that can accommodate 45 to 65 people. It's a convenient, central place to celebrate events and holiday parties. Want a taste of Mexico without leaving Santa Clarita? Try Margaritas' Mar y Tierra, a half pound of tender steak grilled with onions, mushrooms and California chile, rolled in bacon, cheese and guajillo sauce, then served with sauteed shrimp in garlic butter sauce with Mexican white rice and potatoes on the side.
255-1136
Egg Plantation
Voted "Best Breakfast" time and time again, Egg Plantation in Old Town Newhall is Santa Clarita's favorite spot for breakfast and lunch, thanks to their famous 101 delicious omelets, incredible Eggs Benedict, specialty sandwiches, salads and wraps. Specializing in Bloody Marys and Mimosas, and featuring various lattes and espresso drinks, Egg Plantation will quench your thirst. With a large outdoor dining area, they welcome all family and friends, including the four-legged ones, to enjoy the beautiful weather. With a friendly staff and a variety of items to choose from, you are sure to find something tasty to start your day off right!
255-8222


Nothing Bundt Cakes
At Nothing Bundt Cakes, they bake their cakes fresh daily using only the finest-quality ingredients - fresh eggs, real butter and cream cheese - to ensure the most delicious-tasting dessert. With nine classic flavors available in four different sizes from bite-sized bundtinis and personal-sized bundtlets to full-size hand-decorated cakes, they fit perfectly with every occasion and holiday. With over 40 unique cake designs to choose from, Nothing Bundt Cakes helps make special occasions sweeter! Tip: Try their gluten-free cake. It truly is just as moist, flavorful and rich as the original.
291-2424
Kokolita's
For five years, Kokolita's has been your one-stop shop for sweet and savory treats in an environment that highlights the wholesome era of the 1950s. Specializing in empanadas, custom cakes and 80 unique cupcakes, Kokolita's commitment to exceptional quality and community is evident in every delicious bite. Try their baked (Never fried!) empanadas in traditional beef, chicken, artichoke spinach or vegan (Acorn and butternut squash, caramelized onions, jalapenos, oh my!), a seasonal Thanksgiving empanada (Homemade turkey and stuffing with and without cranberries!) or a cupcake Dick Van Dyke designed and approved himself: a Lady Baltimore cupcake with buttered cream-cheese frosting with a chocolate music-note garnish. (He also helped create Kokolita's first icon-inspired empanada, the Mr. Vandy, with fried chicken, mashed potatoes and buttered corn.). Our fave: the 21-and-over alcohol-spiked cupcake "La Bamba" inspired by Ritchie Valens with margarita tequila. 257-9338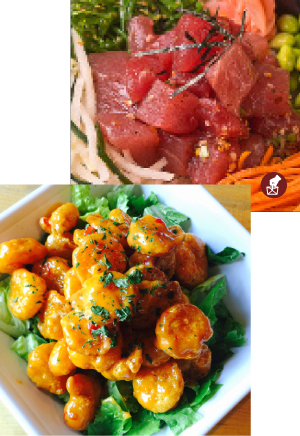 Fish Tail Seafood Grill
Offering five scrumptious Maui-inspired Poke bowls that a Hawaiian would recognize for over seven years, Fish Tail Grill is your casual-quick answer to delicious, fresh food that nourishes mind/body/soul. The spot has a wide selection of grilled, fried and raw fish, as well as barbecue beef and teriyaki chicken rice bowls. Need a fast fit fix? Try the Chilean Sea Bass Salad or Grilled Salmon selection. No matter what you choose, it will be fresh; Fish Tail gets deliveries of fish so fresh it should be slapped six days a week. Their Ahi and Salmon Poke are 100-percent fresh and top grade; it's never previously frozen. Visit on Mondays for $6 Fish Tacos and their Kids Eat Free event on Tuesdays. It will become quickly obvious why they won "Best Seafood of the Year" in the SCV the last three years in a row.
295-FISH



Xevichez Sushi Bar
Xevichez is a fresh, new style of sushi bar with daily specials, a huge variety of sporting events on giant flat screens and custom, unique rolls that have people talking (You simply have to try the Agua Chile Roll, with crab, avocado and cucumber topped with shrimp and served with one of Xevichez's signature sauces, the citrusy, spicy agua-chile sauce.).The elegant interior design of the new Town Center Drive restaurant accommodates parties big and small in the hip space, but it is equally a must for lunch and dinner. Take advantage of All You Can Eat under $30, or visit during Happy Hour for deeply-discounted bites. This Japanese Fusion with a Mexican kick can really spice up your life, so be prepared to wash your meal down with a flavored sake, So-ju cocktail, cider or tap beer. (PS: If fish isn't your thing, go anyway. Their meat and vegan creations really wow, too.).
288-1477
The Master's University Theatre Arts Program Presents "You can't Take it with You"
This season, The Master's University Theatre Arts program presents their fall production, "You can't Take it with You" by Moss Hart and George Kaufman - and it's going to be great! Set in 1930s New York City, the Sycamore family, filled with aspiring artists, ballerinas, writers, inventors, amateur firework makers and more, seem crazy - especially compared to the upper-echelon, reliable, even-tempered and respectable Kirby family. When Toby Kirby falls in love with Alice Sycamore, one wonders if perhaps the Sycamores have life figured out more than we think. In the midst of this fun, entertaining show, experience what makes Master's U Theatre Arts so unique. Behind the costumes, sets, lines, characters, lights and music there is one consistent heartbeat. You can have all the money and fame in the world, but you can't take it with you. Following the success of their previous productions, tickets are selling fast. Don't miss your opportunity to purchase yours before they are all gone. Showtimes and ticket information are available online.
www.masters.edu/theatre
Santa Clarita Ballet Company Presents "The Nutcracker"
When a Plum Canyon Elementary first grader turns into a mouse, a Meadows Elementary fourth grader becomes a toy soldier, an Arroyo Seco seventh grader morphs into a delicate snowflake and a Hart High senior transforms into the gorgeous Sugar Plum Fairy, it must be "Nutcracker" season! Proud to present its annual production of the Nutcracker, the Santa Clarita Ballet invites anyone who enjoys holiday magic, professional-caliber ballet sprinkled with whimsy and humor and the tradition of a well-loved tale to its 22nd staging of the holiday classic on Saturday, December 17 and Sunday, December 18 at College of the Canyons Performing Arts Center. This holiday's production features everything your inner-child remembers best about holiday delights: toy dolls emerge from boxes, gum drops spin across the stage, a troupe of Russian dancers leaps through hoops and princesses pirouette to the intoxicating music of Tchaikovsky. In addition to showcasing the artistic accomplishments of Santa Clarita youth throughout our community, Santa Clarita Ballet's Nutcracker also features the work of professional dancers Hannah Wilcox, Raydel Caceres and Michael Hamilton. The fairy-tale splendor of "Nutcracker" is the perfect introduction to ballet for your family's newest members and a nostalgic return to the wonders of the season for anyone who has ever gone to sleep hoping to awaken to Christmas joy. Secure your seats early by calling for tickets; these shows sell-out quickly.
251-0366
See You at THE BASH!
THE BASH has become one of the must-attend events in the SCV. On Friday, October 28 at the Hyatt Regency Valencia, guests will relive the glitz and glamour of the 1960s as the Valley Industry Association takes them back in time. The retro-themed evening will be complete with decor and entertainment indicative of the period; the suggested attire is black tie or nightclub elegant to the spectacle of the evening. Oh, and there are sure to be lots of martinis, including a signature VIAtini developed by a mixologist in Washington D.C. specifically for the 35th-anniversary celebration!
With influencers that include Frank Sinatra, Bobby Darin, Tony Bennett, Sammy Davis Jr., Nat King Cole and Billy Joel, the evening's musical entertainment, Adam Tunney and his band, are reminiscent of the hip singers of yesteryear. Tunney, who has performed with such notables as Barbra Streisand, Mickey Rooney, Michael Feinstein, Shirley Jones and many others, brings his velvety-smooth tones to Valencia. His debonair vibrato and band gets guests on their feet!
Keeping in theme, VIA is offering virtual "mini-martini" sponsorships available before the event to benefit the VIA Education Foundation. For each mini-martini donation made, it covers the cost of sending one student to Connecting to Success, a workplace readiness program training 2,500 high school juniors annually from all area high schools. Students learn financial literacy, business ethics and communicating their value in the half-day workshop.
www.via.org
Mountasia Family Fun Center
Mountasia Family Fun Center opened in 1995 to cheers and the "place to play" is still going strong, thanks to their dedication to delivering outstanding guest service; providing a clean, safe and well-maintained location and offering a comprehensive mix of fun and exciting attractions at a fair price.
Mountasia Family Fun Center has been voted "The Best" from the readers of The Signal in categories including Best Place to Throw a Party, Best Place for Kids to Play, Best Family Entertainment and Best Go Karts. Mountasia has also been voted a Los Angeles Daily News Reader Favorite.
253-4386
Oak Tree Gun Club
Oak Tree Gun Club offers the most complete shooting venue in Southern California and is beloved by the famous, infamous and families alike! Oak Tree has been featured in magazines, movies and television shows, including "Entourage" (HBO), "NCIS" (CBS) and "The Rock of Love" (VH1). And how's this for a credibility statement: numerous federal, state and local law enforcement agencies train at the facility. Oak Tree employs over 40 staff members who work hard to ensure that shooters have a great experience; from the novice to the expert, the shooting venue is always comprehensive and challenging. Experience the Club's vast selection, including the Shotgun Range, Rifle Range, Beretta Gallery, Pistol Range/Pro Shop, Archery Range, Reloading Center and Restaurant.
259-7441