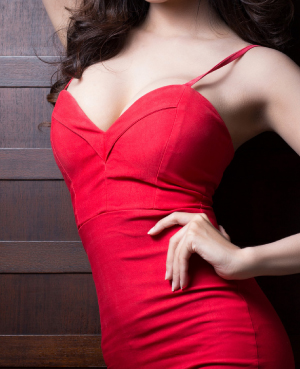 "
DR. HELLER AND HIS STAFF ARE AMAZING!
Dr. Heller was my fourth consultation and I couldn't
be happier that I decided to get a breast augmentation by him. I wanted it done ASAP and Dr. Heller's
staff was able to schedule me two weeks from my consultation. At times I would contact Dr. Heller after
office hours and he always responded in a timely manner, almost immediately. Originally, I wanted 500 cc's
but after meeting with Dr. Heller, who explained the pros/cons, I ended up going with 450 cc's smooth,
round silicone high-profile implants.
My breasts now match my body
and many people have told me that
they
LOOK NATURAL
since I didn't go as extremely big as I had first intended. I am about seven weeks post op and healing well. I'm back to my daily routine, working out, etc. I definitely recommend him. The
staff is friendly and always greets you with a smile. They always work around my crazy schedule for all my
follow-up appointments. I have no regrets in choosing Dr. Heller as my surgeon. He's very professional,
honest, compassionate and
truly wants what's best for his patients
."
Viviana G. via Yelp.com
If you've been considering breast implants but have been on the fence for fear that your augmentation would leave you looking more "beach ball" than "bathing beauty," you owe it to yourself to learn more about the newest implant technology and methods developed by board-certified Plastic Surgeon Dr. Justin Heller.
"With the advent of a new implant technology the sizes and shapes of an implant can be customized to the patient's body in ways never before possible. These implants, unlike older generations, also maintain shape far better which means a smoother more natural appearance!"explains Dr. Heller of Heller Plastic Surgery in Valencia.
"The greatest changes though are the techniques used. I am now able to perform an internal lift through a breast augmentation incision allowing me to restore droopy breasts to the way they once were but maintaining an imperceptible scar. Also, now I can take fat from areas of excess such as the stomach, thighs, and hips and use this instead of an implant or with an implant to create larger breasts for select patients. By using a micro-injection technique these changes are permanent too."
"Recovery is quick. I understand how busy my patients are and the need to get back to work, home and life as quickly as possible. I continually refine my approach to ensure lightening fast recovery and create the naturally-voluptuous-looking breasts dreamt of," says the surgeon.
Heller Plastic Surgery is located in the Atrium Building next to City Hall in Valencia.
The comfortable, well-appointed office is now accepting patients and scheduling complimentary consultations. 661-233-4949
Ask Dr. Heller
I've heard about Gummy Bear breast implants and am very interested. Can you tell me more?
"Gummy Bears," as they're commonly called, are the newest innovation in augmentation. These natural-looking silicone implants are exceptional, in part, because even if you cut them in half, they maintain their shape. These implants don't leak in ways previously seen. Also distinctive to the Gummy Bear implants are the shapes available and the ability to create a more natural contour by controlling the way volume is added. Older implants were circles and "one size fits all." The Gummy Bear implants sit on the chest wall to provide a beautiful natural slope. Plus, they're available in literally hundreds of different sizes, so every shape can be ideally accommodated. For women who've delayed breast augmentation because they were worried that the result would look "fake," this new product will be all the persuasion they need.
Dr. Heller's Education and Experiences
American Board of Plastic Surgery Board Certification
MOHS Fellowship
University of California Irvine Orthopaedic Hand & Microsurgery Fellowship
University of Texas Southwestern Plastic Surgery Residency with specialization in Plastic & Reconstructive Surgery
UCLA Department of Plastic & Reconstructive Surgery Craniofacial Research Fellowship
Yale University School of Medicine