Ballets, blockbuster movies, and (of course) plays have all been inspired by one of Shakespeare's most popular works, but a fashion show? This may have been a first...
The humans in Shakespeare's well-known mystical romp, "A Midsummer Night's Dream," encounter fairies and frolic with magical characters. Wow - add a catwalk and that's not much different than what the Soroptimists delivered at their annual production.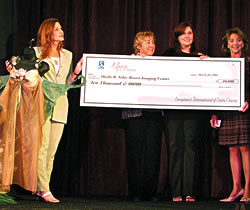 On March 20, over 380 people (a sell-out crowd) packed into the Valencia Hyatt to witness what has become an annual must-experience "girlfriend" event. In 2005, over 20 vendors participated in a to-die-for boutique featuring jewelry, designer and designer-esque purses, scarves, ponchos, sunglasses, casual clothing, home goods and more. And then there was the show... The Soroptimists are known for playing their cards close to their chests and keeping the event's entertainment a secret until the day-of, and with good reason. Jeanna Crawford, the event's chairperson, managed to turn a regular ballroom into a mystical forest, complete with fairies. Dressed in their gossamer best, four company members from the Santa Clarita Ballet performed a piece from the troupe's "Midsummer Night's Dream" ballet, and KT Edwards, a former company member herself, awed the crowd with her whimsical solo moves.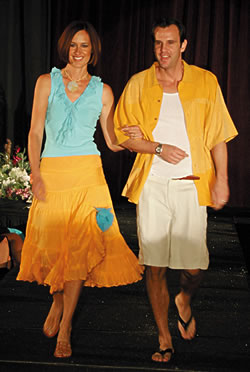 Even the dessert was magical. To coordinate with Soroptimist International of Santa Clarita's 30th birthday, a multi-tiered sugary concoction was whipped up by the staff of Merci Beaucoup. Helen La Prairie, a local realtor, lead guests in an impromptu "Happy Birthday" as the sweets were distributed. "Soroptimists worldwide have made great strides in advancing the status of women. Santa Clarita's chapter is no different, and we're proud to celebrate 30 years in this community," says Carolyn Nelson, currently president of SI of Santa Clarita.
The boutique and entertainment aside, getting a sneak-peak at spring's best fashions is the primary reason most attended the Sorop's production. Santa Clarita's most visible fashion icon, Margo (who is the long-time owner of a Newhall dress shop of the same name), worked tirelessly to get her hands on the best designers had to offer well before the fashions were available in stores. The show featured both casual and elegant looks ranging from classic black evening gowns to cherry-hued peasant skirts. Island Appeal (everyone's new favorite store) dressed the guys in relaxed Tommy Bahama pieces that had audience members yearning for summer vacation.
Like every Soroptimist event, the funds raised will go to a very good cause. The nonprofit organization assists the Child and Family Center, The Samuel Dixon Foundation, Carousel Ranch, the Sheila R. Veloz Breast Imaging Center, the American Heart Association, the Santa Clarita Senior Center, College of the Canyons, the Santa Clarita Domestic Violence Center and other local nonprofits.