Tips by Jennifer Koohbanani and photography by Paige Burghardt
Don't be afraid of incorporating a theme into your wedding. The term doesn't have to mean costumes and cheesy decor. It essentially means a unifying concept that is carried throughout the elements of your event to make it cohesive. For example, so many marriages today blend different cultures. Use that as a subtle theme in your plans by serving Persian-inspired hors d'ouvres that are popular in the groom's heritage; serve a traditional Italian meal with a pasta course for dinner in honor of the bride's heritage; and use a beautifully crafted leather luggage tag as both a seating card and favor to thank your guests.
Business coaches and school coaches focus on setting goals and keeping "the big picture" in mind. This concept saves many headaches in wedding planning because it is easy to get carried away with the latest "thing" all the bridal magazines tell you to have. In the beginning, take time to actively visualize with your fiance on what this wedding means to you, what you want to accomplish at the end of the evening for yourself and your friends and family, and what your priorities are. With every decision you make, refer back to this vision and make the decision based on how the item fits into your big picture.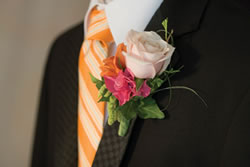 Cross bridges before you come to them, meaning do some research on what costs lie ahead of you in the entire planning process before committing yourself to anything. So many brides and their families get in trouble financially because they do not realistically realize how much their taste or style is going to cost them until they have already blown their budget. Show the vendors pictures that represent your style and get quotes. Look at all the pieces before signing the contracts and decide where your priorities are.
If you've been spending day after day working on wedding tasks and it isn't fun anymore, schedule a day off from planning where you don't do anything wedding related. Better yet, take a "date day" with your fiance and do something completely selfish and fun for the two of you. Go to Disneyland, go wine tasting, or lay on the beach reading non-wedding related magazines.
Give that escort card table some style! Use tables that are circular or s-shaped in the middle of the space. Use the event site's piano. Cover the plain six-foot banquet table with specialty fabrics or a carpet of rose petals. For a garden wedding reception, create a grassy patch on a table top with sod or wheat grass to hold the cards.
Think outside of the guest book! For a wine theme, use oversized wine corks and have each guest sign their name and drop them into a beautiful glass vase that you can display in your new dining room after the wedding. Find a coffee table photo book about your wedding locale, honeymoon destination or vacation setting where you became engaged. Have guests write their wedding wishes directly on the pages.
Flowers
by Charmaine's Florist, 661-297-3100
Linens & China
by Celebrate, 661-259-8611
Toasting Glasses
by Brighton Cobblestone Cottage, 661-253-0209
Cake
by Jill's Cake Creations, 661-291-2332
Bridesmaid Dress
by Caroline's Boutique, 661-678-3305 (not pictured)
Favors
by Michele Pastry Cafe, 661-255-1225 (not pictured)
--------------------------------------------------------------
Jennifer Koohbanani is a professional bridal consultant and owner of Divine Details Event Consulting, 222-9810.