"Every innocent injured VICTIM is entitled to the best possible legal representation."
Personal Injury
Gerald L. Marcus, Attorney at Law
The Law Offices of Gerald L. Marcus
296-2992
www.santaclaritainjuryattorney.com
With a specialization in personal injury law spanning over 25 years, a client list nearing 10,000 people, a success rate over 95 percent and total recoveries over $100 million, The Law Offices of Gerald L. Marcus is best positioned to protect your interest, prosecute your case and maximize your results. No case is too small or too large and the fee is right; they work on a contingency-only basis. You don't pay unless and until you get a recovery. They'll even advance all costs necessary to prosecute your case. Available 24/7 at your home, office or hospital room, this respected group of professionals will work tirelessly to fight for you against the insurance industry, even if that means going to trial. They believe that every person who suffers an injury due to someone else's negligence is entitled to fair, adequate, full and complete compensation for all their injuries and damages. Want to find out more? Free consultations are available.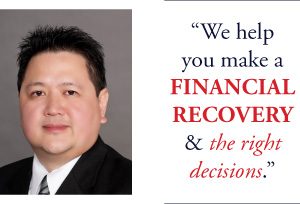 Bankruptcy,
IRS Problems,
Debt Settlement
and Mortgage Problems
Ray Bulaon, Attorney at Law
Ray Bulaon Law Offices, Inc.
702-8710
www.valenciabankruptcy.com
With offices in Valencia, Glendale, Cerritos, West Covina and Riverside, Ray Bulaon Law Offices, Inc. make your financial recovery not only possible, but convenient, too. If you are struggling with unpaid bills, lawsuits, judgments, wage garnishments, IRS problems or a pending foreclosure, you have rights under federal bankruptcy law that can give you immediate relief and protection. Ray and his caring, professional team will help you find the best solution for your situation so that you can get rid of financial stress. You'll be able to focus on the more important things in life and have peace of mind again. Get out of debt now and rebuild your credit quickly in the next 12 months regardless of past credit problems with the skill and experience found at Ray Bulaon Law Offices, Inc.
Commercial Business Banking
President/CEO Tamara Gurney
Vice President & Regional Manager
Marti Heinbaugh
Vice President & Business Development Officer Ben Widders
Mission Valley Bank Sun Valley 818-394-2300 Valencia 775-4100 Santa Clarita 253-9500
www.missionvalleybank.com
Mission Valley Bank is a full-service, independent commercial bank that is locally owned, community minded and relationship driven.They offer financial solutions many community banks don't, including SBA Financing, Accounts Receivable Lending, Merchant BankCard Processing and Equipment Financing, just to name a few. But what really sets Mission Valley Bank apart from other banks is loyalty. They are dedicated to their customers' success and work to build long-term relationships. The Mission Valley Bank team has earned the reputation as Trusted Advisors (San Fernando Valley Business Journal 2011, 2012 and 2013) through their distinctive practice of Relationship Banking.
A Preferred SBA Lender, Mission Valley Bank is a dynamic business bank with an experienced team that possesses a keen understanding and extensive knowledge of the local business climate. If you have questions regarding SBA or AR Financing, or are just curious as to how a different banking relationship could positively impact your bottom line, call an MVB Business Banker today.