La Via Bella, a Santa Clarita mainstay for elegant home decor, gifts, accessories and more, has launched an online retail presence positioned to rival the best on the world wide web. The site, www.laviabella.com, provides clients with a customized shopping experience for furniture, gifts, home decor, serveware and more. As a special bonus to shoppers and the community, La Via Bella gives clients the option of choosing from several respected non-profit organizations to receive a 10-percent-of-each-purchase donation from the premier retailer.
Mountasia Fun Center Recognized for Community Spirit
Mountasia has been nominated for the Santa Clarita Valley Business Leadership Award for Best Community Spirit. This nomination comes on the heels of Mountasia winning two prestigious awards from the International Association for the Leisure & Entertainment Industry at their convention held in March in Las Vegas.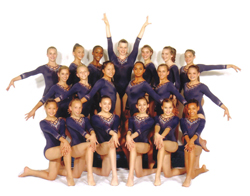 1992 Olympic gymnast and 2004 Olympic coach, Chris Waller, is leading his girls' gymnastics team at Wallers' GymJam Academy to its most successful year to date. The Girls team at Wallers' qualified more gymnasts than any other Southern California gymnastics school to the Regional Championships in Sacramento, California. On April 4 and 5, the Wallers' girls' gymnastics team competed at the state championships in San Diego, California. Wallers' had 21 athletes qualify to the state meet, where they earned four first-place finishes and 16 top-three placements. Jesse Williams of Saugus High had a standout performance at the State meet, winning both the floor exercise and the vault. The Level 9 team finished third, the Level 10 team placed fourth overall. Both of these finishes are the highest yet for Wallers', which was established just three and a half years ago; 251-3390
Mission Valley Bank Offers "Valley First" and "Valley Green" Fund Account
Now you can put your deposits where they matter the most to you. Mission Valley Bank is committed to giving clients innovative and secure options for deposits. Their new Fund Accounts give clients the choice to make a difference with every dollar deposited. Both options offer clients the security of knowing that not only are their Money Market deposits earning interest with a highly-rated and FDIC-insured bank, but also that every dollar that is deposited will be reinvested right here in our community. "Valley First" deposits will support the growth and success of local people and businesses. "Valley Green" deposits will be used to fund local, sustainable environmental projects;
877-394-2306
Karen Maleck-Whiteley and Jacki Curcio of Balance Point Spa pose between mini services, angel readings and wine tasting at the Goddess Charity and Fun Night benefiting Circle of Hope held at the spa on April 30; 252-0650
Santa Clarita Valley Facilities Foundation's Annual Report Now Available The non-profit public benefit corporation's 2008 report is available online at ww.scvfacilitiesfoundation.org or call to request a printed copy; 753-5759
Former styling director Marian Hackman has joined the team of excellent stylists at Priscilla's Salon. Originally based in Toronto, Canada, Marian's work has graced stages and runways, been seen in film, television and magazines. "Hair is about movement and lines, communication and collaboration, bringing the best of each client's features into focus in a modern and tasteful result," says Hackman; 253-1125
Eugenia's Designs will be closing their retail location at 19349 Soledad Canyon Road in Canyon Country at the end of June. After that, clients can enjoy the same exceptional service the company has provided brides-to-be since 1980 via private appointments. The well-loved company will host a closing "blowout" sale on all items, including wedding dresses, formal dresses, shoes, fabric and accessories. Eugenia and staff would like to thank the Santa Clarita community for their past and continued support; 298-2442
Justine Pamanian of Garrett Markenson Coiffure successfully completed her apprenticeship program and celebrated her debut as a stylist with a masquerade-themed event April 26, held at the salon located on McBean Parkway in Valencia; 297-2900
Gift for Grads: Money that Grows
What could be better for young grads than money that grows? Named after one of SCVBank's founding shareholders and beloved teachers, Jack Totheroh, the Totheroh Student Savings account is designed for students ages 5 to 22 years old. Balances from .01 to $1,000.99 earn a premium interest rate, which is currently 5 percent with an annual percentage yield 5.13 percent. Balances $1,001 and above earn the same interest rate and annual percentage yield as a regular savings account. The account can be set up as a joint account with the student and a parent or guardian or a California Uniform Transfers to Minors Act (CUTMA) account with the parent as the custodian. There's no monthly service charge until the student turns 23 years old, at which time the account transfers to a regular savings account; 255-9250
On April 30, the J. Serraino staff showed off their favorite Lockheart bags at the Lockheart Trunk Show held at the boutique; 255-9944