MB2 Raceway is quickly becoming the "it" spot for A-listers seeking an adrenaline rush.
Cindy Crawford and husband Rande Gerber hosted their son's birthday party at the kart racing facility. Sylvester Stallone, pictured with co-owner Chris Brooks, also treated his kids to a day of excitement at MB2.
SCV Chamber's Home & Business Expo Offers New Venue, Lower Exhibitor Fees
If you want to get the most "bang" for your marketing buck, sign up to be an exhibitor at the SCV Chamber of Commerce Annual Home & Business Expo, running October 9 to October 11. Expo 25 promises to be better than ever. This year, Expo moves indoors to the popular Santa Clarita Sports Complex, bringing community and business together for the ultimate meet and greet. Exhibiting at Expo just about guarantees thousands of potential customers will walk right up to your "front door." Booth reservations and event sponsorships are now available; contact Nicole Swanson at 702-6977 or e-mail nswanson@scvchamber.com.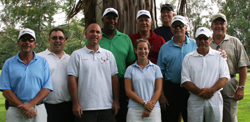 Local and corporate staff, as well as guests, of Keyes Lexus of Valencia took to the links at the Boys & Girls Club golf tournament on August 3 that was presented by the generous luxury-vehicle dealership. Pictured are, from left to right, Richard Rathcke, Todd Ruthman, Darrin Hebert, Art Storrs, Jennifer Caruso, Claude Husereau, John Perkins, Dave VanOrden, Scott Chapman, Bill McClendon.
Promote your Business for Free via Think Santa Clarita Valley Campaign
The City of Santa Clarita's popular "Think Santa Clarita Valley First" campaign has made a free promotional tool available to SCV-based businesses. By logging onto www.thinksantaclaritavalley.com, business owners can easily register their business. Registered companies are listed, along with contact information, in categories like Shopping, Dining, Services, Hiring and Fun. Companies can also extend online promotional offers via the site. Thinksantaclaritavalley.com is heavily promoted throughout the SCV and beyond, expanding local companies' reach.
Don't Miss these Events!
Monday, August 17


The Law Offices of Susana B. Tolchard & Associates Presents "Surviving Debt: An Educational Seminar"
In these economic times, people in all walks of life have to face the consequences of accumulating debt. It is always easy to get into debt, but never easy to get out. When seeking professional advice on how to cope with existing debt, it is best to be prepared with the following information: current income; current household expenses; assets and liability statement. Once you are armed with this information, the next step is to design a plan to get out of debt. For help, attend this free educational seminar; 287-9986
Friday, August 21


Ma Maison Owners Host Six-year Anniversary Kickoff Party
From 5 p.m. to 8 p.m., owners Katie LaKamp and Ede Eichmann invite you to enjoy food, drink and fun to kick off a week of anniversary celebrations. Trunk shows from Norma Rapko frames, diaper bag lines, jewelry and more is in store; 799-7983