Street Shock is celebrating their three-year anniversary in Valencia. Shaughn Reid, (pictured left) is the owner of the premier car and truck modification and accessory company, which has been in business for over 17 years in Redondo Beach, the first location. Street Shock offers sales and installation of suspension lifts, air bags, lowering, performance suspension, custom wheels and tires for hot rods, muscle cars, monster trucks, and everything in between. They currently have specials on gas-saving Hypertech programmers; 702-0585 www.streetshock.com
Shepard Insurance Announces New Workers' Compensation Program
Shepard Insurance and The Hartford are pleased to provide customers a free service that makes managing workers' compensation premium payments easy. XactPAY WebT, a QuickBooks Silver Certified product, automates workers' compensation premium calculation and payment when businesses run payroll, helping to save time and reduce costly mistakes. It alleviates the burden of manually monitoring cash flow issues associated with workers' compensation payments for policyholders of The Hartford. It also eliminates hefty premium down payments, and avoids finance, service and late fees through the automated pay plan; 902-0360
Dr. Mark Berman Joins Beyond Harmony MedSpa
Dr. Mark Berman is a Diplomat of the American Board of Otolaryngology/Head and Neck Surgery and a Fellow of the American College of Surgeons. He is a pioneer in advancing the technology of volume replenishment (i.e. the Space Lift) to naturally restore contour to the aging face; 298-8008
Loose Goose Wine Festival Returns to Santa Clarita
The fourth edition of the Loose Goose Wine Festival is set for October 2 to October 5. With an estimated attendance of 7,500 guests last year, the Festival has emerged as Southern California's largest wine encounter. Intimate wine pairing dinners, a lively wine- and cigar-themed golf tournament, and the glamorous Golden Goose Gala set the stage for the amazing two-day Main Festival at Valencia Bridgeport Park. The festival provides a tremendous showcase for local businesses. A limited number of luxury products/services and fine-food vendor opportunities are still available. Sponsor opportunities are welcomed; 799-WINE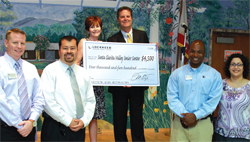 Lockheed Federal Credit Union (LFCU) employees took their service skills to the next level, volunteering to serve lunch and ice cream to more than 175 seniors at the SCV Senior Center. The credit union presented a check for $4,500 to the SCV Senior Center to help support the center's programs. LFCU is involved in the community, giving employees the opportunity to make contributions to chosen charities through regular payroll deductions, and to volunteer during their normal work hours.
Sponsorships Still Available for Sam Dixon's Rubber Ducky Regatta
Samuel Dixon Family Health Centers, Inc.'s will again host the annual Rubber Ducky Regatta on October 18 at Castaic Lake, with Supervisor Mike Antonovich serving as honorary chair. The fun-filled family festival will culminate in a 10,000-rubber-ducky race. Proceeds go directly to patient care at SDFHC's three SCV locations. Local business sponsors include Providence Holy Cross Medical Center, Henry Mayo Newhall Memorial Hospital, Kaiser Permanente, Chiquita Canyon, Andel Engineering and Mission Valley Bank; 257-2339, extension 302
American Association of University Women (AAUW) Celebrates 40th Anniversary in the SCV with Membership Brunch on September 20
AAUW is a national organization and California's most active and diverse organization for women. Membership is open to anyone who holds an RN, associate degree or equivalent, or a baccalaureate or higher degree from a qualified educational institution; 296-9622 www.aauw-scv.org
Michael S. Lauer, M.D. has devoted 20 years to the practice and study of bio-identical hormone replacement therapies for men and women. Considered a trail blazer in this area of medicine, Dr. Lauer opened the nation's first specialty hormone clinic in Honolulu in 1988. Although criticized at the time for suggesting that both men and women went through a change of life, testosterone replacement therapy is now widely accepted as an effective treatment for both sexes in middle age. Dr. Lauer has since moved to Southern California and recently opened his new clinic, the Hormonal Health Center, in Santa Clarita; 949-8053
Kabuki Japanese Restaurant Opens 13th Location - Now in Bridgeport Market Place
For over 17 years, Kabuki has excelled in the casual dining industry, continually offering customers an innovative dining experience with high quality, traditional and contemporary Japanese cuisine. Kabuki will be open for lunch and dinner daily and has a menu of over 150 items. Executive Chef Masa Kurihara continually updates the menu, and recently launched a premium and "box" sushi menu this summer. Kabuki's newly-arrived Sake Sommelier Yuji Matsumoto features innovative cocktails on the beverage menu, such as a Sakitini and Tokyo-style Mojitos made with Sake and Soju. Kabuki also hosts a happy hour featuring a special lower-priced menu of sushi, appetizers and cocktails, Monday through Friday, from 3 p.m. to 5 p.m. Another trademark at Kabuki is the gracious and efficient service, which begins with their highly-skilled sushi chefs. Reservations are recommended; 799-8655
Serenity Canyon Day Spa Announces Grand Opening
Serenity Canyon Day Spa is now open on Sierra Highway between Soledad and Via Princessa. The location boasts separate lockers and showers for men and women. Relaxation rooms, where there are a variety of hot teas and fresh fruits every day, are also available. Serenity Canyon is a "green" spa, using all-organic and eco-friendly Emenince Organic Skincare Products. They also have a selection of soy candles, organic clothing and a line of organic doggie grooming items; 250-7551 www.serenitycanyon.com
Intro to SwapMeet Selling "101"
by Terri Burbank
Economic troubles? Put your worries aside and do what thousands have done before you - sell at Santa Clarita's most lively marketplace. The Market is open every Sunday and Tuesday. Sunday's market offers a larger shopping public than Tuesday's, but both markets have their advantages. Tuesday's selling spaces are just $15 per normal-sized vehicle, per space.
Sunday's market, which runs between $30 and $65 for a reserved spot, is still the biggest value. The Open Air Market provides you with thousands of shoppers and a 16-foot by 20-foot space to sell from; you park your vehicle on your spot, unload your items and start selling.
Costume jewelry and trinkets, old lunchboxes, mismatched tableware, tools, pots and pans, children's toys, furniture - all these items have value to others, and that means cash in your pocket. Maybe your store is not doing enough business. It's easy to connect with new customers by bringing out your inventory to the SwapMeet and driving traffic back into your store. How else can you sell to 5,000 to 8,000 people in one day?
Saugus SwapMeet is located at Saugus Speedway on Soledad Canyon Road and is open to the shopping public on Tuesdays from 7 a.m. to 1 p.m. and Sundays from 7 a.m. to 3 p.m. ; 259-3886 www.saugusspeedway.com
College of the Canyons Hosts Enrichment and Employment Opportunities
COC Community and Continuing Education Department Offers Free Computer Classes
Classes will be held from 8 a.m. to 5 p.m. Saturdays, September 6 through November 15 on the COC Valencia Campus. All classes are free, with no pre-requisites, however all students are required to officially register with the college's Community and Continuing Education department. Classes include Home Computer Hardware, Home Computer Networks, Home Computer Operating Systems, Home Computer Security and Home Computer Maintenance; 362-3300 www.canyons.edu/communityed
Small Business Development Center Offers Business Sessions in Canyon Country
Local business owners and entrepreneurs will be able to schedule free one-on-one business counseling sessions with Small Business Development Center representatives at the College of the Canyons Canyon Country Campus. The SBDC offers business consulting, training and workforce solutions to small businesses; 294-9375 www.canyonsecondev.org
COC Hosts Job & Career Fair on September 24
Held from 11 a.m. to 3 p.m. at the Valencia campus, meet recruiters from over 100 businesses. The fair is open to the public and provides opportunities in career fields such as law enforcement, marketing, medical, sales, finance, recreation, education, computers and engineering. Recruitment booths are still available; 362-3286 www.canyons.edu/offices/careercenter/