Like fingers reaching for the skies above, the jagged points of Vasquez Rocks rise over a hundred feet above the park floor. The rocks, formed over thousands of years of geological activity, earthquakes, and erosion are a focal point of local geography. Visible for miles along State Route 14 between Santa Clarita and Agua Dulce, the rocks are a continual source of fascination for thousands of commuters each day. And while the rocks may seem impressive from a distance, standing underneath the towering monuments one gains a whole new appreciation for the enormity of this landscape. Today, the park is visited by hikers and rock climbers, in addition to numerous camera casts filming movies and television shows, but in years past, the rocks had a far more notorious resident.
Tiburcio Vasquez was born to Spanish parents in California in the 1830s, while the land was still under Mexican control. Beginning in his late teens, he began a career of robberies and hold-ups that would span over two decades, nearly all of which was spent in Southern California. With a noted hatred for the Gold Rush and subsequent mass immigration, Vasquez's career was one of retaliation against Americans in an effort to return California to the Mexican government. Despite his career as an outlaw, Vasquez is nearly always remembered as a gentleman, incredibly respectful to local landowners and citizens under his protection. He frequented local dance halls and hotels and was said to be an excellent dancer. Outside of this elite social scene, he was a hard criminal robbing banks and stage coaches from Monterey to the Mexican Border with his gang of outlaws.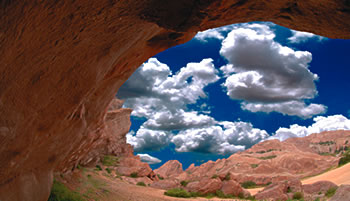 In local history, Tiburcio Vasquez was more than a banker robber. He offered protection to the local community that was not afforded by any law enforcement, which only greater built him into a player of local lore and legend. Tiburcio and his gang hid most notably in Vasquez Rocks and the foothills around the San Fernando Valley, carefully avoiding the law enforcement officials who feared ambushes among the rocks. Though his career began with an allegation (later proved false) of killing a deputy sheriff, Tiburcio often warned his men against killing. After his capture, he detailed this restraint, grasping for some leniency. None was found, and after one trial in San Jose, Tiburcio was hung on March 19, 1875.
Vasquez Rocks is managed by the Los Angeles County Parks and Recreation Department. For more information visit
http://parks.co.la.ca.us/vasquez_narea.html
. In addition to hiking and rock climbing, there are also historical exhibits on Spanish settlers and the local Tatavians Indians to peruse.