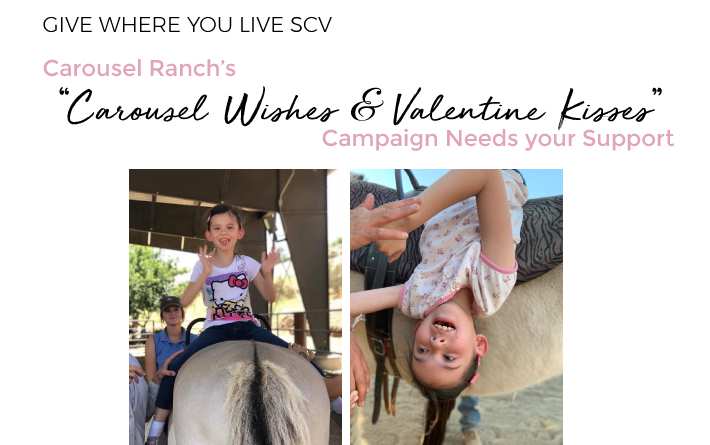 "Annabelle was diagnosed with autism at age 3, but we always knew that she was special. She couldn't walk on her own until 19 months and she has continued to be a wobbly walker. We knew she needed more support and found it at Carousel Ranch. As parents, we were amazed to see our balance-impaired daughter riding a horse, standing upright on top of one, riding a horse backwards and doing other types of tricks! Annabelle's improvement in muscle tone and balance came almost instantly. Over a year later, Annabelle's balance is very much improved and she no longer walks like a uncoordinated penguin. She also does much better following instructions. Her teachers and behavioral therapist have worked on this for years but her instructor at Carousel Ranch has done wonders! She gets Annabelle to greet and command her horse with ease! We have been able to accomplish so much in such a short amount of time and Carousel Ranch continues to work towards teaching Annabelle the life-long skills she needs."
Eric & Carrie Wan, Annabelle's Parents
The children of Carousel Ranch are sure to melt your heart. They are kindred souls with challenges that most of us will never comprehend. But their spirit is always strong as is their determination to achieve the impossible. To witness a child's transformation touches your heart in unimaginable ways. So what makes Carousel Ranch such a magical place? Therapy lessons are disguised as fun in an atmosphere where every child can succeed. The equestrian therapy provided creates a unique, individualized program to meet each child's specific needs and goals. Technically, the movement of the horse causes an inherent response from the child, relaxing muscles that are tight, increasing tone in muscles that are weak, building balance, coordination and control, which in turn enables children to use hands and arms, sit, stand and walk. Emotionally, there is a powerful horse-to-human bond that makes the impossible possible.
Each year many children with special needs wait for the opportunity to improve their health and experience life at Carousel Ranch. The Ranch is growing to serve more children and you can help them reach this goal by supporting their annual "Carousel Wishes & Valentine Kisses" campaign. Together, we can make a difference - one very special child at a time.
Double the Wishes
Through February, donations to Carousel Ranch will grow twice as big, thanks to an
up-to-$30,000 matching donation from Wayne and Dianne Crawford. So, your $10 online donation will become $20 - and so on! Make yours today.
carouselranch.org
Support Carousel Ranch All Month Long, All Over Town
ALL MONTH LONG
Carousel Cake at Wolf Creek Restaurant & Brewing Co.
Buy your Carousel treat by the slice ($5 donation) or by the cake ($50 donation). It's a s'mores-inspired, handcrafted confection that our taste-testers couldn't get enough of. Call Wolf Creek to place an order for a full cake! 263-9653

Carousel Shakes at Results Fitness
Stop by Results Fitness through February and get a delicious Carousel Shake! Fuel your body and help change a life at Carousel Ranch with a portion of the proceeds donated toward the campaign.

Charity Ale & Local Burger at The Local Pub & Grill
Sip your Charity Ale - check out the custom CR tap handle! - and nosh on the "Local Burger" with a generous percentage of the proceeds going toward the campaign!



Thursday, February 6


Wolf Creek Restaurant & Brewing Co. Fundraiser
Enjoy lunch or dinner - including take-out - at Wolf Creek Restaurant & Brewing Co. and 20 percent of your meal's cost will go to the kids of Carousel. Remember to mention Carousel Ranch to your server.



Tuesday, February 11 to Friday, February 14


Nothing Bundt Cakes Val-o-Grams Delivered to your Business
Here's a simple, delicious way to show your co-workers or clients that you love them! Carousel Ranch will be taking orders and delivering Bundtlet Valentines from Nothing Bundt Cakes to any business in the SCV. You just need to purchase 10 or more at $10 each. Want to buy less than 10 - or maybe a full size cake? Pick up any quantity at Carousel Ranch - they are the perfect gift for teachers, friends and loved ones. Call for details. 268-8010

Thursday, February 20
Wolf Creek Brewery Hosts Community Pints
A generous percentage of all sales at the Brewery will be donated to the Ranch, so drink up responsibly while enjoying a food truck, music, games and more.

Saturday, February 22
Open House at Carousel Ranch
From 10am to 12pm, visit the ranch and have a chance to see both the equestrian and Ready to Work program in action. A light breakfast and coffee will be served by Ready to Work students along with some extra Valentine's fun and games.
MISSION VALLEY BANK IS MORE THAN A COMMUNITY BANK
Mission Valley Bank's local roots run deep, motivated by the desire to be an integral part of the area they serve. A strong community thrives on personal relationships and Mission Valley Bank supports - and is honored to be supported by - the Santa Clarita Valley. Mission Valley Bank is more than just another local bank. They are a full-service, independent, commercial bank that is locally-owned, community minded and relationship driven. They're proud to have earned their reputation as Trusted Advisors. Mission Valley Bank is as dedicated to their customers' success as they are. They appreciate their business and welcome the opportunity to earn yours.
Mission Valley Bank Centre Pointe Business Banking Office 753-5693