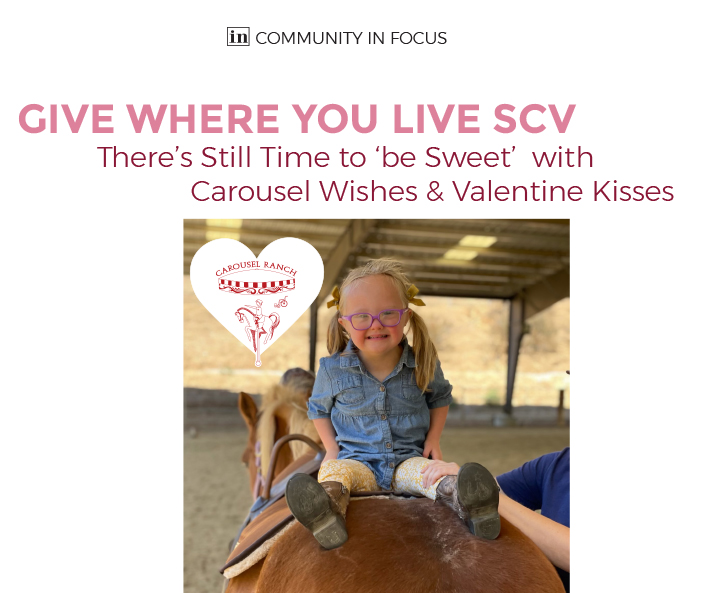 Meet one of Carousel Ranch's young riders, Evie - diagnosed with Down Syndrome - who started riding at Carousel Ranch at 2. According to Evie's mother, Evie had only been walking for six months when she first sat on a horse. "Generally, Down Syndrome individuals have low muscle tone, but Evie was the opposite. She has always had Hulk-like strength. Equestrian therapy has taught her to engage her different muscle areas and develop the skills to use her strength to meet milestones. Kneeling, side sitting and standing while on the back of the horse have helped her so much. She doesn't feel like she is doing therapy alone, because the horse is working with her, too. She and her horse are a team as they walk around and match colors, shapes and other preschool activities. Evie has become more verbal as we have gotten back into lessons. I love seeing her challenged in such a unique way. Carousel Ranch is a special place, different from a typical classroom and gym for therapy. It's a place where she can feel like a cowgirl on her own adventure; she can learn and grow with her horse at her own pace." This is the magic of Carousel Ranch.
During the month of February, Carousel Ranch looks to the community to support their annual "Carousel Wishes & Valentine Kisses" giving campaign. During the pandemic, despite temporary closures and adaptation of new protocols, the Ranch has continued to serve students in innovative ways. With renewed hope in 2022, you can help Carousel Ranch reach its goal by supporting their annual giving campaign. Thanks to the very generous offer by long-time ranch supporters Wayne and Dianne Crawford to match every dollar raised up to $30,000, you can double your donation. That means every $10, $50, $100 and $500 donation becomes $20, $100, $200 and $1,000 for Carousel Ranch! Together, we can make a difference, one very special child at a time. Please consider changing a life through the priceless gift of therapy by donating today. For more information, log on.
carouselranch.org
MISSION VALLEY BANK IS
MORE THAN A COMMUNITY BANK
Mission Valley Bank's local roots run deep motivated by the desire to be an integral part of the area they serve. A strong community thrives on personal relationships and Mission Valley Bank supports - and is honored to be supported by - the Santa Clarita Valley. Mission Valley Bank is more than just another local bank. They are a full-service, independent, commercial bank that is locally-owned, community minded and relationship driven. They're proud to have earned their reputation as Trusted Advisors. Mission Valley Bank is as dedicated to their customers' success as they are. They appreciate their business and welcome the opportunity to earn yours.
Mission Valley Bank Santa Clarita Branch 753-5693