Observed
What do you get when you mix hyper-exclusive wines with public servants who like to shake their money maker? If you were a guest at the
Loose Goose Festival's Golden Goose Gala
, you know that the answer is the newly nicknamed
Steve "I've Got a Spell on You" Sturgeon
, who made like Travolta and wowed the female crowd with his smooth moves. Steve, while you may still be in swoon state over your newfound popularity, know this, you debonair darling: You had us at "Hello."
There was more to the Fest than Sturgeon's hip swaying... On Thursday night's Paterno Wine Pairing dinner at
Salt Creek Grille
, we caught up with
Ed and Valerie Masterson
. Ed, director of community relations for the Festival, is a volunteer - but that doesn't mean he works for free in every sense of the word. Seems that Masterson accepts consumable forms of payment (in this case, highly-coveted fermented grape juice) in lieu of the greenback... So the next time you need "Masterson Goodness" (And who doesn't? This guy is a traveling party starter; ask him about anything movie related and you've got a buddy for life...), bust out a case of your finest and start bargaining (Yes, Ed - we are mocking you, along with your unexplainable love of "The Princess Diaries.").
When Gala guests weren't noshing on uber-tasty
RSVP - The Catering Company
eats (Um... can we say "deliciously divine?" Seriously, we would give away our first born for another bite of their
Wine and herb braised boneless short rib of beef
), they were slapping good ol'
Peter Goossens
- the event's namesake - on the back. Not only does The Goose have a golden touch when it comes to wine festivals (with over 6,000 attendees, ya gotta hand it to the guy), but he also recently announced that he and wife Cindy are expecting again in November (No, not another wine fest, a baby. You should be ashamed of yourself. And you might want to consider attending an AA meeting.). Congrats to the Goossen family.
Also on hand at the
Loose Goose Wine Festival
were The Sanctuary Resort & Spa team
Arif Halaby
(also owner of
Total Financial Solutions
),
Doug Gould
,
Kathy Crone
and
Dina Murillo
. We can only assume that it's not enough to have constant access to your own luxury Costa Rican escape; the team also vied for VIP treatment at the Fest as major event sponsors.
And on a final note,
Jeri and Carl Goldman
, owners of the local radio station
KHTS AM 1220
, will be treated to a
Zonta
"tribute" (aka "roast") on November 3. Personally, we were a little miffed that no one asked us to participate, but we magazine peeps will have the last laugh... Here's part of our speech that no one asked us to deliver: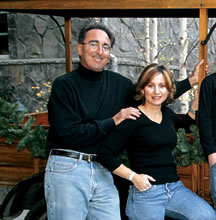 Carl and Jeri have been great to this community, and their radio station provides quite a public service. Whenever there's an "F" alert (Felon, Fire or Festival), we're a-listenin'. But don't think that it's all "give, give, give." Ponder this: What would the pair do if they weren't in broadcasting? Jeri might be petite, but boy does that woman have a mouth on her. She's the kinda loud that has to be spelled L-O-U-D, and the energy! If she wasn't in radio, you'd see her standing on some corner on Soledad Canyon, dancing around with an arrow-shaped sign that says "New Homes This Way." And Carl would be worse off; actually, he'd be dead, which is pretty bad. Ever eager to be right on top of things that burn ("This is Carl Goldman with KHTS bringing you closer to the flames than any other station; I am actually within the fire. I have become the fire."), without his media pass, this long drink of water would be forced to air-drop into the burn zone, out of sight of our hard-working firefighters.
Ok, so it's not gold, but really, what can you say about Carl and Jeri that's truly roast-worthy? Oh, if only Zonta had (re)-selected
Don Fleming
this year. Now that's a party!