Driving through what felt like miles of mountainous terrain to reach the secluded Veluzat Motion Picture Ranch (thank goodness for my SUV) and later dodging clouds of dust and rocks being pummeled at me during a scene with an accelerating Bronco, made me doubt if my first time on a movie set would be as enjoyable as I had hoped.
My uncertainty dissipated as I was introduced to the cast and crew of "Jack Satin," a low budget independent film partially shot in Santa Clarita. "Jack Satin" tells the story of a lounge singer, its title character, who is down on his luck. When his car breaks down in a small town, an ex-trumpet player turned car mechanic helps him out. With the aid of his newfound friend, Jack quickly finds himself reconnecting with what it really means to be a musician. Starring Hamilton von Watts, Robert Guillaume and Melissa Joan Hart, this little indie film has the potential to become a big hit.
A collaborative effort between director Chris Olness and von Watts, "Jack Satin" took the team over a year to write. "Hamilton came to me with this character and I just went with it; it sounded like a great idea," said Olness. "I would go into Chris's house ranting and raving and let him put it all together. He would have to make sense of it," added von Watts. This is the first feature film for Olness, a graduate of The American Film Institute, who says that a "good cast and good planning" are what will make the movie successful.
Although the film has some well-known actors, there's no guarantee you'll see it in a theater near you any time soon. It must first be presented at the Sundance Film Festival where its fate will lie in the hands of the viewers and critics. But everyone involved is so excited to be part of something that they deeply believe in, it seems that even a "straight to video" fate wouldn't matter. "When people come together out of love and compassion and work together to get something done, it's just incredible," reflects von Watts.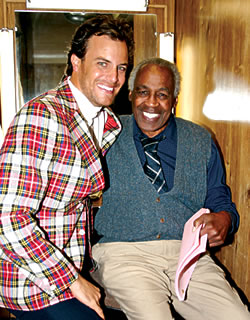 The shooting continued at the Veluzat ranch for four days before moving on to Los Angeles and Las Vegas. Looking for a small, private town outside of Nevada, Olness and the crew chose Santa Clarita because of its prime location. Daniel Veluzat, ranch manager and co-executive producer, was more than happy to offer his services. "It makes me feel good to see productions taking up residence in Santa Clarita," said Veluzat, "It's a boost to the community, economy and reputation."
Veluzet's father, Andre', and uncle, Renaud, own the Veluzat Motion Picture Ranch, as well as Melody Ranch in Newhall. Both of these are very popular filming sites and have served as locations for numerous feature films, television series and music videos. In fact, one week before Inside SCV visited the ranch Nick Lachey was on site filming his new music video, with "The Newlywed's" camera crew in tow.
As my visit drew to an end, I realized that rarely have I been surrounded by a group of people who believe in one another so much. If anything, "Jack Satin" will be a success in the eyes of all who participated in its production, which the crew gushes is "made on pure human spirit."