"Buonasera." Good evening.
It's the simple Italian phrase diners are greeted with when entering Cavi Cucina Italiana for dinner. Good evening indeed, as diners are sure to enjoy the delectable offerings of simply made, beautifully presented dishes at this new trattoria in Newhall.
Upon entering Cavi, diners will likely be greeted first by Executive Chef Tonino Cardia as the entrance of the restaurant provides a perfect view of Cardia at work in the kitchen. After exchanging buonaseras with the chef, diners can make there way to Cavi's small and inviting dining room. It won't be the last you see of Cardia either, as the friendly chef usually makes his way into the dining room as well to ensure that guests are enjoying his authentic Italian comfort foods.
To start, the Calamari Fritti and Caprese Salad are both quite nice, but most notable among the antipastos (appetizers) is the Carpaccio with Rucola and Parmesan. This amazing appetizer features thinly sliced raw beef, chopped arugula, and shaved Parmesan cheese - all of which are perfectly seasoned with salt and pepper, extra virgin olive oil, and a spritz of lemon. This is a simple, yet delectable starter that is a must try.
Cardia's deft touch with Italian fare is evident in his rendition of Pappardelle as well. This primo, or first, course is uncomplicated and delicious, featuring thick ribbons of handmade pasta that is prepared perfectly al dente. The pasta is then dressed with a ragu of beef and tomatoes in which the meat is meltingly tender and the tomato sauce is luscious and infused with the meat's juices. The Chicken Milanese is delectable as well, featuring pounded and breaded chicken breast that is lightly fried in olive oil and served with roasted potatoes and carrots.
In addition to the selections on Cavi's menu, Chef Cardia prepares a variety of special dishes off the menu as well depending on the boon of produce, meat, and fish that day. On our first visit to Cavi, I was thrilled by the Zuppe Pesce special. This fresh seafood soup consisted of grouper, red snapper, shrimp, clams, mussels, and squid - all swimming in a light tomato broth and accompanied by rustic Italian garlic toast. Absolutely wonderful.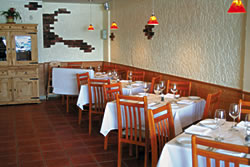 On a different visit, a diner at the next table ordered up the last Osso Buco of the night, just before I could put my order in. When the dish of slow-braised veal shanks was set in front of her, I tried to watch out of the corner of my eye as she took that first bite. Based on her reaction, I promised myself to return another time to try the Osso Buco. Instead on this night, we ordered the Roasted Lamb special as well as the Homemade Ravioli and Shrimp special. The Roasted Lamb was a nicely prepared dish and included slices of tender lamb served with roasted potatoes and carrots. The homemade ravioli was stuffed with spinach and ricotta cheese, and dressed in a luxurious, shrimp-studded, creamy tomato sauce.
Even if feeling fully sated, the diner's experience wouldn't be complete without trying any of the dolci on the menu and ordering a coffee. The cannolis are a fine dessert and a perfect accompaniment to a cappuccino. The cannolis feature two crisp, rolled pastries filled with sweetened ricotta cheese. Each end of the cannoli is dipped in ground pistachios before being finished with a dusting of powdered sugar.
--------------------------------------------------------------
Cavi Cucina Italiana is located at 23754 Lyons Avenue in Newhall. The restaurant is open for lunch and dinner Monday through Friday, but closed on Tuesday. Dinner is offered on Saturday from 5 p.m. to 9:30 p.m., and on Sunday from 4:30 p.m. to 9 p.m. Reservations are highly suggested and can be made by calling 254-2475. Prices and specials change regularly.