Who needs to drive to Los Angeles for great Thai food? SCV residents don't. We have a great Thai restaurant in our own backyard (Copperhill and Seco, to be exact). Last year, the family-owned Chan Dara restaurant, which has been a favorite L.A. spot for Thai-fusion cuisine for over 30 years, opened up Chan Daretta in North Valencia. It is here in the modern 100-seat restaurant accented with red and gold walls, dark wooden tables and Buddhist statues that Executive Chef Scott Souksavath creates his unique version of Thai food.
Before ordering appetizers, you may want to make a selection from the extensive martini menu. All the martinis ($7) are generously sized but not too strong. The lychee martini contains both the lychee juice and a fresh garnish of the sweet fruit native to Southeast Asia. Another refreshing libation is the white grapefruit martini made with Asian vodka. If you'd rather stick to beer, their international selection ensures something for everyone.
For starters, there are a dozen small plates known as "tapas" from which to choose. The Golden Triangles ($8), a house specialty, are panko-crusted wontons filled with scallops, shrimp and crab. The contrast between the crunchy wonton and the moist and tender filling is wonderful. These tasty morsels are great on their own, or dipped in the sweet lime sauce that comes alongside. The Buddha Dumplings ($7) are another popular appetizer. Steamed chicken potstickers accented with a basil chiffonade and ground coconut come with a spicy green curry sauce. The heat of the sauce is a complementary foil for the slightly sweet dumplings. A traditional Thai dish called Mee Krob ($7) is also a good choice for anyone with a sweet tooth. Even though it is served at the beginning of the meal, this combination of crispy noodles, shrimp and tofu tastes like it could be a dessert. With its light, delicate, sugary sweetness, the dish reminded our party of cotton candy.
As for the soups and salads, there are several spicy offerings as well as some milder recipes on the menu. A traditional salad, Larb ($8) is like a Thai lettuce wrap. Spicy chicken or shrimp is mixed with lime juice, cilantro, chili paste and onions; it's mounded in the center of a plate surrounded by lettuce leaves and raw vegetables. The Tiger Beef Salad ($9) has grilled top sirloin steak over mixed greens and a spicy lime and chili dressing. Of the soups, Tom Kar ($3 with chicken; $4 with shrimp) is a hot and sour version made with the traditional Thai ingredients, coconut and galanga, which is an herb similar to ginger.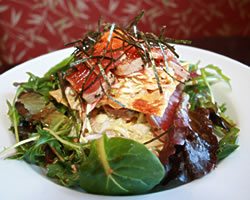 Popular noodle dishes include Pad Thai ($10-$12) and Pad See You ($10-$12). The former is made with thin rice noodles, egg, tofu, beansprouts, scallions, peanuts and tamarind, a fruit grown throughout Asia, northern Africa and India that is used in their cuisines much like the lemon is used in Western recipes. The latter consists of flat rice noodles (similar to wide-ribbon Italian tagliatelle) combined with egg, bean sprouts, Chinese broccoli and a sweet soybean sauce.
Of the listed house specialties, Deep Fried Catfish ($20) served with Thai salsa and sesame sauce is worth ordering if you have the time for a leisurely meal (it requires 30 minutes to prepare). Also worth ordering is the Curry of the Day ($10). On the night our party dined there, the kitchen turned out a hot and spicy chicken dish with yellow curry sauce. For those who might not feel like ordering anything too adventurous, there's a Filet Mignon ($20) marinated with port wine and spicy garlic or Grilled Sea Bass ($20) served with sauteed spinach and mushrooms. Sides include a wide variety of stir-fried vegetables and rices, including Combination Fried Rice ($12), steamed Jasmine Rice ($2) or Coconut Rice ($2).
Desserts ($6) run the gamut from European specialties like French Creme Brule, given a unique Thai twist by pairing it with a lemon sorbet scoop atop a fried wonton; and Spanish Flan that Chef Souksavath has reinvented with coconut, a traditional Thai-style coconut ice cream topped with sweet red beans, garbanzo beans and sweet preserved Asian plums. Sipping Thai green tea is a perfect way to end the meal because it will give you time to contemplate what you'd like to order on your return visit.
--------------------------------------------------------------
Chan Daretta is located at 27911 Seco Canyon Road and can be reached at 513-0671. The restaurant is open Monday through Thursday 11:30a.m. to 9:30 p.m.; Friday 11:30a.m. to 10 p.m.; Saturday 12 p.m. to 10 p.m.; and Sunday 12 p.m. to 9:30 p.m.