With a melange of influences from Malaysia, China, Spain and even the United States, Filipino food is built upon an interesting melding of cuisines. Despite this wide spectrum of flavors, the melting pot of Filipino food remains distinct from its culinary roots by drawing upon regional and cultural traditions throughout the hundreds, or even thousands, of islands that comprise the Philippine Archipelago. Hundred Islands Grill, a new Filipino restaurant on Bouquet Canyon, masterfully presents this distinctive fare, offering a wonderfully unique gastronomic experience to those of us in the Santa Clarita Valley.
The small dining room of Hundred Islands Grill emits a friendly communal vibe. Filipino families and young couples sit at the dark mahogany tables and chatter amongst themselves - or with one another, as acquaintances and familiar faces are welcomed with jovial greetings from across the room. The white, glass-paned kitchen doors swing in a constant to and fro as an array of dishes make their way out to the hungry diners.
The Shrimp Spring Rolls ($5.25) are a good start. The spring rolls feature poached shrimp, rice noodles and julienned vegetables wrapped in rice paper and served with a hoisin peanut sauce. The real star of this dish though is the accompanying sweet mango and crisp cucumber salad with small diced red chilies that leave a tiny but lingering amount of heat on the palate. The Arroz Caldo ($2.95 for small bowl) is a warm and comforting porridge of rice, chicken, roasted garlic and onions. The flavors of the Arroz Caldo are earthy and delicious, but a bit muted, so be sure to ask the server for Kalamansi, a small and tart Filipino citrus fruit. A squeeze of fresh Kalamansi lends another dimension to the already tasty porridge.
The main courses at Hundred Islands Grill are large and served family style. The Barbecue Plate ($22) is a delicious showcase of marinated and grilled short ribs, chicken, pork belly and vegetables beautifully presented in a banana leaf-lined woven basket. After this big basket of meat arrives, those unaccustomed to Filipino food will instinctually grab for the dinner knife, but then notice that there aren't any dinner knives on the tables. Filipinos tend to eat sans cutlery and utilize only a fork and spoon. Not to worry, however, as the savory meats are tasty and tender. And yes, if a knife is still needed, just ask the server.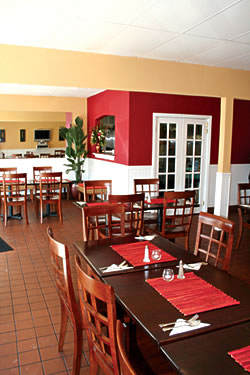 To some, Chicken Adobo is perhaps the Philippines' most well-known dish. It is also a dish that is a must-try at Hundred Islands Grill. The restaurant's Chicken Adobo ($6) is a piquant stew of chicken bathed in a mixture of soy sauce, vinegar, black peppercorns and bay leaves, and then slowly braised until tender. Although the chicken may be a bit dry in some parts, there is plenty of delectable sauce to offset any dryness. The chicken is infused with a tart, vinegary flavor that is sharp yet delicate and pleasing.
The Kare-Kare ($8.50) can be an intimidating dish to a non-Filipino, but is delicious nonetheless. This Filipino specialty consists of oxtail, tripe, long beans, sliced eggplant and greens, simmered in a smooth and silky peanut sauce. The oxtail tends to be a bit fatty, but the meat is tender and flavorful. In addition, a condiment of fermented shrimp paste is served on the side. This pink and salty paste, known as Bagoong, is very pungent but also very tasty - adding a bit (just a bit) of it to the Kare-Kare brightens up the mellow yet rich peanut sauce. Be sure to order plenty of rice for this dish to soak up the luscious sauce.
After sampling such bold flavors, diners will also want to try the sweets of Filipino cuisine. Perhaps the most apropos representation of the Filipino melting pot is Halo-halo (literally translating to "mix-mix"). The Halo-halo ($3.95) is served in a tall clear glass to display its colorful contents: sweetened preserved red beans, strands of white coconut, pieces of yellow jackfruit and plantains, and brown and crisp dried rice lie at the bottom. These fruits and rice are then topped with shaved ice tinged with coconut milk. Finally, a big scoop of Ube (purple yam) ice cream rests atop the ice. Some like to eat the pleasing purple ice cream first, others let it melt a bit into the ice. But as the name suggests, diners are to mix the contents of the Halo-halo with a spoon and enjoy the wonderful melding of flavors - a fitting finish to a Filipino feast.
--------------------------------------------------------------
Hundred Islands Grill is located at 26238 Bouquet Canyon Road in Santa Clarita and can be reached at 260-3502. The restaurant is open from 11 a.m. to 9 p.m. Monday through Friday, 9 a.m. to 9:30 p.m. on Saturday, and from 9 a.m. to 8 p.m. on Sunday.