Looking for good Mexican food? There's no need to cross the border. You don't even have to leave the SCV. Just head on over to La Cocina Bar & Grill.
Once a well-kept secret nestled in the northern end of the Santa Clarita Valley, the word is out. La Cocina (which means "kitchen" in Spanish) seems to be the place to go for margaritas and traditional south-of-the-border fare. Packed nightly with hungry diners, the original location at Seco Canyon and Copperhill has become so popular that the owners have recently opened a second location at the corner of Plum Canyon and Bouquet Canyon Road.
The original restaurant has small booths that are difficult to accommodate more than four adults, but the second location is much more spacious. With walls painted to look like an adobe dwelling, both restaurants evoke the sense of eating in a Mexican village. Colorful paintings depicting rural Mexico cover the walls. In this cheerful setting, you might not even mind the wait for your table. Especially if you pass the time sipping one of their potent house margaritas ($5.25). Once seated in the dining room, the attentive wait staff is sure to come by with chips and salsa, one of the best versions I've had in recent memory.
Our group sampled two different starters, the Guacamole ($4.95) and the Queso Fundido ($5.95). The guacamole had a creamy texture with just the right amount of lemon juice to cut the richness of the dip. Small chunks of avocado, along with flecks of fresh raw onion, tomato and cilantro, enlivened this rendition. Queso Fundido (translated as "melted cheese") is a delicious first course. Popular in Guadalajara, where it is made with a mild, local cheese, La Cocina's version is certain to attract a loyal following. Chorizo, a spicy pork sausage flavored with garlic and chili powder, tops the bubbling skillet of cheese. Warm flour tortillas accompany the dish so you can roll up the cheese mixture to make soft tacos.
As for the entrees, most come with your choice of either soup or salad. While the mixed green salad is nothing extraordinary, the soups are noteworthy. Albondigas Soup is a tasty broth filled with chunks of vegetables like carrots and celery, along with several tender, mildly-spiced meatballs. La Cocina's version of Tortilla Soup is hearty, with large chunks of tender chicken breast and vegetables. Crisp fried tortilla strips and a sprinkling of shredded Monterey Jack top it off.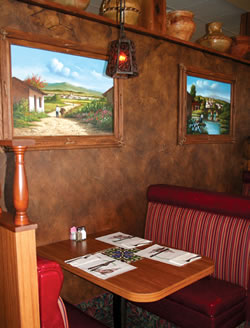 The menu lists all the typical offerings, from fajitas and tostadas to taco-enchilada combinations and a la carte items. If you're in the mood for something different, try the Enchiladas de Mole ($11.95). The hallmark ingredient of this dish is dark chocolate, which lends both body and richness to the sauce without making it too sweet. Enchiladas Suizas ($10.75) are filled with chicken and served with sour cream and a tangy green sauce made with tomatillos (a small green tomato covered with a thin papery husk). Meat-lovers will enjoy the Carnitas Plate ($10.75). Simmered pork comes with guacamole, pico de gallo and a delicious pinto beans side dish. If you prefer steak, the Tacos Mexicanos ($10.75) are a great choice. Three large flour tortillas come stuffed with chunks of beef in a flavorful sauce that's not too spicy. Guacamole, rice and beans round out the meal.
In the dessert section, the Fried Ice Cream ($3.50) looked interesting. It must be a very popular item because the restaurant had sold out of it during our visit. Instead, we ordered the Flan ($2.75), a traditional Mexican sweet that is creamy and rich, with a delightful caramel flavor. We discovered that the one dessert wasn't quite enough, so we also shared the Strawberry Chimichanga ($3.50) A departure from the savory version with meats, beans and cheeses, La Cocina's dessert chimichanga is a delicately fried burrito filled with a puree of fresh sweetened strawberries and topped with whipped cream. We all agreed - this dessert has made it on our short list. Just like the restaurant.
--------------------------------------------------------------
La Cocina Bar & Grill has two locations: 28022 Seco Canyon Road (at Copperhill), 297-4546); and Bouquet Canyon Road (at Plum Canyon Road), 513-0142. Both restaurants are open from 11 a.m. to 10 p.m. Monday through Thursday, 11 a.m. to 11 p.m. on Friday, and from 10 a.m. to 11 p.m. on Sunday.