The atmosphere at La Rumba Cuban Restaurant in Saugus can be much like its namesake dance - lively, syncopated, and rhythmic - as the small wait staff shuffles from table to table on busy nights. When I arrived there with my dining group, the fast-paced percussive music played over the restaurant's sound system was almost enough to get us to dance towards our booth. Luckily for the rest of the patrons in the restaurant, no ill-advised rumba steps were attempted from doorway to dining table.
Once seated, a distinctive island vibe was noticed. Tropical foliage and twinkling lights draped from the restaurant's ceiling, and a bright beach mural accented a wall in the dining room.
In spite of the lack of actual rumba-ing, La Rumba offers some lively dishes to keep the palate dancing. La Rumba's menu features quite a few house specials, including the Paella Valencia ($26.95). I promptly ordered this dish after noticing the 45 minutes needed to prepare it as indicated on the menu. I figured 45 minutes was the perfect amount of time for us to sample some daiquiris and mojitos, along with a couple of appetizers.
The Papas Rellenos ($6.95) were a pleasant start, featuring tennis ball-sized fritters of mashed potatoes stuffed with seasoned ground beef and olives. The Papas Rellenos are lightly breaded and fried, forming a thin, crisp crust to prevent these tasty golden globes of meat and potatoes from falling apart. Another decent appetizer is the Tamal Relleno ($2.95): a Cuban-style tamale that features a smooth velvety masa exterior stuffed with spiced shredded pork. Instead of being robed in a corn husk like its Mexican counterpart, the Tamal Relleno is served nearly bare but for a dressing of tangy, citrusy Mojo Criollo sauce.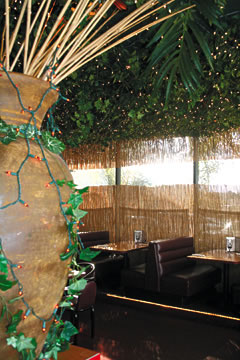 While sampling the Cuban crudites and quality Cuban cocktails, I found myself anticipating a great dish in the Paella I ordered. Almost on cue, our entrees arrived along with my long-awaited Paella Valencia. La Rumba's interpretation of this Spanish-inspired dish included all the usual suspects of Valencia rice, pork, chicken, shrimp, sole, mussels, crab legs and lobster. My first bite was nearly sublime, as the tender pork and chicken seemed to have benefited from a long, slow braise. My next few forkfuls, and other bites between, weren't nearly as good however. Most, if not all, of the seafood in the Paella was woefully overcooked - the sole was dry and chalky and the shellfish rubbery. On this particular night at least, the Paella was not worth the wait.
Fortunately, the other entrees ordered were quite good. The Lemon Shrimp and Steak ($16.95) was another house special that was served with onions, garlic and bell peppers. The shrimp and strips of steak were all tender, delicious and balanced with a bright, earthy citrus and red wine sauce. In addition, rice, black beans and fried plantains accompanied this fajita-style dish instead of tortillas. The Carne con Papas ($12.95) was another good entree as well. Succulent chunks of beef are simmered in wine along with potatoes, Spanish olives and fresh herbs. Rice, black beans and fried plantains also accompanied this dish.
--------------------------------------------------------------
La Rumba Cuban Restaurant is located at 27600 Bouquet Canyon Road in Saugus. The restaurant is open from 11:30 a.m. to 9 p.m. Monday through Thursday and 11:30 a.m. to 10 p.m. on Friday and Saturday. La Rumba can be reached at 297-6260.