If you can find it, Mom Can Cook Thai Kitchen is a worthwhile adventure in traditional Thai cuisine. Literally out of sight and hidden away at the end of a strip mall on Soledad Canyon Road, Mom Can Cook is a small and secluded restaurant you'll wish you had found sooner.
If you do in fact find this hidden restaurant, you may notice that it resembles a traditional Thai hut on stilts as you climb the steps to the front patio and entrance. You can choose to sit outside on the small front patio, or inside the dining room of wood-paneled walls adorned with various Thai paintings and statues. Colorful and intricate fabrics cover the tables and green twisty bamboo plants climb from small vases.
The menu at Mom Can Cook is quite extensive, with the main dishes served family style. Although there are designated spicy dishes on the menu, any item can be adjusted to your liking; mild dishes can be made spicy, and spicy dishes can be made, well, even more devilishly mouth scorching - but in a good way. The friendly (and concerned) server may give you the once over to make sure you can handle the increased "Thai Spice," but once all assurances are made about the endurance of your taste buds, he'll scurry to the kitchen to make sure your order is prepared accordingly.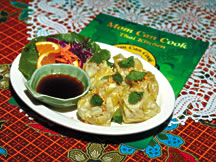 The Steamed Thai Dumplings ($5.75) are a nice beginning course as minced chicken and water chestnuts are stuffed into a wonton skin, steamed, and then topped with crispy garlic, cilantro, and soy sauce. The Charbroiled Chicken Sa-Taes ($5.95) should be ordered if only for a taste of Mom Can Cook's delicious peanut sauce. Another wonderful appetizer is the Fish Cakes ($5.95). Ground fish patties are speckled with diced green beans and homemade spices and then deep-fried. A cooling cucumber vinaigrette is served with the Fish Cakes to soothe their faint, yet spicy heat.
Mom Can Cook's main courses are superbly done and most can be ordered with a choice of chicken, beef, pork, tofu, vegetables, or shrimp. Mom Can Cook's Shrimp Pad Thai ($7.95) is wonderfully delicious with a slight sweetness of tamarind that lingers on the palate. For this popular Thai dish, tender rice noodles are stir-fried with eggs, bean sprouts, green onions, and shrimp, then topped with peanuts.
The Mongolian Plate with beef ($5.95) is similar to the Chinese dish, and all the more delectable as beef is pan-fried with onions, bell peppers, mushrooms, green beans, and cabbage, and then topped with crispy rice noodles.
The Crispy Rainbow Trout ($8.95) is a simple and tasty offering from Mom Can Cook's selection of seafood. A whole trout is split, dipped in wine tempura, and then deep-fried until perfectly golden. The fish is served butterflied, sans head and bones, on a platter with steamed vegetables and accompanied on the side by both a cucumber vinaigrette and a spicy garlic and pepper sauce.
Mom Can Cook also offers a variety of curries - all of which are spicy, and all of which are so very good. The Panang Curry ($5.95) is full of heat and flavor, consisting of a reddish-orange melange of roasted red chili paste, coconut milk, peas, carrots, bell peppers, sweet Thai basil, and your choice of meat. The coconut milk does cut the heat of the red chili paste, but not by much. You might want to wash this down with a refreshing Thai Iced Tea or a Singha beer from Thailand.
Mom Can Cook Thai Kitchen is open Monday through Saturday from 11 a.m. to 9 p.m. and on Sunday from 12 p.m. until 9 p.m. The restaurant is closed on Tuesdays. Mom Can Cook Thai Kitchen is located at 18358AŻ Soledad Canyon Road in Canyon Country and can be reached at 251-8103 (you might want to call for directions).