When entering Naima Persian Restaurant for the first time, diners will notice an immediate air of sophistication. Burgundy curtains are draped across the restaurant's windows, shielding the strip mall scene outside. Inside, sleekness abounds as tables are shrouded in white tablecloths, in stark contrast to the walls awash in deep hues of red and accented with canvasses of Farsi calligraphy. Jazz is filtered into the small dining space, while the sharply dressed staff promptly tends to your arrival.
From the boldly accented decor, to the sentry appearance of the staff, it may be easy for some to feel overwhelmed at first. However, the staff proves to be very friendly and welcoming and diners will be put at ease soon enough, especially when the food arrives.
If dining with a large group, the Hummus ($4.95) is a good choice for an appetizer, as it seems to last throughout the entire meal. This silky puree of chickpeas, garlic, lemon juice and olive oil is served in a large dish from which diners can dip pita-like flat bread known as Lavash. Another terrific starter is Naima's offering of stuffed grape leaves served with sliced cucumber and tomato. Although grape leaves can be quite acrid and pungent, Naima's luxurious Dolmeh appetizer (six for $4.95) strikes the perfect balance between tart and savory. The Dolmeh stuffing of rice, tarragon, split peas, basil and parsley is rich and creamy, while the grape leaves have a pleasant yet sharp bite.
All of Naima's main courses are served with a basic salad of iceberg lettuce and shredded carrots. Although dressed with a tangy yogurt sauce, the salad doesn't do much besides take up room on the square concave plates it shares with the entrees. Luckily, Naima's entrees don't have the same lackluster qualities of the accompanying salad.
One of the hallmarks of Persian cuisine is the mastery of simple rice pilafs, or Polo, as it is known in Iran. A heaping, fluffy mound of saffron-steamed basmati rice accompanies most of the dishes at Naima, but can be substituted with other rice dishes that feature additional ingredients. For a heartier rice dish, diners can choose the Loobia Polo ($2 for substitution) that features green beans, meat, and tomato sauce. The Zereshk Polo ($1.50 for substitution) is also good and features saffron-steamed basmati rice and sweet and sour currants.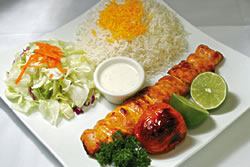 Another trait of fine Persian fare is the grilling and broiling of skewered meats, or kabobs, that have been left tender and tasty by a marinade. One such succulent skewered dish is the Barg Kabob ($15.95). This delicious marinated heart of beef tenderloin is charbroiled and served with the saffron-steamed basmati rice and a grilled tomato. The grilled tomato is simple and delicious, but there is only one of them for each dish, so be sure to get a bit with each delectable bite of tenderloin.
The Zereshk Polo with Chicken ($12.95) is a delicious melding of sweet, sour and savory flavors. A tender chicken kabob is brightly hued from a subtle saffron-citrus marinade and served with the Zereshk Polo of basmati rice and currants. The deep berry flavor of the polo is a perfect foil for the yellowed, citrusy chicken.
Any Persian restaurant worth its weight in rice should also have a decent version of Fesenjan. Naima's offering of this traditional Persian stew of chicken, pomegranate sauce and walnuts is wonderful. Served with saffron-steamed basmati rice, Naima's Fesenjan ($9.95) is a rich and luscious must-try.
Another must-try for diners should be the sweet, buttery, and gooey Baghlava ($2.50) for dessert. This decadent pastry of phyllo dough, honey, rosewater and ground pistachios arrives at the table as a pair of small pistachio-jeweled squares, but is probably too good to share with anyone else.
--------------------------------------------------------------
Naima Persian Restaurant is located at 26877 Bouquet Canyon Road in Santa Clarita. The restaurant can be reached at 513-0077.