Although its name may seem outdated for the New Year, a new Vietnamese restaurant on Lyons Avenue may be just the place to seek warm refuge from the blustery 2006 winter weather outside. At Pho 2005, diners can enjoy traditional Vietnamese noodle soup year-round.
From the outside, Pho 2005 doesn't look like much - just another small unassuming mom and pop restaurant on Newhall's main strip. A neon sign is all that highlights the plain, near-colorless exterior of the restaurant, its windows steamy and opaque on cool nights.
Inside, the restaurant's busy open kitchen is flanked by a small v-shaped dining space - alive and murmuring with the click-clack of giant bowls, soupspoons, and chopsticks emanating from the booths and tables. A number of Vietnamese diners can be found at the restaurant on any given night - a good indication that the food is both tasty and traditional at Pho 2005.
To start, diners can conjure the freshness of summer even during the chilliness of winter with the Summer Rolls ($3.75). These beautiful appetizers are bright and crisp as rice noodles, shrimp, and a chiffonade of lettuce, Thai basil, and cilantro, are all rolled into thin rice paper skins and served fresh and un-fried. This refreshing starter is complimented beautifully by a sweet peanut sauce.
The Vermicelle ($6.75) is also a terrific choice; it can be shared as a salad, or even enjoyed as a main course. This hot and cold dish features a bed of cool rice noodles, red and green cabbage, julienned carrots and zucchini, bean sprouts and cilantro, topped with a hot stir-fry of tender beef. A drizzle of sweet and salty fish sauce dresses this salad.
In spite of its refreshing and summery dishes, Pho 2005's truly remarkable offerings are its selection of wonderfully warming soups. In its native country, pho (pronounced fuh) is a simple and inexpensive street food primarily consisting of broth, rice noodles, and a choice of meat. The hot, steamy broth is the key ingredient in any pho since it is where most of the flavor lies. The broth at Pho 2005 is quite good; a mild but deeply fragrant and beefy broth perfumed with a lingering scent of star anise and ginger. This amazing broth, poured over long, soft rice noodles and served in huge deep bowls, forms the base of all the soups at the restaurant (eight phos to be exact). Despite this small selection, each offering of pho is delectable, taking on completely different embodiments depending on the meat selected for the soup.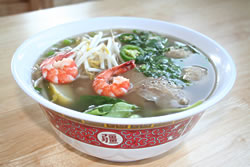 The Pho Seafood bowl ($6.75) features shrimp, squid, and fish balls (minced fish rolled into compact spheres). The shrimp are cooked perfectly, the white strips of squid are firm but not rubbery, and the fish balls add a nice saltiness to every bite, or slurp, of the pho. The House Special bowl of pho ($6.75) is excellent and consists of Vietnamese meatballs, tripe, beef tendon, thinly sliced flank and brisket, and thinly sliced rare steak that arrives raw and pink, but is quickly poached and cooked through by the hot broth. Everything in the House Special is delicious, especially (and surprisingly) the beef tendon. These quivering, translucent tendons hiding among the noodles are anything but tough as they practically melt in your mouth. For a sort of surf and turf version of pho, try the Super Bowl ($7.75) that includes everything from the Seafood bowl and the House Special bowl.
Every bowl of hot soup can be customized further with the accoutrements that arrive on a separate platter: Thai basil, bean sprouts, sliced jalapenos, cilantro, thinly sliced onions and lime wedges. Additionally, diners can dab sweet hoisin sauce and spicy Sriracha red pepper sauce onto their soupspoons with their chopsticks, contributing even more complex and deep flavors to the pho. There really is no wrong way to enjoy pho, just look around to see what others are doing, adapt, and slurp away.
--------------------------------------------------------------
Pho 2005 is located at 22950 Lyons Avenue and is open from 9 a.m. to 10 p.m. every day. The restaurant can be reached at 255-2244.