Word of mouth certainly travels fast - especially when it's good news about Piccola Trattoria, the locally owned wine bar/restaurant in Canyon Country. The name is deceiving because this "piccola" (which means "little" in Italian) eating spot is certainly anything but small when it comes to authentic Italian flavor. Whether meeting up with friends for a glass of wine, joining that special someone for a romantic dinner, or even just taking the family out for pizza and pasta, there's something here for everyone.
Sicilian owners Rosella Tarranova and her mother Angie have turned the space into an intimate setting for a memorable Italian meal. Warm Tuscan yellow walls complement the terra-cotta colored banquettes lining the back wall. Italian wine bottles fill shelves of the bar as well as the large wooden wine holder toward the front of the dining room. Even better than the ambiance, though, is the food. Everything is homemade - from the complimentary bruschetta and arancini (fried croquettes filled with rice, meat and peas) brought to the table when you first sit down to the two dozen desserts offered daily by their native-Italian pastry chef, Fabrizio.
Freshness and quality ingredients are the hallmarks of every dish. For starters, there are two traditional soups, the vegetable-filled Minestrone all'Ortolana ($5) and the Pappa al Pomodoro ($5), a rustic tomato and bread soup infused with a subtle garlic flavor. If you'd rather start with a salad, there's the popular Dolcelatte al Caprese ($8.50), a combination of tomatoes, fresh mozzarella cheese, basil and olive oil, or Panzanella ($7.95), a combination of bread paired with crunchy radicchio, sweet caramelized walnuts and creamy Gorgonzola cheese. Another delicious antipasto worth ordering is the Zuppetta di Cozze ($8.75), a bowl crowded with mussels that have been steamed in a garlicky tomato broth. If dining with a group, sharing a pizza or two would be a great way to begin the meal. The New York ($9.95) is your typical pepperoni-and-cheese pizza. But for those who want to try something a little different, order the Prosciutto e Funghi ($10.25), which is topped with prosciutto ham and mushrooms, or the Bresaola ($11.25), a pizza topped with arugula, shaved Parmesan cheese and Bresaola, an aged, air-dried salted beef that originates from Italy's Lombardy region.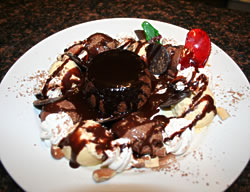 Authentic Italian restaurants like Piccola offer pasta and risotto dishes as a separate first course. Then the entrees, or "secondi," follow. Of course, these pastas are all filling enough to serve as a main course. One of the house specialties is Fettuccine alla Bolognese ($11.95), a fresh wide-ribboned pasta made from scratch that is covered with a flavorful tomato and meat sauce. There are several seafood pastas on the menu, including a delicately seasoned crab- and-shrimp-filled ravioli served with a light saffron cream sauce. The pumpkin-filled Tortelloni di Zucca ($10.95) is another terrific homemade stuffed pasta.
As for the entrees, Ossobuco ($19.75) deserves its reputation as a house specialty. Tender veal shank is braised in a rich wine sauce. The meat comes with soft polenta (a creamy cornmeal side dish), steamed vegetables and sauteed greens. For steak lovers, there's Bistecca di Carne ai Ferri ($17.50), a t-bone served with a red wine and rosemary sauce. Among the other main courses from which to choose, Scaloppine di Pollo al Limone e Capperi ($15.50) is a tasty sauteed chicken dish with a flavorful lemon-caper sauce. Every evening, the chef also prepares a special Pesce del Giorno (fish of the day).
Ordering a glass of dessert wine or cappuccino to go with one of the freshly-made pastries ($4.50 to $4.75) is a wonderful way to end the meal. One of my favorites is the traditional Italian Panna Cotta, which is Italian for "cooked cream." This custard is made without eggs, and has a light yet creamy texture. And the other dessert to top my list is Flaun al Cioccolato. Fabrizio's version of the flourless chocolate cake has a pool of melted chocolate in its center. It's decadently rich, perfect for sharing. Other regional specialties include Tiramisu (this recipe makes use of sponge cake instead of the usual ladyfinger cookies) and frozen Italian gelato, available in chocolate or vanilla. The gelato is a simple ending - and one that's simply delicious. From start to finish, this "little" trattoria certainly makes a "big" impression. Buon appetito!
--------------------------------------------------------------
Piccola Trattoria is located at18302 Sierra Highway (Dolan Way Center) in Canyon Country and can be reached at 299-6952. Hours are Monday through Thursday, 5 p.m. to 9 p.m.; Friday and Saturday, 5 p.m. to 10 p.m.; closed Sunday.