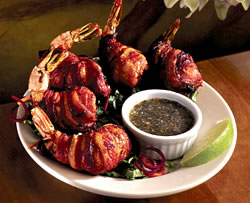 The Salt Creek Grille at Valencia Town Center has long been known for its welcoming ambiance, good food and convenient location. Now it is also earning the reputation as an upscale steakhouse. Owner Greg Amsler, along with executive chef Ignacio Munoz and sous chef Giovanni Castellanos, have expanded the standard menu to include top quality prime steaks. With two fully stocked bars - one inside and one set to open late fall on the heated outdoor patio - appetizers and martinis would be a fitting way to begin the meal. The Stuffed Jumbo Shrimp ($13.95) is a popular starter. Shrimp brushed with a creamy horseradish sauce are wrapped in bacon and grilled over mesquite wood, imparting a delicious smokiness. Honey flavored with chipotle chilies, it imparts both a mild kick and a sweet balance to the saltiness of the bacon. Other noteworthy starters include the Classic Goat Cheese Marinara ($9.95), which is a tangy combination of goat cheese and cream cheese that is oven baked and presented atop a tomato sauce and toasted baguette slices. The House Salad ($7.95) is also a local favorite with its winning combination of apple slices, Gorgonzola cheese and walnuts, served with a balsamic vinaigrette.
As for the a la carte prime steak menu, the selections should please any beef lover. Choose among four top-of-the-line USDA Prime dry-aged cuts of beef (all $39): a 12-ounce Prime Filet Mignon; an 18-ounce Prime Kansas City Strip; an 18-ounce Prime T-Bone; and an 18-ounce Prime French Rib Chop. For the complete surf n' turf experience, you can add a 9-ounce lobster tail (for an additional $28).
Two people can easily share each of the sides, like the Mesquite Grilled Jumbo Asparagus ($10), the Sauteed Wild Mushrooms ($10), Au Gratin Potatoes ($9) or the Twice-Baked Potato ($9). Baked Gorgonzola Mac and Cheese ($9) is a sophisticated version of the comforting standby most of us make out of the blue-and-yellow box. The gratin dish comes to the table piping hot, covered with a golden brown breadcrumb topping. The macaroni is indeed rich tasting, but not so much from the tangy Italian blue cheese as from the proportion of cream. Try to beat out your dining companions and land a tangy morsel of cheese in your mouth for a taste nothing short of extraordinary.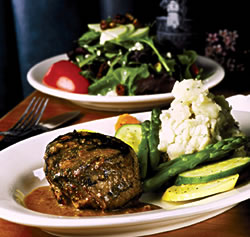 If you're looking for something other than steak, The Grille Chop ($23.95) is an appealing alternative. A double-thick center-cut pork chop is brine cured in a salt bath. This makes the meat so succulent and tender, you'll wonder why anyone ever made a joke about tough, dried-out pork chops. The chop is topped with a tangy apple chutney flavored with shallots and cinnamon. Garlic mashed potatoes and grilled asparagus are served alongside. A baked apple lends visual appeal, but disappointing flavor.
Another deserving highlight on the menu is the Stuffed Alaskan Halibut ($26.95) served with rice pilaf and seasonal vegetables. The moist fish is filled with tender, sweet crabmeat and shiitake mushrooms. A lemon-butter sauce, called a beurre blanc, flecked with red and yellow bell peppers finishes off the dish.
After indulging in one of the rich entrees at Salt Creek, you might be tempted to begin the "I'm starting my diet right now" New Year's resolution. But really, it would be wise to wait until 2007, or at least until after sampling the decadent desserts created by pastry chef Anthony Nigro. My favorite is his eponymous Cappuccino Mousse ($10.95), a frothy, subtly-flavored coffee custard that comes in an oversized latte cup. It's finished off with foamed milk and cinnamon, just like traditional cappuccino. A home-baked almond- and anise-scented biscotti dipped in chocolate comes with it for dunking. You'll be left dreaming of this whimsical treat - not sugarplums - on Christmas Eve. That is, unless you're a chocoholic. In that case, you'll be craving Salt Creek's signature dessert, Chocolate Ganache Souffle ($11.95). The rich double-chocolate souffle is finished tableside with a warm chocolate ganache (a melted mixture of chocolate and whipping cream). The best news is that all these items are available year-round, not just during the holidays.
--------------------------------------------------------------
Salt Creek Grille is located at 24415 Town Center Drive, Suite 115 in Valencia and can be reached at 222-9999. The restaurant is open from 11:30 a.m. to 10 p.m. Monday through Thursday, 11:30 a.m. to 11 p.m. on Friday and Saturday, and from 10 a.m. to 10 p.m. on Sunday.