"Cream colored ponies and crisp apple streudels, Doorbells and sleigh bells and schnitzel with noodles."
Small horses and bells aren't on my shortlist of favorite things (even if they were, I wouldn't admit it here; it's bad enough I allude to a lyric from "The Sound of Music"). But after visiting The German Place on Lyons Avenue, I can now include schnitzel and apple streudel on this list, along with a variety of other dishes I enjoyed at this German eatery in Newhall.
The ambience and decor at the German Place is reminiscent, I imagine, of a small cottage in a German village. A large wagon wheel chandelier hangs in the middle of the dimly lit dining room, its pink walls adorned with antlers of various animals and pictures of German flowers. Also hanging on a wall and adding even more German authenticity is an autographed picture of David Hasselhoff - the uber pop star himself. If it's good enough for Hasselhoff, it's good enough for me, I thought. All joking aside, Knight Rider or not, the German Place proved to be a great place for big appetites and new tastes. The food is plentiful. The food is good.
Almost as an afterthought, appetizers such as Baked Brie and Sauteed Mushrooms are listed at the bottom of the whiteboard menus of The German Place. As I would find out, the appetizers are probably placed at the bottom of the menu because the dinner entrees themselves include a variety of side dishes. Still, if diners have a very large appetite, the Sauteed Mushrooms ($5.95) are earthy and delicious in rich brown gravy and make a delightful starter.
All dinner entrees at The German Place are served with soup, salad, a potato pancake, German potato salad, and vegetables - more than enough food for a hungry diner. The menu varies from day to day, but on this particular visit, we were treated to a wonderful carrot soup that was sweet and luscious and served in a small cup that only left us wanting more of the delicious soup. The salad was a simple mix of greens dressed in a tangy and creamy vinaigrette. While the soup and salad are served individually, the remaining sides arrive with the entrees.
The potato pancake and German potato salad are two completely different potato dishes, but both equally delicious. The potato pancake is more like a potato puck, featuring a thick disk of wonderful mashed potato and crisp bacon encased in a thin and brittle crust. In contrast to the mellow flavors and fluffy texture of the potato pancake is the German potato salad, comprised of sharp and mustardy sliced potatoes sprinkled with a healthy dose of dill and more bacon. Finally, the vegetable on this night was braised red cabbage, a simple yet very flavorful dish with sweet and spicy notes of clove and bay.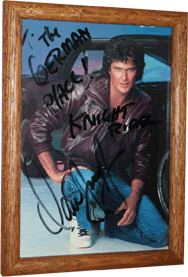 A variety of schnitzel is available on The German Place menu such as Weiner Schnitzel (pork loin breaded and fried and served with lemon, $16.95), and Jager Schnitzel (pork loin breaded and fried and served with a rich mushroom sauce, $17.95). However, perhaps the most satisfying schnitzel dish is the Zigeuner Cream Schnitzel ($17.95). The Zigeuner Cream Schnitzel is comprised of a breaded and fried pork cutlet bathed in a creamy paprika and mushroom sauce studded with sliced bell peppers, onions and mushrooms. The sauce is delightful in this dish, enveloping the tender pork cutlet and even acting as a dipping sauce for the potato pancake.
Another great offering at The German Place is the Sauerbraten ($18.95), a German dish that traditionally features a cut of beef marinated in vinegar and spices. The German Place's Sauerbraten features specially marinated tri-tip that is slowly oven roasted. Although the flavors were a bit muted and lacked the bite I expected, the Sauerbraten was still a delectable choice as tender slices of the tri-tip were swathed in a rich mahogany gravy.
Even after sampling such an array of dishes, diners must save room for dessert at The German Place. What would David Hasselhoff do? Why, he'd do the right thing and order the apple streudel, of course. The Apple Streudel ($5.95) is a wonderful treat to end the night and is served warm out of the oven with tart and spicy apples, tender, flaky crust, and dollops of whipped cream. Definitely one of my favorite things.
--------------------------------------------------------------
The German Place is located at 23115 Lyons Avenue in Newhall. Dinner is available Monday through Thursday from 5:30 p.m. to 8:30 p.m., Friday and Saturday from 5 p.m. to 9 p.m., and on Sunday from 5 p.m. to 7:30 p.m. Lunch is available Tuesday through Saturday from 11:30 a.m. to 2 p.m. The restaurant can be reached at 255-9790.