Executive Chef Daniel Otto, who has been at the Tournament Players Club's kitchen helm since August 2006, has transformed the country club's restaurant, the Oaks Grille, into a sophisticated dining venue, accented with a stone fireplace, wood-beamed ceiling and a patio (soon to be enclosed) overlooking the golf course and Santa Clarita Valley.
Once our party was seated, the attentive staff offered us a bountiful basket of breads and rolls accompanied with butter, but also with two delicious tapenade spreads. My favorite was the fig and black kalamata olive spread, but the three-olive tapenade was delicious, too.
The menu might appear intimidating at first, but the friendly and knowledgeable servers were able to answer every question we had, from where the seafood is flown in from to which type of truffle oil the chef used in his risotto. And, even though the wine list now includes descriptions of the selections, our server was also very helpful recommending particular vintages to us.
To start, we had the Tempura-Crusted Crawfish Tails & Calamari ($12). With the crawfish flown in fresh daily from Louisiana, we assumed this appetizer would be good. It surpassed all expectations. The coating was crunchy and the seafood was moist and tender. A gremolata garnish made of garlic, parsley and lemon gave the dish extra zip, not to mention the two dipping sauces: a sweet yet spicy chili oil and an aioli (a garlicky homemade mayonnaise) that was flavored with chipotle chilies. Another delicious seafood starter, the Jumbo Lump Crab Cake ($14) was unlike any crab cake I've ever had. It was crisp on the outside and incredibly creamy on the inside. A saute of sweet peppers and corn rested beneath the crab cake and a soft shell crab that had been flash-fried was perched on top.
"With the crawfish FLOWN IN FRESH DAILY from Louisiana, we assumed this appetizer would be good. It surpassed all expectations."
If you'd prefer a starter from land rather than sea, the Exotic Mushroom Risotto ($13) would be an excellent choice. The rice was creamy and tender without tasting gummy. A mixture of wild mushrooms, both sliced and pureed with truffle oil, imbued the risotto with an aromatic, woodsy flavor. All that, along with the shaved Reggiano Parmigiano (aged Parmesan made in Italy) and 50-year-old balsamic vinegar made this a truly memorable dish. Cheese lovers will be happy to discover that Chef Otto now includes an Imported and Domestic Cheese Plate ($14/$20) beautifully arranged with a rotating selection of cheese offerings, accompanied by grilled artisan breads, crackers and assorted dried and fresh fruits. For smaller appetites, the House Salad ($4) with baby Malibu greens, candied crushed walnuts, dried cranberries and sweet fresh grapes was a deliciously light and refreshing alternative to some of the richer appetizers we ordered.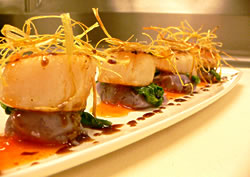 The entrees were just as creative and delicious and the starters had been. Grilled Prime Filet Mignon ($31) was juicy and flavorful, thanks to the chef's seasonings. Marinated heirloom tomatoes and microgreens were an unusual and tasty accompaniment. For those who prefer potatoes with their meat, you can substitute the tomatoes for their smashed potatoes flecked with lobster. The Flame-Grilled Alaskan Halibut ($25), moist and smoky from the grill, came with a stacked vegetable napoleon and was drizzled with a citrus vinaigrette. The night we dined there, Chef Otto turned out a special that sounded too good not to try: Pork Tenderloin Wrapped in Bacon with Melted Maytag Blue Cheese and Spinach ($28) served with lobster smashed potatoes. Rich tasting, the pork had many competing flavors but his inventiveness was noteworthy.
Even though we were completely sated, we couldn't forgo dessert. We opted to sample several: the Lemon Meringue Tart ($8) with a tangy lemon filling, buttery crust and airy meringue topping; the Napoleon ($8), a rectangular French confection made with sweet pastry cream sandwiched between layers of crisp puff pastry; and the Chocolate Box ($8), a sinful creation consisting of a box constructed of dark chocolate sides and a filling of chocolate cake and chocolate mousse.
--------------------------------------------------------------
The Oaks Grille is located in the Tournament Players Club at 26550 Heritage View Lane in Valencia and can be reached at 288-1024. The dining room is open from 11 a.m. to 9 p.m. Tuesday through Sunday; breakfast is served 7 a.m. to 11 a.m. Friday though Sunday.