The movement towards fresher, more local and healthier fare has reached Santa Clarita's most beloved steak house, and, judging from Salt Creek Grille's new menu, it's a trend with delicious staying power.
By combining a new mix of ingredients that are unique to the Salt Creek menu while still honoring the diner's desire for full flavor (And a full stomach!), the restaurant on Town Center Drive has stayed true to its rich roots.
Lighter recipes flank old favorites, but there's no skimping on taste or portion size. And there's plenty of comfort food on here, too, like the Tuna Melt, with a buttery wheat bun, cheddar cheese and handmixed, juicy pieces of albacore tossed in a parmesan aioli.
Vegetarian options, like the rich and distinctive Spaghetti Squash & Ricotta Ravioli, are more prevalent. This brimming bowl of pasta is so full of flavor, you'll never miss the meat. Topped with corn, slivered almonds, snow peas, capers, cherry tomatoes, kale and a sweet heirloom tomato marmalade, the handcrafted raviolis that are custom-made for Salt Creek by a boutique pasta maker inspire many an "mmm" during their consumption. This dish is a must-try.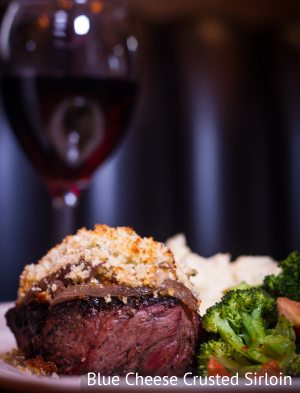 If meat is a must, you've come to the right place. Steak Frites is every carnivore's new favorite. The mesquite-grilled hanger steak is topped with Bearnaise sauce and served with bold roasted potatoes and a fresh arugula tomato salad. Incredibly tender and served sliced, the presentation of the dish is as divine as the flavor. Also fabulous: The Blue Cheese Crusted Top Sirloin. Got a hankering for "meat and potatoes?" Get plenty of both in this exquisitely-rich and filling plate that features heavenly Garlic Mashed Potatoes and Broccoli Palermo. The star, though, is the baseball-cut, ultra-tender sirloin topped with caramelized onions, blue cheese and a cabernet demi-glace.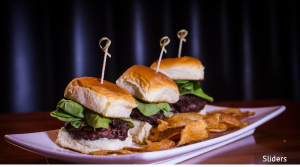 Looking for lighter? Starters and Happy Hour offerings boast a new twist on old favorites. Take the trifecta of Sliders. Served on a King's Sweet Hawaiian Bread bun and topped with blue cheese aioli and wild baby arugula, these meaty bites are grinded on site from filet mignon and New York chop Angus beef. The Artisanal Cheese Plate is full of fresh local flavor, with crowd pleasers like a double-cream brie, aged goat cheese and aged white cheddar, each highlighted by the brilliant addition of a softly-sweet fig marmalade.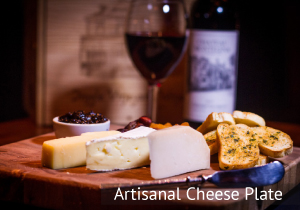 Each new menu item I savored was made even more delectable thanks to the handcrafted selections from Grandpa's Medicine Cabinet. These classic cocktails are heavy pours and authentic as the day is long. My favorite was the Moscow Mule, served in a tin cup with Grey Goose, ginger beer and fresh lime. The sweet/spicy/tangy combination of flavors was heavenly. The Sazerac is another stand out; absinthe, rye bourbon and angostura bitters are topped with a lemon peel over ice. Said to be the first cocktail ever created, it will be, from now on, the first drink my dining partner orders from here on out. The hint of black licorice mellows this knock-out drink, which goes down smooth and is delicious to the last drop.
Salt Creek Grille's new menu, along with custom creations, is available through their catering service. The restaurant is open daily on Town Center Drive, next to Edwards Cinemas. 222-9999