The Vines at Hyatt Regency Valencia
Come check out "the best happy hour in town" at Vines from 4pm to 7pm and take advantage of their new Happy Hour selections - rotating daily! If a quick mid-day bite tickles your fancy, Vines' weekday lunches will leave you feeling satiated - never rushed. Choose from lunch entrees, sandwiches, salads, soups and more - all prepared with ultra-fresh ingredients. Vines' new Healthy Balance Menu is available for both lunch and dinner; featuring a customizable collection of environmentally-friendly selections like Sustainable Skuna Bay Salmon, these tasty plates are good for you and Mother Earth. Hoping to make the holidays more simple this year? Join them for the most impressive Thanksgiving buffet you'd ever hope to see, or have them prepare your gourmet spread to serve at home. Either way, the convenience and flavor are some of the best reasons to be thankful this season.
678-4044
Tournament Players Club Valencia & Oaks Grille
Offering four banquet venues, the Oaks Grille features versatile accommodations for hosting events for as many as 200 guests. Our seasonal fave: the luxe Clubhouse that emulates old-California ranch style architecture, featuring interiors of distressed alderwood trim, vaulted ceilings, stacked-stone accents and panoramic views. Event groups can choose a pre-selected menu option or work with their award-winning executive chef to customize a distinctive one-of-a-kind menu. Craving something different? Try Oaks Grille's gourmet, seasonal, locally-sourced menu with surprises like wild seasonal selections including bison and rack of lamb. It's all divinely prepared on site. The Oaks Grille is open to the public and boasts one of the most gorgeous views of heritage oaks in Santa Clarita.
288-1995, extension 131
Salt Creek Grille
Salt Creek Grille is where you already go for a dependably-delicious meal, but if it's not also on the top of your list for catering and events, you and your guests are missing out. Salt Creek Grille Catering impresses with distinctive, off-menu meals that are as creative as they are delicious. Enjoy their wow-worthy flavors custom designed for your event off-site or on site within Salt Creek's covered patio, near the fire pit or in their private Valencia room. Of course, 'tis the season for their new fall dessert menu and it doesn't disappoint. Try Pastry Chef Kristina Waggoner's Pumpkin Crumb Cake, Caramel Apple Cheesecake and Pumpkin Bread Pudding.
222-9999
Marston's Restaurant
Every meal is a celebration at Marston's. But if you want to plan a special event, Chef Jim will create a custom menu that will make the moment extra-super special. (Just be sure to book them early; there's a reason they're so popular!). Marston's, conveniently located in the Bridgeport Marketplace, is available for space rental, which is often used for business and club meetings, holiday dinners, receptions and more. You can actually book the entire restaurant on Mondays or book the patio any day of the week (Room charge and minimums apply.). Whether your party is at their place or yours, they work with clients to cultivate memorable prix-fixe menus to meet your budget, too. The food is tops, made from fresh, seasonal, locally-sourced ingredients. From "The Works" fantastic French toast topped with berries, candied pecans and whip cream to their Chicken Pot Pie made with squash, English peas, tomato, mushrooms and potatoes in a creamy basil-garlic sauce topped with puff pastry, you'll be grateful for every meal at Marston's.
253-9910
Salt Creek Grille Catering
Salt Creek Catering is a fantastically-flavorful alternative to "just order off the menu" parties and events. Cathy Wohlberg Craig says: "I was at an event recently that Tamra of Salt Creek Grille Catering had catered and it was incredible! The food selection, flavors, portion sizes and presentation were all perfect! The food was definitely a memorable part of the night! You always know the food is a hit when the guests kept going back for more!" You can have guests raving about your holiday party, too! Check out this sample holiday menu for inspiration:
Welcome Treats
Firecracker Lobster Spring Rolls with Sweet Chile Dunk, Asado Bourbon Cocktail with Skewered Carne Asada and Roasted Grape Toasties with Thyme Infused Whipped CheeseSalad Course Mixed Greens in Ficelle Cuff with Toasted Spiced Pepitas, Dried Cranberries, Goat Cheese and Sherry Vinaigrette
The Main
Duet of Dry Aged Beef Filet topped with Bearnaise Butter, Grilled Salmon with Lemon-Chive Creme Fraiche, Herbed Risotto Cake and Poached Leeks stuffed with Haricot Verts
Sweet Endings
Chocolate Espresso Pie Bars with Cherry Compote
and Honey Yogurt, Wedge of Cheddar Cheese with Crispy Apple
Book your event with a deposit by November 1 and get a 10-percent discount applied to your final invoice. 222-9999
JJ's Bar & Grill
If you're looking for great food, fine libations and lots of fun, look no further than JJ's Bar & Grill. Conveniently located in the center of Valencia, your future favorite hangout boasts ample parking, a huge patio that is dog and family friendly and a great banquet room to host any and all of your functions. Watch your favorite sporting event on one of the several TVs throughout the restaurant, bar, patio, and banquet room while sipping on any one of the 14 ice-cold beers on draft. And they're open early on Sunday mornings so that nobody will miss the first round of NFL games; they'll be ready for you behind the bar, preparing to serve up a great breakfast, bottomless mimosas and famous bloody marys! Enjoy half-price martinis for Monday Night Football, the best tacos in town every Tuesday and Thursday and the famous "Wing Wednesday." 799-7557
Newhall Refinery
It's time to plan your holiday parties! You already know that Newhall Refinery has the most deliciously-innovative menu in town - but did you know that they also have one of the very best private-dining spaces? Let award-winning Chef Dustin Boole wow you and your guests with a delectable holiday menu - perfect for companies, family and friends. There are only a few more dates available, so book your event soon! 388-4477
Wolf Creek Restaurant & Brewing Co.
Floor your guests with deliciousness from Wolf Creek Restaurant & Brewing Co. in their recently-remodeled private dining space - or your location. Treat your guests to selections like Ale Mac & Cheese, Taos Eggrolls and so much more - all perfectly paired with the best in local craft brews. Planning an office party or family event? Just make the phone call and let Wolf Creek handle the rest! 263-9653
The Local Pub & Grill
The Local Pub & Grill, on The Old Road near BevMo, is Santa Clarita's answer to the high-profile gastro-pub of LA. At The Local, your craft beer, hand-picked selection of wines or specialty cocktail is served by a sincerely-smiling SCVian who really, really hopes you come back the next morning for their weekend Football Breakfasts. Why? Because The Local's rep for being the most upscale sports venue in town is worth celebrating with a bloody mary on a Sunday morning! Bonus: LA Kings Hockey is on, too! But even if you're not the sporty type, you need to go to The Local Pub & Grill. Their lunches and dinners are on point and the weekday happy hour from 3pm to 7pm is excellent. With live music every Friday night, plus a gorgeous patio that comfortably seats 20 to 30 guests, there's no reason to miss a party - especially if you're the one hosting it. Call for details on how to host a special event, business meeting or fundraiser for your "Local" team.
495-9192
Wolf Creek Brewery
Founded in 1997, Wolf Creek has become synonymous with gold-standard craft beer and fantastic food. You were probably introduced to both (Over a Desperado, if you were lucky.) via the restaurant in Valencia - but have you been to the brewery nearby on Rye Canyon Loop? This amazing indoor-outdoor space is where you go for tasting flights... and flights of fancy! Their calendar is jampacked with live music, food truck events, corn-hole tournaments, big draws like Oktoberfest and more. (See the whole shebang on www.wolfcreekbrewery.com.). Plus, you can rent the venue; it will accommodate up to 200 guests. (Or, even better - the amazing speigeltent that is on site until January 18!) 294-9977
Shredded Tacos
Shredded Tacos will help you make a mouth-watering splash with their Italian/Mexican fusion that's just right for any celebration. You provide the atmosphere and they'll do the cooking. Your guests will love you - and you'll love this sample party menu. Choose from your choice of Shredded Beef or Chicken Tacos, Quesadillas, Rice and Beans or Simple Salad. Party Packs include fresh-made Tortilla Chips and Jean's Famous Salsa. Add Guacamole or Pico de Gallo and top it off by including their delicious, adorable individually-packaged homemade Brown Sugar- or Cinnamon-Bun-flavored Caramel Corn. This year try something new and make your celebration pop with their Italian twist on Mexican favorites! 295-5536
Sabor Cocina Mexicana
Fall is synonymous with holidays and childhood memories - as well as the opportunity to make new ones. With all this in mind, Sabor Cocina Mexicana has crafted a seasonal menu that includes all of the amazing fall flavors that will serve as a reminder of memories of the past and opportunities for the future. Enjoy them beside the people that matter the most to you during a private or semi-private event in the exquisitely-appointed Bridgeport Marketplace restaurant. While you're there, don't miss a chance to taste the Chile Relleno de Pavo made with roasted chile pasilla, turkey picadillo, crema, queso fresco, pumpkin seeds and butternut squash sauce or the Chocolate Churros Bites with Nutella cream and vanilla-bean ice cream. Or, try our newest fave: Taquitos de Pavo - with turkey picadillo, blue corn tortilla, sweet potato puree, queso fresco, crema and tomatoes. Want something lighter? The Baby Kale Salad with red onion, currants, pumpkin seeds, queso fresco, sweet potato strips and agave vinaigrette is a revelation. 259-9002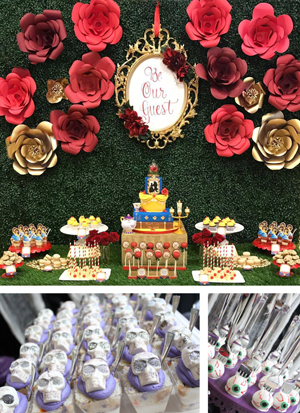 Cake Goodness
Cake Goodness is your newest "sweet spot" on Main Street in Old Town Newhall, offering the most delectable treats for your special events, fundraising parties, holiday gatherings, office-team spoilings and... "just because!" Choose from cupcakes, cookies, cakepops, dessert bars and more; each is handcrafted with the finest ingredients available. 799-7510









Nothing Bundt Cakes
At Nothing Bundt Cakes, they bake their cakes fresh daily using only the finest-quality ingredients - fresh eggs, real butter and cream cheese - to ensure the most delicious-tasting dessert. With 10 classic flavors available in four different sizes, from bite-sized bundtinis and personal-sized bundtlets to full-size hand-decorated cakes, they fit perfectly with every occasion and holiday. With over 40 unique cake designs to choose from, Nothing Bundt Cakes helps make special occasions sweeter! Tip: Try their gluten-free cake. It truly is just as moist, flavorful and rich as the original.
291-2424
Fish Tail Seafood Grill
Offering eight scrumptious Maui-inspired Poke bowls that a Hawaiian would recognize (And crave!) for over seven years, Fish Tail Grill is your casual-quick answer to delicious, fresh food that nourishes mind/body/soul. The spot has a wide selection of grilled, fried and raw fish, as well as barbecue beef and teriyaki chicken rice bowls. Need a fast fit fix? Try the Chilean Sea Bass Salad or Grilled Salmon selection. No matter what you choose, it will be fresh; Fish Tail gets deliveries of fish "so fresh it should be slapped" six days a week. Their Ahi and Salmon Poke are 100-percent fresh and top grade; it's never previously frozen. Visit on Mondays for $6 Fish Tacos and their Kids Eat Free event on Tuesdays. It will become quickly obvious why they won "Best Seafood of the Year" in the SCV multiple years in a row. 295-FISH (3474)
Casa Canela
Casa Canela has been your breakfast destination of choice, but have you tried their lunch? While others salivate over their tantalizing omelets, decadent crepes and scrumptious French toast, some of us prefer to munch upon lunch and the burgers at Casa Canela will convince you that lunch is the most important meal of the day. Fall in love with their Blue Burger - a charbroiled beef patty topped with blue cheese and onion rings with a side of sweet potato fries - or pick another of their delicious burgers from their menu! No matter what you choose, you'll feel like a VIP chowing down on Casa Canela's comfortable patio, which can accommodate parties and groups. 523-7282
JR's Comedy Club
Here's your new Friday and Saturday nights: JR's Comedy Club. Enjoy a great comedy show with big-name acts presented by JR's Comedy Club (formerly at Marie Calendars), which is celebrating its 20-year anniversary in December. Enjoy the comedic stylings of Karen Rontowksi from The David Letterman Show on November 3 and 4 as well as "The Rock and Roll Comedian" Mark Eddie on November 18 and 19. It's good to laugh - but better when it's paired with great food and drinks, too. JR's Comedy Club is now located within
JJ's Bar & Grill in Valencia! www.comedyinvalencia.com
Painting with a Twist
Tis the season to give - and the commitment of giving back is very important to Painting with a Twist. Each month, franchisees from across the nation hold monthly painting fundraisers through their Painting with a Purpose program to benefit local charities. To date, Painting with a Twist locations have donated more than $1,000,000 to local groups. Recently, Painting with a Twist of Santa Clarita donated 50 percent of the funds from their event and raised $900 to benefit the Southern California Special Olympics. Grab a friend and find your inner Van Gogh while you help raise funds for a great cause or gift the opportunity to create art to someone you know and love. From their family to yours, Painting with a Twist is thankful to be part of the Santa Clarita community. 414-6454
Newhall Ice Company
Make your Halloween cooler with dry Ice and suddenly the witch will be brewin', the cemetery will be smokin', and your wallet won't look like a zombie. Even the most cynical of adults will get giddy when the block of dry ice plummets to the depth of a big sugary punch bowl. There's just something innately spooky about the fizzle and pop, the resulting "smoke" and the ghoulish pool of dancing fingers of gas that remind us of cemetery fog. It's called "dry ice" because it changes from a solid to a gas without ever melting into a liquid, but your party will be anything but "dry" when you add this fun favorite to your decor. Newhall Ice Co. sells dry ice at guaranteed lowest prices and will match any local lower-advertised offer. Already done with Halloween? Time to call them for party ice in bulk, custom ice-carving displays and more! 259-0893





Charmaine's Bouquet Canyon Florist
Charmaine's Bouquet Canyon Florist is known for stretching a budget - and getting the most for your money. Choose from seasonal centerpieces, hostess gifts and so much more. Whatever you choose, it will come backed by the most experienced, celebrated floral artists in town. 297-3100
Circus Vargas
Goggles, gears and gadgets set the stage for Circus Vargas' 2017's retro-futuristic production, SteamCirque - happening at Westfield Valencia Town Center Thursday, October 26 to Monday, October 30! Join them on a journey of fantastic proportions where children of all ages will marvel at the wacky and wonderful cast of characters that come alive in this exciting steampunk, science- fiction fantasy inspired circus odyssey! Arrive 45 minutes early for an entertaining, interactive pre-show celebration, where kids can create their own magic under the big top, learning circus skills such as juggling, balancing and more! Meet and mingle with the entire cast after each performance. Capture the fun by posing for pics or selfies with your favorite cast members, all part of an unforgettable Circus Vargas experience!
www.circusvargas.com
SANTA CLARITA BALLET COMPANY presents "The Nutcracker"
When a Plum Canyon Elementary first grader turns into a mouse, a Meadows Elementary fourth grader becomes a toy soldier and Arroyo Seco seventh grader morphs into a delicate snowflake, it must be Nutcracker season! The Santa Clarita Ballet Company is proud of their annual production of The Nutcracker and invites anyone who enjoys holiday magic, professional-caliber ballet sprinkled with whimsy and humor, and the tradition of a well-loved tale to its twenty-second staging of a holiday classic on Saturday, December 16 and Sunday, December 17 at the Santa Clarita Performing Arts Center at College of the Canyons. In addition to showcasing the artistic accomplishments of Santa Clarita youth throughout our community, Santa Clarita Ballet's Nutcracker also features the work of professional dancers Bryan Wallk, Hannah Wilcox, Raydel Caceres and Danny Davalos, artists well known in the dance community for their superior talent. The Santa Clarita Ballet's charming Nutcracker production promises to inspire holiday spirit long after visions of sugar plums have vanished from the stage, so secure your seats early; these shows sell out quickly. Saturday performances of the Nutcracker are at 2pm and 7:30pm; Sunday performances are at 2pm and 7pm. The Santa Clarita Ballet box office is located at 26798 Oak Avenue, or order tickets by phone. 251-0366
Don't Miss!
Friday | October 20 to Saturday | October 28
The Master's University Presents "Over the River & Through the Woods"
Nick visits his grandparents in Hoboken, NJ every Sunday for dinner. But what lengths will his grandparents go to keep him from moving to Seattle? As they plan blind dates and tempt him with never-ending, mouthwatering meals, Nick has to evaluate what is important in life and learn to count the cost of his decisions. This show promises gut-wrenching laughter and a story that pulls on your heartstrings and causes you to consider, along with Nick, what matters most in life.
www.masters.edu/theatre