EAT
You know that
Oggi's Pizza & Brewing Co.
has a rockstar assortment of pizza goodness. What you might not know is that their salads knock our socks off, too. Try one of our favorite three and become "one" with the finest dressed lettuce in So Cal. The California Waldorf Salad is made with grapes, green apples, mixed greens, gorgonzola cheese and candied walnuts, then served with a balsamic vinegar dressing. The Healthy Chopped is a cornucopia of chopped iceberg lettuce, chicken breast, black olives, fresh-chopped tomatoes, all sprinkled with mozzarella cheese and served with low-cal Italian vinaigrette. Last but not least: the Goat Cheese Spinach Salad. This savory salutation to health is served with fresh spinach, roasted pine nuts and dried cranberries, tossed in a low-calorie vinaigrette, then topped with goat cheese and red onions; 252-7883
Fabulous new additions have been made to
The Social's
menu, and we couldn't be happier. (Did they do it for us? We're flattered!) What we can't get enough of right now: the Grilled Artichoke appetizer. (Insert drool noise here.) The simple prep (an artichoke is grilled and served with garlic mayo and drawn butter) results in a divine finish. Give it a go at the start of your meal, or opt for The Social Salad - exotic greens with strawberries, toasted almonds, blue cheese and Mandarin oranges, finished with a drizzle of raspberry vinaigrette. For the fish lovers out there, may we suggest you "take a stab" at the Swordfish Piccata? A divine cut of swordfish is prepared with a caper and lemon butter sauce, then served with herb rice and sauteed vegetables. Also a permanent addition to the new menu: the Jambalaya. Blacken chicken, swordfish, prawns and andouille sausage with linguini and Cajun remoulade sauce unite for a flavor explosion not to be missed in this lifetime. 799-9155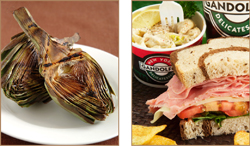 Three years ago this month, our lives changed forever - for the better. Yes, the "birth" of
Gandolfo's New York Delicatessen
in Castaic has changed our deli-loving ways. No longer would we settle for pastrami from anywhere but NYC. We took a stand against "light-on-the-meat but heavy-on-the-apathy" sandwich shop mockeries. And we fell in love with Steve and his merry-making family, who always seem to know our order before we do. Celebrate this milestone with them by scoring a free homemade dessert (banana pudding!), fresh side salad (the potato salad is amazing!) or bag of chips with any sandwich purchase (which, by the way, are now bigger than ever, with even more meat!); 257-8844
Have you tried
The Oaks Grille's
Kobe Beef Sliders? If "yes," than you know what Heaven tastes like. Take in the best view of Santa Clarita while treating yourself to the best sliders in Santa Clarita. Made from sushi-grade beef procured from the organic Snake River Farms, these mouthwatering patties are smothered in Vermont cheddar cheese and topped with a house-made buttery brioche bun, then served with a spicy crudite. It's a fan favorite worthy of The Oaks Grille menu, which is known for five-star delights. See the stars (above and on your dining table) beginning May 6, when The Oaks Grille hosts live music on Friday evenings. The Oaks Grille is located at the TPC Golf Course; 288-1995, extension 109
DRINK
The Cinco de Mayo Edition
The Cinco de Mayo celebration begins on Thursday, May 5 at
Margaritas Mexican Grill
with the festive, colorful costumes and dynamic dancers from Ballet Folklorico, starting at 6 p.m. Get there early to grab a great seat for the show and enjoy Happy Hour with drink specials from 3 p.m. to 7 p.m. Ole!; 255-1136
Everyone knows that
El Chaparral Mexican Restaurant
(in Canyon Country 252-5599) and
Presidente Mexican Grill
(in Saugus 297-7244) are two of the best places in the SCV to, wait... how do the college kids say it? Oh, yeah. "Get your drink on." And Cinco de Mayo will be no different. With margaritas and specials galore at both restaurants, we don't want you to forget to well, eat something, too. Try the Sopes Combo on the side of that tequila shot. The combo features three delicious masa boats layered with refried beans, then topped with one each of shredded chicken, pork and beef. Your little alcohol-absorbing friends are finished with lettuce, diced tomato, salsa and jack cheese.
PLAY
We love surprises! (Especially when there's wine involved.) That's why we're head over heels for
Vino 100's
Black Bag Wine Club. The third Tuesday of each month, members assemble together to taste four selected "black bag" wines while sharing good conversation, appetizers and knowledge. Each person then takes home the two they like the most (included in the $40 a month club charge). Perks continue throughout the month; members get 5 percent off all their purchases (We love Vino 100's gift selection almost as much as we love surprises!), plus a whopping 50 percent off any of the daily wine tastings in the store; 294-6886
What do you do on a Saturday night when you feel like having a blast, but are much too old for a rave (If we have to tell you what a rave is, you are definitely too old to attend.) and much too young for bingo?
Salt Creek Grille
has the answer to this timeless riddle on both Friday and Saturday nights from 9 p.m. to 12 a.m. Their live music sets are really jammin' and the crowd vibe can't be beat. If that's past your bedtime, swing by on "Spring Break" Sundays from 3 p.m. to 6 p.m. (Or maybe that's when you're just getting up because you were out all night!? We're sorry we judged you before getting the whole story.) "Spring Break on the Patio" will feature live music and
app/drink specials (Except on Easter and Mother's Day.); 222-9999
Treat Mom Right on Mother's Day
Treat Mom to delicious surprises all day long from
Lady Di's Cookies and Sweets
! Choose from 25 flavors of moist and delicious cupcakes, 15 flavors of scrumptious cookies and luscious (and beautiful!) chocolate strawberries (only $1.50 per berry!). Don't forget to mention your favorite magazine when placing your order. Lady Di's is offering 10 percent off all purchases with mention of
Inside SCV
through May 18; 222-9102
Mom may want a lot of things for Mother's Day, but at the top of the list is this: "Not to cook. At all. All day." With
Wolf Creek Restaurant & Brewing Company's
Mother's Day specials, this is so doable. Mom will love their all-day special; Grilled Peach Salad with brie and candied pecans in Peach Lambic Vinaigrette. For brunch, try the Dijon Spinach Florentine, topped with sunny-side-up eggs and served with a side of spring vegetable quinoa. The dinner special is Lobster Pasta with a light saffron vanilla sauce. Reservations are available. Open for brunch beginning at 10:30 a.m.; 263-9653
Sake Bistro & Lounge's
newly expanded and enclosed garden patio is where Mom wants to relax on her special day. The intimate garden atmosphere is the perfect place to savor a special Mother's Day menu prepared by Sake's Cordon Bleu chef staff. The restaurant opens at 10 a.m. on Mother's Day; 255-SAKE (7253)
Looking for a Mother's Day brunch as special as she is?
Sabor Cocina Mexicana's
three-course champagne brunch will feature both favorites (Ceviche!) and surprises; 259-9002
Your big, boisterous crew needs a casual, but well-appointed, spot to celebrate the leader of their pack (Mom).
Hacienda Don Cuco
is that spot, offering a delicious Mother's Day Brunch that's priced right, too; 252-8074
Keyes Lexus of Valencia Supports Carousel Ranch
Luther White, general manager of
Keyes Lexus of Valencia
, spent a day in the sun getting to know the staff and kids of Carousel Ranch. Here he's pictured with the Carousel Ranch rider sponsored by Lexus. New volunteers and donors are always welcome at the equestrian therapy organization, which serves 100 local children per week. Call to find out how you can help; 268-8010 www.carouselranch.org