At the Santa Clarita Performing Arts Center, experience
Santa Clarita Regional Theatre's
production of Disney's "The Little Mermaid," the hit Broadway musical making its Santa Clarita debut! Featuring a talented cast of over 50, this musical spectacular brings Disney's classic film to life on stage. The story takes place when a rebellious 16-year-old mermaid, Ariel, is fascinated with life on land. With music performed live by a full orchestra, relive classic songs such as "Under the Sea," "Part of Your World," "Kiss the Girl" and many more. With dazzling special effects, incredible sets, show-stopping production numbers, colorful costumes and powerful performances, this show has something for the whole family. The SCRT's production of Disney's "The Little Mermaid" is reasonably priced at $10 to $29 so that your whole family can enjoy this Broadway musical from July 22 to August 13. 799-2702
For one night only, comedienne Nikki Glaser - creator, executive producer and star of the hit Comedy Central series "Not Safe with Nikki Glaser" - and "Last Comic Standing" winner "Rod Man" - and many more - will grace the stage for
Comics For The Cause!
Held at the Santa Clarita Performing Arts Center at College of the Canyons on August 16, this is a show you won't want to miss. Past comics have included Billy Gardell ("Mike & Molly"), Jay Leno ("The Tonight Show"), Howie Mandel ("America's Got Talent") and other famous comics from HBO, Showtime and Comedy Central. The Santa Clarita Valley Youth Project is celebrating 17 years of providing free services to teens in the Santa Clarita Valley. Since their doors opened in 2000, the Youth Project has assisted more than 34,000 local families, including 29,000 youth and 5,500 adults. In 2015/2016, with services on six high schools and seven junior high campuses, the SCV Youth Project provided more than 8,000 hours of service to the young adults in the Santa Clarita Valley with serious life challenges, including depression, suicide, grief/loss, peer pressure, bullying and drug/alcohol abuse, said Kim Goldman, executive director. Tickets are on sale now online. Don't wait! There's an early-bird special: $10 off your ticket until July 17. Just use code "FunnyFirst" at checkout. Group discounts are available, so bring friends! www.helpnothassle.org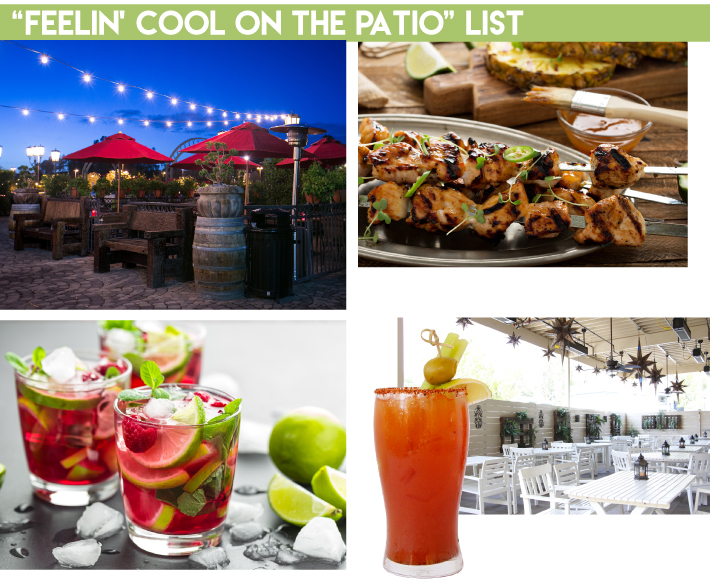 There are few things in life more pleasurable than enjoying a hand-crafted ice-cold cocktail on the spacious patio at
Sabor Cocina Mexicana
. Feel your temperature drop and your shoulders relax with every sip of their White Sangria, freshly made with Moscato, fresh lime and seasonal fruit. Their new Infused Tequila Martini, made of 100-percent Agave Resposado Tequila, is infused with seasonal fruits, fresh citrus and, we're guessing, magic. 259-9002
Toast the end of the summer with Sundown Sundays from 5pm to 8pm at
Salt Creek Grille
and enjoy food and drink specials - plus live music on their patio. Throw your tastebuds a party and indulge upon the delicious Creek Sliders with blue cheese aioli and wild baby arugula served on a King's Sweet Hawaiian Bun - or the Stuffed Jumbo Shrimp wrapped with bacon, stuffed with horseradish and served with a delectable chipotle honey sauce. And it's only appropriate that you accompany such culinary delights with a refreshing Raspberry or Pineapple Jalapeno Mojito - or our new fave, the popular Strawberry Jive made with Hendricks gin, fresh-muddled strawberries, basil, lemon, mint and orange juice. 222-9999
Beat the heat and chill beneath the brand-new misters on the brewery patio at
Wolf Creek Restaurant & Brewing Company
. Enjoy the tastes of the summer with a Summer White IPA with Blood Orange and/or a Summer Saison to accompany all kinds of deliciousness from their new Brewer's Menu, including Grilled Chicken Skewers with pineapple salsa, the Summer BBQ Platter and their refreshing Watermelon, Arugula and Feta Salad. And don't miss out on Katie's Chicken Caprese Pasta, the winning dish from the Hart District Culinary Throwdown! 263-9653
Casa Canela
has created the summer breakfast patio game with a Happy Hour that will quench even the strongest of thirsts with buy-one-get-one-free mimosas, micheladas, bloody marys, sangria, margaritas and beer! And since breakfast is the most important meal of the day, you're going to love the buy-one-get-the-other-half-price appetizers from 12pm to 3pm Monday through Friday, where you'll feast upon tastiness like guacamole served with chips or the queso fundido con chorizo. 523-7282
Painting With a Twist
has mastered the "art" of socializing by bringing in exceptional fine-art teachers, all the supplies you need to create your masterpiece - canvas, paint, brushes, step-by-step instruction - and, most importantly, an impressive beer and wine menu. It's the perfect spot to reconnect with friends and get in touch with your artistic side. They list the date, time and artwork that will be created in each class on the 15th of each month on their website, www.paintingwithatwist.com/santa-clarita, so register for the class that piques your interest and get ready for a blast! This is also the perfect location for any party - birthday, bachelorette, retirement, corporate, kid event, you name it! Whether it's a romantic date night or you just want to go in solo and paint while enjoying a $3 mimosa on a Sunday morning, you'll paint the town red at Painting With a Twist. 414-6454
Summer is wrapping up - and speaking of wrap, why not get that wrap you've been thinking about all year? Want your hood wrapped in carbon fiber? Or maybe a cool racing stripe from front to back? How about changing the color of your entire car? (Yeah, you can do that - and it looks amazing.). Stop by the
Genesis 1 Auto Concepts
showroom to see their amazing wrap work ranging from subtle to crazy-cool. You've got to see it to believe it! 678-0990
It's hard to laugh when your mouth is filled with freshly-sliced pastrami, but you'll manage just fine at
JJ's Bar & Grill
, where Friday and Saturday nights bring more than just exceptional food and drink - it brings quality comics to the SCV, too. JJ's, located on Tournament in Valencia, has managed to do what many cannot - balance home-cooked flavors and favorites with quality preparation and menu innovation. This is a place where you'll savor JJ's Perfect Pastrami Sandwich, featuring pepper-cured pastrami sliced and piled high on fresh rye with dijon mustard, melted gruyere cheese and house-made pickles. Or pick the Lobster Mac & Cheese - it's a fusion of high-brow and home-cooked... and it's creamy, savory and amazing. No matter what you choose, finish your meal with the Decadent English Toffee, which pairs perfectly with a cup of fresh-brewed tea or a nice port. This sweet treat is handcrafted in house using a well-kept secret recipe and is only available from JJ's. Nibble yours while taking in the 19th year of
J.R.'s Comedy Club
(259-2291), which is featured at JJ's every Friday and Saturday night. You'll laugh 'til your sides ache thanks to world-class comedians who love playing this intimate setting. Book or attend one of their "Funny Fundraisers," which have raised thousands of dollars for local non-profit organizations. You won't find a funnier way to raise $1,000 in an evening!
799-7557
There are only a few more weeks before the Concerts in the Park series comes to an end - so put the icing on your own proverbial cake by bringing
Nothing Bundt Cakes
with you as your desired dessert! With over 10 different flavors and four different sizes, including their bite-sized bundtinis, no picnic basket would be complete without. Our "can't live without" - the red velvet cake made from a cocoa and buttermilk batter, speckled with chocolate chips and topped with their delicious signature cream-cheese frosting. 291-2424
You already love
Marston's Restaurant's
picnic boxes - those delicious "has everything you need" meals that are perfect for your Hollywood Bowl date. But maybe it's time to skip the freeway drive and instead enjoy Happy Hour from 5pm to 7pm every day but Monday (They're closed!) on Marston's patio. You'll sip $4 draft beers, $6 wines by the glass and signature cocktails that are a buck off - like Chef Jim's legendary Old Fashioned. Feast upon scrumptious appetizers like the Pepper Seared Ahi with veggie soba noodles and ginger cilantro vinaigrette; Pork Tostadas with pulled pork, ranchero cheese, cabbage slaw, black beans, avocado, sour cream and pico de gallo; and the Crab Cakes with chipotle aioli... all while sitting outside, enjoying your drink and soaking up the summer sun. 253-9910
Remember when your parents wanted you to be a member of the "Clean Plate Club?" These days, a "clean plate" can be difficult due to the abundance of fake foods all around us. Don't give up! Teach your family how to eat clean by ordering
Plate Therapy
delivery to your home or, better yet, skip the fast food drive thru and bring the family to their kitchen to choose a meal from their Grab 'n Go fridge. You'll enjoy nutritionally-balanced, chef-created recipes that don't contain dairy, grains, legumes, gluten, soy or refined sugars. What do they contain? Organic and local produce whenever possible, along with meats and fish raised in cruelty-free environments without antibiotics, hormones or GMOs. Eating clean with Plate Therapy is deliciously convenient and nurtures a healthy lifestyle at home and on the go. Take Plate Therapy's meals to the beach, camping, even on an airplane. By thinking ahead and investing in yourself, you'll have access to delicious, good-for-you food that costs about the same as an unhealthy meal out. Plus, because you're nourishing your body at the cellular level with each bite, you'll have more energy to enjoy the sights and sounds of your away-from-home destination.
www.platetherapy.com