The summer may be ending, but the Summer Salad at Casa Canela is still in season and just as fresh as it is delicious! Enjoy spinach, chicken breast, strawberries, red onions, goat cheese and walnuts drizzled in balsamic vinaigrette and served with a side of toast. But why indulge in this by yourself when you can host a party for your favorite people in one of their private rooms? And if your entourage is too big for a room, you can book a private event and have the entire restaurant - plus their patio - for an experience that everyone (Up to 200 people!) will remember! 523-7282
Vines Restaurant at the Hyatt Regency Valencia knows the value of balancing our need for extraordinary flavor with healthier, lighter entree options. Their masterpiece: the Quinoa Fajita Bowl. It's stuffed with peppers, green onions, asparagus, black beans, cilantro and your choice of chicken or tofu. Full of flavor, low on calories, high in protein and free of gluten, it's what your body - and your tastebuds - crave. 678-4040
Oaks Grille at Tournament Players Club Valencia is open to the public, meaning that you can enjoy the rustic-refined clubhouse, stunning heritage-oak views and exceptional service without being a member. Now's the perfect time to order their Smoked Ahi Salad, featuring cold-smoked ahi with tatso, pickled mushrooms, cucumber and toasted macadamia nuts tossed in a Lilikoi vinaigrette with hard-cooked egg, because the late-summer breeze on the property is as delicious as each tender bite of tuna in this dish. 288-1995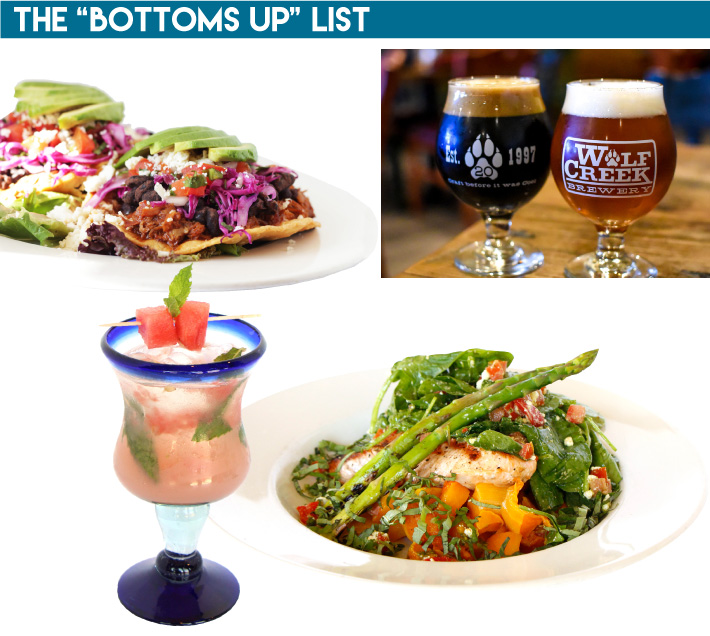 It's bottoms up at Marston's Restaurant in the Bridgeport Marketplace during their Happy Hour, which runs Tuesday through Sunday from 5pm to 7pm in the bar. You know you'll get great drink specials, but since it's Marston's, also count on fresh, flavorful fare like the Pork Tostadas, featuring pulled pork, ranchero cheese, cabbage slaw, black beans, avocado, sour cream and pico de gallo. Wish you could sit and savor, but have to run? Order your meal at www.marstonsrestaurant.com and choose pick up or delivery. Right now, everyone gets 10 percent off their first online pick up order. 253-9910
Wolf Creek Restaurant & Brewing Co. knows how to treat your body, your tastebuds and your community right. Let's start with the craveable, healthy Pesto Salmon dish, which clocks in at an impressively-low 450 calories. Featuring butternut squash, asparagus, spinach, tomato, roasted peppers and feta cheese, this masterpiece is as good for you as it is delicious. Enjoy it alongside a Golden Eagle pint in September, because 50 cents from each purchase will be donated to the SCV Senior Center New Building Campaign. Win win! You get an award-winning locally-crafted brew and SCV seniors get money that will help them build a new facility! (Want to pitch in more? Make your donation at www.newseniorcenter.com.). 263-9653
"Tuesday Nights with Community Pints" at Wolf creek Brewery is one of our favorite ways to get through the week! Enjoy live music, food-truck eats and a good deed, too. A whopping 10 percent of proceeds benefit the SCV Senior Center New Building Campaign in September, making this a remarkably-generous way to blow off some steam while helping make a contribution to those who've contributed so much to us! Don't miss a Tuesday in September! 294-9977
With an old Hacienda-style, festive decor brought directly from Tlaquepaque, Jalisco, Sabor Cocina Mexicana makes for the perfect venue to celebrate year round or simply catch up with friends while enjoying a seasonal flavor margarita. Right now, sip on the Watermelon Margarita - it's as refreshing as it sounds! One thing is for certain: Your guests will be delighted by the handcrafted cocktails and modern Mexican cuisine that Sabor has to offer. 259-9002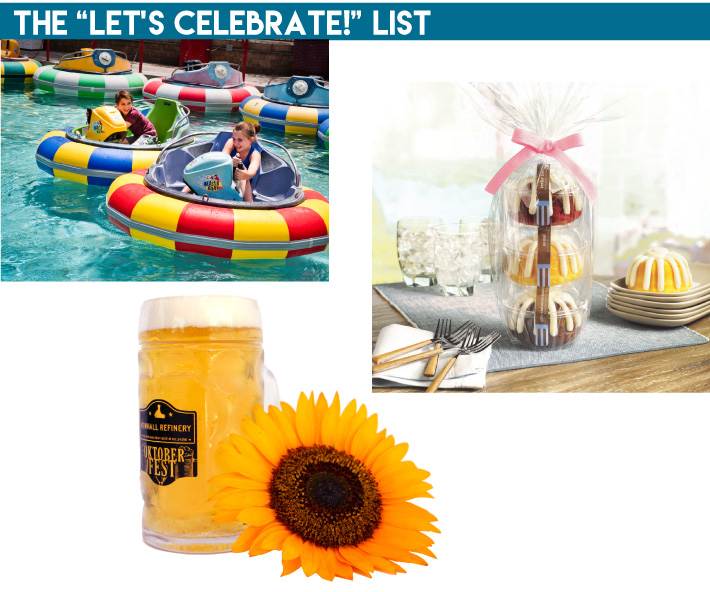 Get their wiggles out with the three-hour Unlimited Outdoor Play Package at Mountasia Family Fun Center for only $24.99! You'll be Go Karting, Bumper Boating and Miniature Golfing to your heart's content - or get the best of both the indoors and the outdoors with the Unlimited All Park Play, which adds video game experiences for only $33.99 for three hours or $47.99 for six. Want to party with friends and fundraise for your school at the same time? For only $15.99 per person, you can treat your crew to one miniature golf game, one attraction of your choice (Call for details.) and a slice of pizza or hotdog and drink. When you book by September 15, 10 percent of the purchase price will be donated to your school! 253-4FUN
Fall means it's time to break out your new wardrobe: sweaters, boots, scarves, and - lederhosen? Yes, autumn brings many splendid things like apple picking, Halloween and pumpkin-spice everything, but the best of all is Oktoberfest, the German fall festival that celebrates everyone's favorite things: food, beer and merrymaking. Celebrate Oktoberfest at Newhall Refinery starting on September 16 and purchase a proper beer stein with the Newhall Refinery logo to get in the spirit. With Newhall Refinery's delicious variety of special "Oktoberfest" biers and other crafted styles, you choose which beer you'd like to enjoy in your commemorative stein! Supplies are limited so be sure to get yours; it can be used for the must-attend beer events at the Refinery throughout the Oktoberfest season. 388-4477
Don't be that person who brings grocery-store cake to a party. The 90's are over and the only people buying flat, boring, flavorless sheet cakes are doing so ironically. (We see what you did there, hipster with a "Sesame Street" 30th birthday cake.). Substitute your antiquated dessert ideas with the flavorful, moist, more-cultured delights available at Nothing Bundt Cakes, where you can select from 10 flavors, two cake sizes, tiered cakes, bundlet single servings and four-bite bunditinis (Like a cupcake, but cuter!). Want a sweet treat for free? Snag the deal on page 27. 291-2424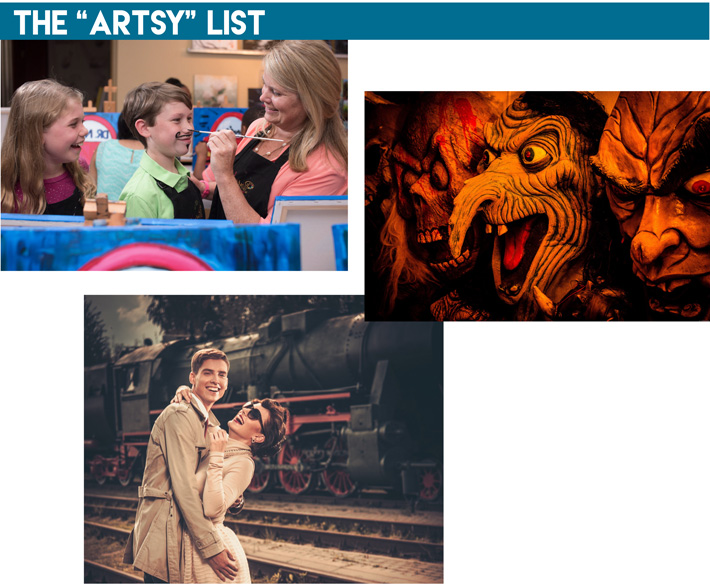 At Painting with a Twist, they love to host private parties! Bachelorette parties, birthday parties, girl's night out, bridal showers, team building, holiday celebrations, kid's parties, girl/boy scout troops and corporate events - just about anything you would like to do, they can help! Select your own masterpiece to paint from their collection of over 8,000 paintings. There's no set up, no clean up - just show up! Discover your inner artist; no art experience is needed. Paint along with their experienced, fun artists to create your own unique work of art that you will take home. They provide all painting supplies and artist instructions. Simply be ready to have a good time! 414-6454
If you buy Halloween decorations at the last minute, your project will look like you bought Halloween decorations at the last minute - so don't delay! Get the best stuff - or those blood-curdling screams you're hoping for will sound more like bored sighs. The Decor Store reopens in Stevenson Ranch on September 1 and will feature "The Best Halloween Store Ever" as well as a huge selection of Halloween and fall decor. That's plenty of time to haunt your home (And office, and school...) before masked minis start demanding candy! 255-7445
There's no better way to express yourself than by "shaking your caboose" at the LARC Train of Love! On September 17, join LARC Ranch Executive Director Kathy Sturkey and her dedicated team as they put the "fun" in "fundraiser," not only for the residents they serve, but also for those who contribute so much to improve the lives of the developmentally-disabled adults who call LARC their home.
296-8636, extension 219
Are you head over heels for rescue animals? If so, don't miss Rescues On The Runway! The annual dinner fashion show fundraiser to save homeless animals will be held Saturday, October 14 at the Rivetti Ranch. Enjoy great food, fun entertainment and dancing - but the highlight of the night will be families showing off their little rescues on the runway! From rags to riches, these little darlings will shine! Enjoy contests for best costume, best bark, best trick and more! The models will be wearing outrageous heels and recycled clothing while walking with adorable little rescues. The top model of the night receives a trophy and $500 for her favorite rescue! Support the cause and join the ROTR family, who's motto is: "We don't just talk about saving animals, we just do it!" Tickets are available online now, so don't delay. You'll have a doggone good time, especially if you bring your rescue to join the fun and walk the runway!
www.rescuesontherunway.org
When one of your favorite restaurants hosts a special event, it's almost like you get to experience it again for the first time. On Thursday, September 21 at 6:30pm, Salt Creek Grille will be hosting a Babcock Winery Tasting Dinner - and we can't wait to go! You'll dine on exquisite creations form Executive Chef Ignacio Munoz and Chef Kristina Waggoner, including Grilled Peach Salad, King Salmon in Papillote, Tarragon Airline Chicken and Dry Aged New York Steak, plus a surprise dessert! Call to make your reservation. 222-9999
When it comes to entertainment, there are few places more fun than JJ's Bar & Grill in Valencia (799-7557). Throughout the week, their NFL Ticket subscription puts you front-row-center to every NFL game. Watch those, and the PAC 12 games, on one of their 15 huge TV's. Speaking of huge, is your Fantasy Football league growing by leaps and bounds? No worries. JJ's can still accommodate 'em - and so can your wallet. Drinks are on you, because JJ's is an official Bud Light beer sponsor. That means $10 Bud Light pitchers before noon and $14 Bud Light pitches during every NFL game. Rather skip the brew? Breakfast specials (Ending at 12pm.) include $5 screwdrivers and bloody marys and $12 mimosas. And, on Fridays and Saturdays, things get even more interesting when JJ's hosts JR's Comedy Club (259-2291). These laugh-til-you-cry performances are rock-star level - because JR's knows how to draw top national talent. On August 18 and 19, check out the special event featuring Bobby Collins from VH-1 Comedy Spotlight, Sirius XM radio and more. Then, on September 15 and 16, get ready to guffaw with Don McMillan, the "high-tech comedian." Don was the $100,000 winner on Star Search, has been on "The Tonight Show" and is the only comedian working in PowerPoint!
www.comedyinvalencia.com