If you're looking for great food, fine libations, a spot to watch the game and lots of laughs, look no further than JJ's Bar & Grill. Conveniently located in the center of Valencia, your future favorite hangout boasts ample parking, a huge patio that is dog and family friendly and a great banquet room to host any and all of your functions. Watch your favorite sporting event on one of the several TVs throughout the restaurant, bar, patio and banquet room while sipping on any one of the 14 ice-cold beers on draft. And they're open early on Sunday mornings so that nobody will miss the first round of NFL games; they'll be ready for you behind the bar, preparing to serve you up a great breakfast, bottomless mimosas and famous bloody marys! Enjoy half-price martinis for Monday Night Football, the best tacos in town every Tuesday and Thursday and the famous "Wing Wednesday." 799-7557
The Local Pub & Grill has already become one of Santa Clarita's favorite spots for consistently-great food and drinks. Now it's even better, thanks to a fresh batch of awesome new craft beer selections, specialty cocktails and wines. Swing by for breakfast during football season on the weekends from 9am to 1pm; weekly quick.pub.grub lunch specials; live music on Friday nights; games and inside and out; happy hour on weekdays, Buzztime trivia tablets available every day and so much more. Introduce your friends to your new spot by hosting a holiday party inside or on the private patio. Already a true-blue fan? Snag Local branded apparel; a percentage of the profits will be donated to a local charity every month. 495-9192
Holiday meals evoke memories, traditions and joy - and that's what you'll experience at Newhall Refinery. From handcrafted, seasonally-inspired cocktails using deep flavors such as allspice and red wine to decadent desserts like pumpkin bread pudding with real maple ice cream, Newhall Refinery does the holidays right! Head to Newhall Refinery to dine on traditional holiday classics like porketta roast and prime rib featuring the finest seasonal ingredients all while enjoying friendly service and the magical glow of the holiday lights on Main Street.
www.newhallrefinery.com
Hungry for something filling, rich and flavorful? You can't do better than Casa Canela's chilaquiles rojos featuring corn tortilla chips, special Casa Canela tomato salsa, cheese and cream. It's a crunchy, satisfying plate that will fuel you through the busy holiday season.
523-7282
Wolf Creek Restaurant & Brewing Company's new Brewers Menu is all sorts of hop-friendly deliciousness. Try the Brewer's Chili, made with grass-fed beef, tomatoes, guajillo chile, hominy, red onion, Golden Eagle Ale and secret spices, served with cheddar, tortilla strips and jalapeno corn bread. It's SCV's new comfort food! Our new-menu fave: the Pumpkin Ravioli with cilantro pesto cream, roma tomatoes, cilantro and jack cheese. 263-9653
Sabor Cocina Mexicana is synonymous with fresh, exciting flavor and this season's specialties is no exception. Make Sabor your dining destination for their just-released selections like the Hibiscus Flower Margarita, Baby Kale Salad (Baby kale, red onions, pumpkin seeds, queso fresco, sweet potato strips and agave vinaigrette.), Chocolate Churro Bites dusted with coco-cinnamon sugar and served with Nutella cream sauce and vanilla bean ice cream, and the Chile Relleno de Pavo - roasted chile pasilla, turkey picadillo crema, queso fresco pumpkin seeds and butternut squash sauce. 259-9002
Pride of Heritage Valley gift basket
Limoneira Company 805-525-5541
Bridal faire Extraordinaire is SCV's most attended Bridal Expo, offering the opportunity for brides and grooms to meet the finest vendors in the area for over 20 years - and you can go for free to the next one on Sunday, January 7 (More on that in a sec.). Shopping online is fun but this is the easiest way to speak to SCV's finest wedding professionals in person. These talented wedding vendors will be on hand to answer any and all questions; get to know bands and DJs, solo musicians, florists, photographers, videographers, wedding planners, photo booths, jewelers, caterers, wedding venues and all kinds of beauty and makeup professionals. Enchanted Carriages will be on site to give carriage rides so you can see how fun it would be to ride into your ceremony on a horse drawn carriage. Now, to the freebie! Inside SCV Magazine is gifting you with two complimentary tickets; get yours on page 55 of the December 2017 issue.
www.bridalfaireextraordinaire.com
Cake Goodness has a sweet new location in Old Town Newhall and it's the perfect place to find a small-batch homemade treat to enjoy at the moment - and with family and friends later. From the unique and whimsical to the tasty traditional, if you're looking for holiday desserts like cupcakes, cakepops, dessert bars, cookies and more, you've found your sweet spot that will make your holiday dessert table the most popular place at the party. 799-7510
Fall into Salt Creek Grille for seasonal desserts and drinks that will have you wishing for sweater weather year-round! The Caramel Apple Cheesecake is one of the best cheesecakes you'll ever eat, featuring the flavor of traditional New York Style cheesecake with a chocolate-cookie crust and topped with sliced caramel apples. The Pumpkin Crumb Cake has layers of cheesecake swirls, a cinnamon crumb topping and gourmet caramel sauce; you'll also get your pumpkin fix from the Pumpkin Bread Pudding finished with caramel and vanilla-bean ice cream. The Ultimate Carrot Cake is made more-so thanks to its secret ingredient: Cinnamon Goldschlager. Wash it all down with Mama's Ginger Ale (Premium Irish whiskey, fresh lime, simple syrup, cinnamon and ginger beer.), the Fall Old Fashion (Apple brandy, rye whiskey, simple syrup and bitters.) or the Harvest Pear Martini (Grey Goose La Poire vodka, fresh lime and apple juices, simple syrup and a cinnamon-sugar rim.). 222-9999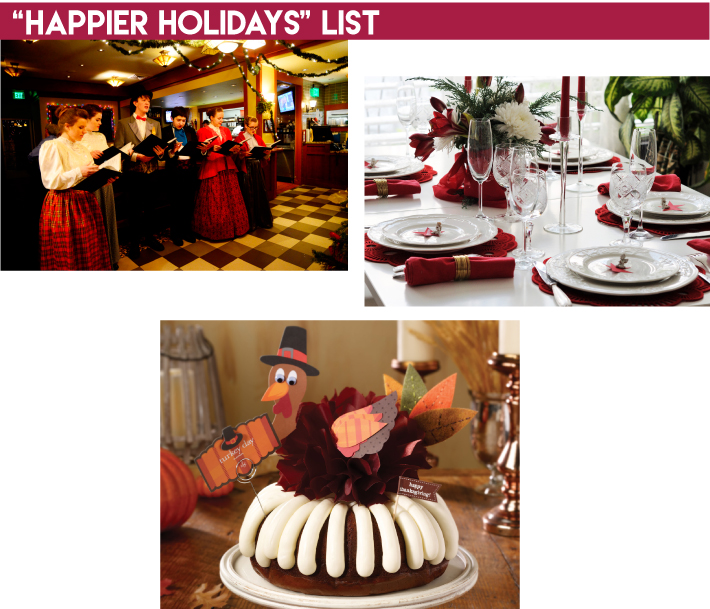 Something very special will happen at Marston's Restaurant on Wednesday, December 13 from 5pm to 9pm: the annual Holiday Dinner. This year, Marston's will treat guests to the festive sounds of carolers in period costumes as they enjoy an exquisite selection of specialties for their three-course meal. You'll choose from Butternut Squash Soup with Crab Relish, Marston's Crab Cakes with Chipotles Aioli, Chicken Pot Pie, Wild Mushroom & Spinach Risotto, Tenderloin of Beef, Pistachio Crusted Salmon, Eggnog Creme Brulee, Marston's Bread Pudding with Grand Marnier Apricot Sauce and more. This is an exceptional way to celebrate the holidays! Reservations are required. 253-9910
Pinterest is filled with menu ideas for a magnificent holiday meal at home; too bad there aren't as many boards dedicated to the many hours of prep, clean up, organizing, shopping and... ugh. We're tired just thinking about it. You, too? Skip the stress and enjoy a truly-delicious, wonderfully-festive meal at Vines Restaurant & Bar in the Hyatt Regency Valencia. Their Christmas Eve Dinner is held from 11:30am to 8pm with traditional holiday favorites with a special prix-fix menu. The Christmas Day Buffet, held from 11am to 6pm, features a gourmet feast including holiday favorites and famous festive desserts. Reservations are required for both events. 678-4044
Nothing Bundt Cakes has over 40 designs and 10 cake flavors to ensure that your holiday masterpiece is as eye-catching as it is delicious. During this extra-busy season, swing by the convenient spot for your decadent desserts and stock up on unique gifts, charming cards and decor items while you're there. Don't forget to use the $5 off coupon on page 55! 291-2424
The world-famous Spiegeltent is only going to be at Wolfcreek Brewery for a few more weeks - so don't miss this opportunity to use it as a venue for a last-minute gathering or event! Your shindig will be especially memorable when you serve catering selections from Wolf Creek Restaurant, like their homemade Lemon Bars, Carrot Cake Squares, Raspberry Streusel Bars and Chocolate Truffle Brownies. 294-9977
Join 9 year old Ralphie Parker this holiday season at the Canyon Theatre Guild in Old Town Newhall! Ralphie is on a Christmas quest for the greatest gift a kid could ever ask for: a Red Ryder BB Gun. Written by Jean Sheppard, this iconic tale - "A Christmas Story" - is guaranteed fun for the whole family! Based in a small town in Indiana in the 1940s, there are many obstacles standing in the way of Ralphie getting his perfect Christmas present. His mother, teacher and even Old Saint Nick do not think it's such a great idea; Ralphie just, "might shoot his eye out!" But Ralphie, who fears that he will not get his Christmas present, will go through great lengths to prove that this BB gun will be the best Christmas present ever. "A Christmas Story" will be playing at The Canyon Theatre Guild in Old Town Newhall from November 24 to December 23. The theatre is decked out for holiday happiness; be sure to arrive early to join the CTG singers in Christmas carols and holiday songs! Tickets start at $17.
799-2702
For the dancers at Santa Clarita Ballet, Christmas starts in September with the first note of Tchaikovsky's, "Waltz of the Snowflakes." Each week, the upper company rehearses from the moment that the Santa Clarita Performing Arts Center at College of the Canyons raises the stage curtain. Santa Clarita Ballet's annual production of "The Nutcracker" hails the beginning of the holiday season without fail. This winter classic weaves whimsy and wonder seamlessly with movement and expression. Cheer for the Nutcracker and his soldiers as they battle the malicious Rat King, laugh as dozens of gumdrops pour out of Madame Ginger's skirts, and clap along as the Russian dancers spring through hoops. There is no shortage of adventure, humor or creativity in "The Nutcracker" for all ages. In addition to Santa Clarita Ballet's highly trained company, The Nutcracker features professional dancers Bryan Wallk as the eccentric godfather and inventor, Raydel Caceres as the charming cavalier, Danny Davalos as the entertaining Harlequin and Santa Clarita's very own alumni, Hannah Wilcox, as the gorgeous Sugar Plum Fairy. The Nutcracker has become a hallmark for fourth graders in the Newhall School District who attend a special outreach performance. Santa Clarita Ballet is happy to serve as an introduction to the arts for children throughout the valley and as a wonderful seasonal tradition for the Santa Clarita community as a whole. Performance dates are Saturday, December 16 at 2pm and 7:30pm and Sunday, December 17 at 2pm and 7pm. Call to order tickets by phone. 251-0366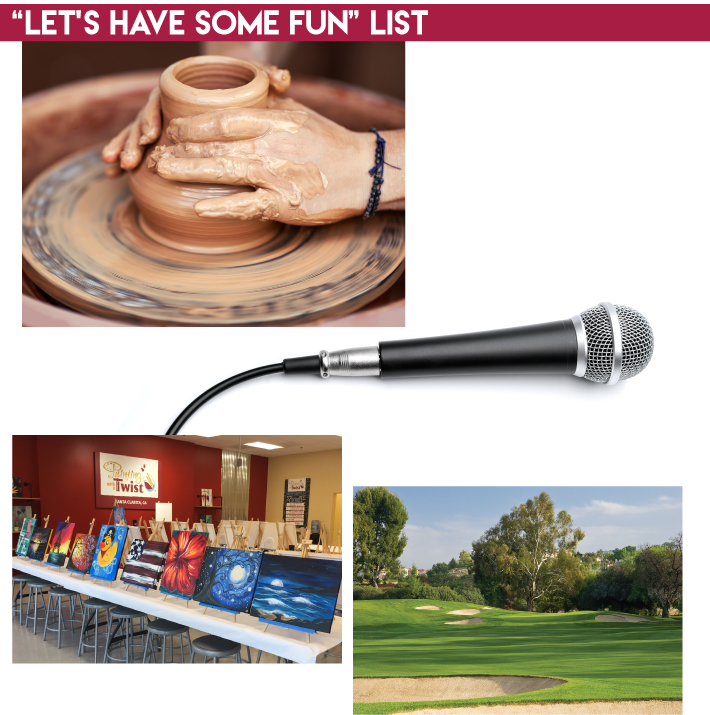 Ceramic Artist Studio, Inc. or CASI, is an educational artist studio focused on ceramic arts. CASI offers over 2,300 square feet of brightly-lit, climate-controlled creative workspace with plenty of communal and personal shelf space. There is always a staff member on site to answer questions. Weekly kiln firings assure quick turnaround time for bisque and glazed pieces. CASI ceramics class sessions are facilitated by seasoned ceramic artists who are a wealth of information to all proficiency levels. CASI boasts high quality equipment such as new Bailey pottery wheels, slab roller, extruder, pug mill, heavy duty workbenches, artist shelving, lockers, Geil gas and electric kilns, plus a wide variety of Aardvarks stoneware and porcelain clays and glazes are available. Class sessions begin five times a year and run for eight weeks. Get gift certificates for classes, for you or loved ones, at a discount at the Open House on November 18.
www.casiceramics.com
Here's your new Friday and Saturday nights:
JR's Comedy Club. Enjoy a great comedy show with big-name acts presented by JR's Comedy Club (Formerly located in Marie Calendars!), which is celebrating its
20-year anniversary in December. Enjoy the comedic stylings of "The Rock and Roll Comedian" Mark Eddie on November 18 and 19. JR's Comedy Club is now located within JJ's Bar & Grill in Valencia.
www.comedyinvalencia.com
'Tis the season for joy and celebrating family - and what better way to make memories than to create a family tradition? Start your family's holiday festivities off right and head over to Painting with a Twist! Their family classes feature art that is specially designed for all ages and skill levels. Get the whole family together and spend some time creating memories in a casual, creative atmosphere. Escape the hustle and bustle and relax, sip a beverage and dance to the music while their experienced artists help you create your own masterpiece that you will cherish forever. Visit their website and pick your favorite holiday painting at www.paintingwithatwist.com/santa-clarita. Holiday traditions are special and bring family together. Create some wonderful memories by starting a new tradition and make memories that will last a lifetime. 414-6454
There are few things more exhilarating than closing a major deal on a breathtaking par-72, 7,076-yard championship golf course. That's a daily occurrence at Valencia Country Club, where the legendary Robert Trent Jones, Sr. course is the ultimate business backdrop. Close a different kind of deal when you take advantage of the Club's incredible financial incentives for membership. The best business move is also one your family will appreciate. Club members enjoy exquisite dining options, a coveted social calendar, state-of-the-art fitness center, special events and so much more. Call Missy Carter for details. 799-1271