The only thing better than wrapping your hand around a diploma is wrapping your lips around a moist, handcrafted bite of bundt from
Nothing Bundt Cakes
in Valencia. The perfect pick for the grad party? Confetti, NBC's most celebratory, festive cake yet. The combination of classic birthday cake baked with colorful sprinkles adds bites of fun to every occasion. Use the coupon for a free bundtlet with purchase in the ad on page 53. 291-2424
Celebrate with the
Odyssey
! Offering tremendous views of the San Fernando Valley, the Odyssey is a premier venue to celebrate life's memorable moments. With its unmatchable location, elegant special event rooms, outdoor spaces, views, award-winning cuisine and amenities, the Odyssey provides an experience unlike the rest. They don't simply put on events; their special events team creates lifelong memories. Book your graduation celebration with them by April 20 and receive a choice of the following perks: one-hour hosted soft bar; upgraded to call-bar package; two chef's selection tray-passed hors d'oeuvres. Note: Food and beverage minimums apply and this offer isn't valid on previously-booked events. 818-366-5817
You've gotta try
Plate Therapy's
Thai Chicken with Cauliflower Rice, featuring grilled chicken breast served over cauliflower rice sauteed with peas, carrots, broccoli and topped with Plate Therapy Thai sauce. Stop in to Grab & Go this week, Friday through Monday from 10am to 3pm and Tuesday through Thursday 10am to 8pm. Can't swing by? Place an order for SCV home delivery or Afterburn pickup. platetherapy.com
Want to know why
Kogiya 2 Korean BBQ
rocks our tastebuds? In one word: quality. The tender slices of meat are perfectly seasoned, the sides are delicious, the portions are generous! And now's the best time to give it a try. This family-owned and operated establishment that serves all-you-can-eat fresh and healthy ingredients now has a new, delicious way to give Korean BBQ a taste. Their new a la carte menu features Hot Stone BBQ for only $9.99 (Do the Tofu Soup & BBQ combo for $12.99), or give the all-you-can-eat Korean BBQ Special a go Monday through Thursday, all day, for only $12.99. 678-0999
Sabor Cocina Mexicana
is your Mother's Day brunch buffet destination, but Mom isn't the only reason you should dine at the Bridgeport location in May. First, their Jicama Chicken Tacos are back, made with Jidori chicken, lettuce, avocado, mango, charred-tomato cream sauce and magic. They also have two new beers you'll love: Sabor Mexican Lager by Figueroa Mountain Brewing and Lizard's Mouth IPA, boasting notes of mango, papaya and pineapple. It pairs perfectly with Sabor's spiciest selections. They've also added a new menu selection - Skinny Enchiladas. Wash it down with their new cocktail, the Paloma Reina, with Mexcal, ancho reyes, fresh grapefruit, lime and agave nectar.
259-9002
Persia Lounge
will treat Mom to a free meal on Mother's Day with purchase of an entree, but there are plenty of reasons to head to this hotspot during the week: All You Can Eat lunch on Friday and Saturday, belly-dancing Friday nights, a live band on Saturday nights and more. Can't make it? They offer free delivery; order online at persia-lounge.com. 259-4100
Whether you bleed "blue," or you just really like Dodger Dogs,
JJ's Bar & Grill
is the best spot to catch every Dodger baseball game this season. "Come as you are" and take the opportunity to nosh on authentic Dodger Dogs with all the trimmings, sip on beer specials and much more. Rather belt out "Take Me Out to the Ballgame" with a mic? Don't miss Friday night karaoke at JJ's. Also worth a stop: Live DJs for Country and 80s Nights on Saturday evenings. Does Mom want a relaxed day out? JJ's is the place to go for moms who deserve to let their hair down! For the real fun, though, host your bachelor party or other special event here; the banquet room can accommodate up to 150 guests.
jeff@jjsbarangrill.com
Don't miss the sixth-annual
Sierra Pelona Valley Wine Festival
held at Reyes Winery on Saturday, April 21, 2018 from 11am to 4pm. The wine festival features numerous wineries and local wine makers offering tastings of their best wines. There will also be gourmet food and specialty-item sampling, handmade crafts from local artisans, live music and lots of fun for a great day. Attendees will receive a specialty event glass, event plate, specialty gift bag, wine and food sampling and free parking. Zonta Club of Santa Clarita Valley will be the beneficiary. Buy your tickets at reyeswinery.com/events/spv-winefestival. Says Chris Paz, general manager of
Mercedes Benz of Valencia
, the event title sponsor: "We are so excited to support this fan-favorite local event that does so much to uplift our community! Please join us for an event you won't soon forget!" 753-5555
Head to
Wolf Creek Brewery
for Cinco de Mayo; they'll be serving El Lobo Lager (Mexican amber lager) along with Island Pick Me Up (coffee-coconut porter) and Lone Wolf IPA, along with year-round faves. Their newly-covered picnic area makes a great spot for private parties! It's available for rental for up to 70 people for $150, plus beverage minimum. 294-9977
Wolf Creek Restaurant & Brewing Company's
brunch features Crab Cake Benedict, Poached Seabass in Tomato Broth with fresh veggies, Prosciutto Stuffed Skirt Steak with spicy red bell pepper sauce and more she'll adore. Or skip the Sunday to-do's and make like a weeknight superhero at their Happy Hour, which runs Monday through Friday from 4pm to 6pm and has expanded to the entire restaurant. You'll score $1.50 off all beers on tap and wines by the glass, plus get special pricing on appetizers. 263-9653
It's a new day at
Hyatt Regency Valencia
- and that's all the more reason to head to Vines Restaurant within to celebrate with their famous Mother's Day Brunch. Held from 11am to 4pm in the freshly-designed space, the cost is $69 for adults and $29 for kids ages 5 to 12. Reservations are strongly suggested; this is SCV moms' favorite place to celebrate their day for good reason and prime times reserve quickly. 678-4044
Here's a first-class experience for a first-class mother. At the
Oaks Grille at The Oaks Club at Valencia
(formerly TPC Valencia), Mom receive freshness and a variety of breakfast favorites; a cold seafood station; a chef carving station; brunch entrees; delicious dessert selections and so much more. She'll enjoy it alongside the best view in Santa Clarita Valley. 288-1995
Introducing The Oaks Club at Valencia
"The Oaks Club at Valencia" is the new name selected for a recently-acquired Arcis Golf property in Southern California's oak-laden Santa Clarita Valley, located northwest of downtown Los Angeles. The Oaks Club at Valencia is an upscale, private club that had previously been part of the TPC Network of golf properties, formerly known as TPC Valencia. The new name reflects the club's deep roots in the community and pays tribute to the Oaks legacy of the land. "Beyond the new name, this change is about a renewal of the club's individuality and character," said Blake Walker, chairman and CEO of Dallas-based Arcis Golf, which owns and operates both The Oaks Club at Valencia and nearby Valencia Country Club. "It is a more suitable representation of our memberships' identity and the relationships the club has built throughout the valley." With the two affiliated golf clubs on opposite sides of Interstate 5, Arcis Golf now serves a collection of affluent communities throughout the valley, as well as the residents of nearby Newhall Ranch. Among the major improvements planned for The Oaks Club at Valencia is a multi-million-dollar clubhouse renovation, beginning late this summer. The focal point will be a completely-transformed member restaurant and dining experience for the club's diverse membership. The private event space will be enhanced to fortify the club's position as the preeminent wedding venue in the valley. 288-1995
Join the
Santa Clarita Ballet Company
at the breathtaking The Oaks Club at Valencia (Formerly known as Tournament Players Club Valencia) on Saturday, May 12 for an elegant afternoon tea as they celebrate the Company's June production of "Coppelia." The Oaks Club at Valencia provides an elegant setting with beautiful views of the Santa Clarita Valley and luxurious surrounding areas. Tea & Toeshoes is the perfect way for everyone, young and old, to experience an afternoon tea, silent auction, raffle and a sneak peek of some beautiful dancing featuring Company ballerinas in full costume. They will perform a few excerpts from the upcoming June production of Coppelia. Ladies, dust off your best spring dresses and deck-out your hats for this traditional tea featuring dainty finger sandwiches, tea with clotted cream and decadent scones served by Company ballerinas. The littlest ladies will enjoy a ballet lesson and whimsical party favors. All proceeds from this event benefit the Santa Clarita Ballet Company, a non-profit organization. Seating is at 1pm; all tickets are $65 per person. Groups wishing to share a table are encouraged to reserve tables early; this event will sell out. 251-6844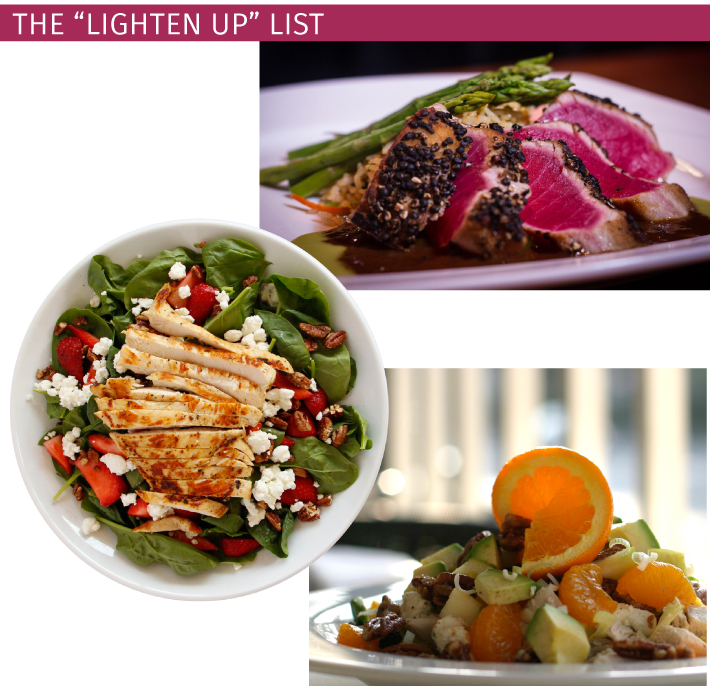 Salt Creek Grille
has always been a giver in this community - and now they want to put a $25 reward card in your pocket, too. Buy gift cards for moms, grads and dads and score one for yourself! (Call for details.). Then order up the gluten-free Yellowfin Ahi Tuna, which is peppercorn crusted, seared rare and served with wasabi soy sauce, stir fry rice and fresh asparagus. 222-9999
It may just be spring, but it's ok to skip ahead a little for the Summer Salad at
Casa Canela
! Enjoy spinach, chicken breast, strawberries, red onions, goat cheese and walnuts drizzled in balsamic vinaigrette and served with a side of toast. But why indulge in this by yourself when you can host a party for your favorite people in one of their private rooms? And if your entourage is too big for a room, you can book a private event and have the entire restaurant - plus their patio - for an experience that everyone (Up to 200 people!) will remember! 523-7282
Treat Mom to
Marston's
in May! And while you're there, dive into their famous California Orange Salad with mixed greens, chicken breast, mandarin oranges, avocado, raisins, green onions, blue-cheese crumbles, apples and candied pecans with their special San Pasqual dressing. 253-9910