The Vines Restaurant's new look is getting rave reviews - because the ambiance is just as fresh as the hot spot's seasonal menu. Relax at Vines Restaurant & Bar's beautiful patio with a glowing fireplace for a unique al fresco dining experience. 678-4044
You'll feel like you're sitting poolside in Cabo when you're lounging on Sabor Cocina Mexicana's patio with a glass of their refreshing White Sangria from their extraordinary new summer cocktail menu. Made with Moscato, peach schnapps, fresh lime juice and seasonal fruit, Chef Lety and her team have created flavors that will take you on vacation. Not driving? You won't want to miss out on Sabor's Sandia, featuring freshly-muddled watermelon, mint, fresh-squeezed juices and vodka. Not driving and not working tomorrow? Finish with a pineapple-jalapeno-infused tequila martini nightcap. 259-9002
If you don't identify as a salad person, Wolf Creek Restaurant & Brewing Company might create a whole new you. While you may be accustomed to devouring Wolf Creek's Baby Back Ribs dripping with ale-molasses barbecue sauce, it's going to be hard not to fall in love with their all-new Blueberry & Quinoa Salad with fresh, juicy blueberries tossed with quinoa, butternut squash, arugula, bell peppers, white beans, grilled corn, cherry tomatoes, honey vinaigrette and almonds. 263-9653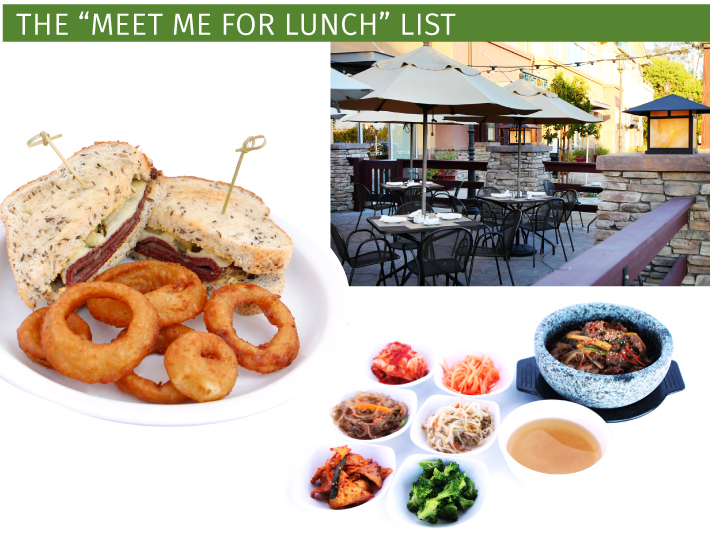 The meaty masterpiece on the fresh new menu at JJ's Bar and Grill: the JJs Perfect Pastrami Sandwich with sliced peppered and cured pastrami piled high on fresh rye bread, topped with melted gruyere cheese, housemade pickles and a dijon mustard spread. Eat yours on a Monday and enjoy half off all martinis or sing your heart out on Friday and Saturdays with Karoake hosted by the lovely and talented Debbie McKay. She makes sure that pastrami isn't the only star of the bar. Saturday nights, enjoy live music and watch sports all day on Sunday with your host, Jeff.
jjsbarangrill.com
Let Chef Jim transport his culinary magic from Marston's to the comfort of your own home or venue with his customizable catering menu - or bring to the party to them and celebrate at Marston's patio or dining room. Here's some crowd pleasers: The Pulled Pork BBQ Sandwich served on a French roll with carmelized onions, tomato and cheddar cheese; the B&B loaded with thinly-sliced tri-tip, cheddar cheese, mayo and tomato on sourdough; and the Reuben stacked with corn beef on rye bread, smothered in thousand island dressing and topped with sauerkraut and swiss cheese. 253-9910
When "quality" and "all-you-can-eat" describe your menu, you immediately command attention. That's why the delicious, healthy meats served at family-owned and operated Kogiya 2 Korean BBQ have become fan favorites. Perfectly seasoned with sides that are delicious, order either a la carte - including the scrumptious Hot Stone BBQ for only $9.99 or the Tofu & Soup BBQ combo for only $12.99 - or feast until your heart's content with the all-you-can-eat Korean BBQ special all day Monday through Thursday for $12.99. It's a feat to serve unlimited, delicious meat and Kogiya 2 Korean BBQ continues to meet that mouth-watering challenge. 678-0999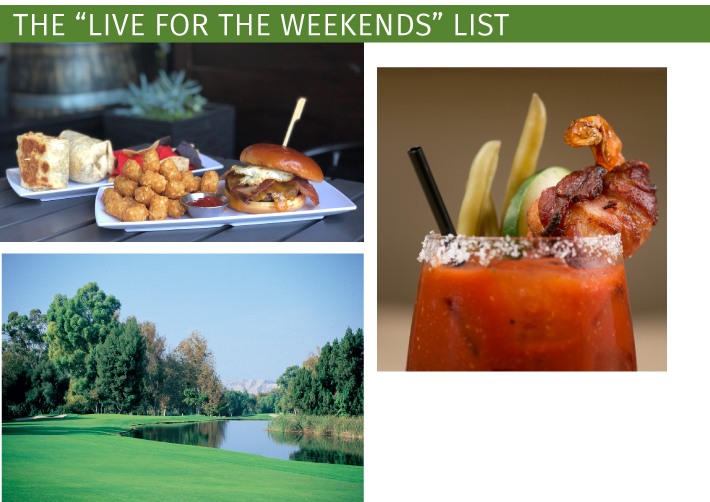 Start your weekend by having the most important meal of the day at The Local Pub & Grill. Brunch is boss every Saturday and Sunday from 10am to 2pm, when you'll sink your teeth into their signature Breakfast Burger, classic chicken and waffles, breakfast flatbread, or one of their breakfast burritos. Wash it down with The Summer Drink Menu, which has five different variations of the Moscow Mule (Regular, Spicy, Twisted, Irish and Tropical!), the Coolest Cucumber Smash (Cucumber-infused vodka, muddled cucumber and mint.) and the PomTastical (Strawberry-infused vodka, a splash of pomegranate liqueur and cranberry, topped with a splash of soda.)
495-9192
Make your Sunday a Funday with new Sunday Brunch cocktail menu at Salt Creek Grille. Start your morning off right with The Bloody Works, Salt Creek's masterful version of the bloody mary, featuring their own bloody mary mix, Worcestershire sauce, horseradish, vodka, tomato juice, celery, blue cheese stuffed olives, and lime served with bacon wrapped stuffed shrimp and waffle and bacon slices. But you're not going to want to leave, being that they also have live music and discounted drinks and appetizers from 4 to 7pm on their spacious patio. Still looking for a place to host that graduation party? Look no further than Salt Creek Grille! 222-9999
Valencia Country Club's distinctive offerings make membership an especially-attractive solution to the "What are we doing this weekend?" question. Fill yours with plenty of time on the best course in town, coveted social events and fine dining. 799-1271
Sweeten Dad's day with a dozen delicious bundtinis from Nothing Bundt Cakes decorated with these adorable shirt and tie bundtini toppers. These little treasures are filled with wholesome ingredients like real butter and cream cheese and come in over
10 different flavors. 291-2424
Of course it's great to reward our graduates with a beautiful lei or a floral cap, but perhaps more importantly, graduation pictures always look better when there are flowers involved, especially when they are from Charmaine's Bouquet Canyon Florist. 297-3100
Saturday | June 9


Santa Clarita Ballet Presents "Coppelia"
Originally presented by Paris Opera in 1870, Coppelia is considered to be the great comedy of all ballets. Set to the beautiful, recognizable music of Leo Delibes, this ballet tells the tale of Dr. Coppelius and his life-size doll Coppelia. Coppelia, mistaken as a real woman, enchants our main character Franz. Swanhilda, his fiance, breaks their engagement as a result of his flirtation with beautiful Coppelia and pandemonium ensues! Held at the Santa Clarita Performing Arts Center at COC. santaclaritaballet.net
Monday | June 11


5th Annual Golf Classic Benefiting The Youth Project
Held at The Oaks Club at Valencia, Golfers will compete in an 18-hole four-player scramble as well as have a chance to win a car at the Frontier Toyota Hole In One challenge - plus lots of other prizes in the live and silent auction! Golfers will receive access to golf cart and range balls, continental breakfast, on-course lunch, refreshments and post-round buffet and awards reception. Have a chance to bid on access to a Lakers suite with limo ride, get a chance to win up to $4,000 in the massive 800 golf-ball drop and more. The Youth Project is a non-profit agency that provides free one-one counseling, support groups, outreach, education and crisis intervention to teens all across the Santa Clarita Valley. helpnothassle.org
For more info, call Kathy Watterson or Danny Walsh (284-5066).