Dignitaries Honor Legacy Christian Academy for National Blue Ribbon School Award
Congressman Steve Knight, Assemblyman Scott Wilk & More Celebrate with Supporters
On Friday, November 20, over 200 Legacy Christian students, dozens of parents and Legacy alumni were joined by dignitaries Congressman Steve Knight, Assemblyman Scott Wilk, City of Santa Clarita Mayor Marsha McLean, SCV Chamber of Commerce CEO Terri Crain and representatives for California Senator Sharon Runner and Supervisor Michael D. Antonovich for a National Blue Ribbon School ceremony.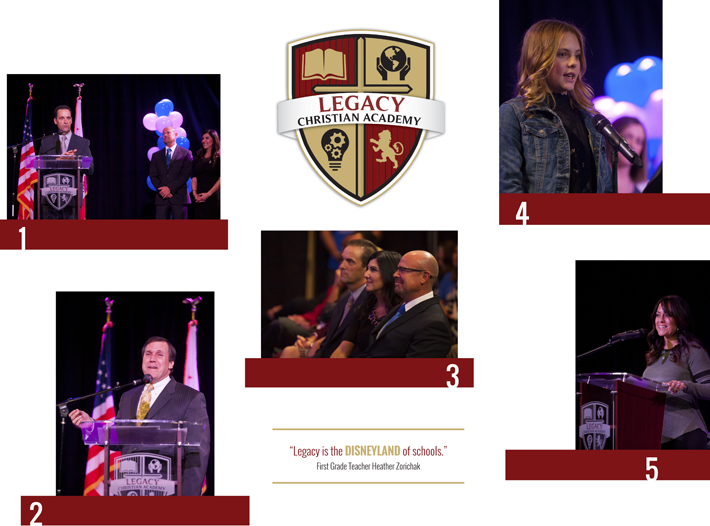 1.

In his remarks to the audience, Congressman Steve Knight explained how achieving the status of a National Blue Ribbon School was a very difficult thing to do. "This takes endurance," he said. "It takes buy in for teachers, parents and students." Later, he congratulated Legacy Co-founders Tim and Donna Borruel for not just creating an exceptional educational program, but for changing lives. The congressman ended his remarks by promising special congressional recognition for each Legacy student.



2.

Assemblyman Scott Wilk took to the stage in honor of the Academy, which boasts a student population of over 420. With obvious emotion, Wilk congratulated Tim and Donna Borruel, Legacy co-founders, for cultivating a school environment where you could so dramatically feel the presence of the Holy Spirit.



3.

"There is no greater honor a school can receive [than the National Blue Ribbon School Award]," explained Co-founder and Legacy Superintendent Tim Borruel, who later in the program took the stage with wife, Co-founder and the Academy's Director of Education Donna Borruel, to receive dignitary awards. He then gave much credit for the commendation to parents, students, administrators and staff, saying, "Our school is only as good as our teachers. Their commitment to excellence is the heart and soul of Legacy," but concluded with a summary that reflects the campus community's focus on faith: "All the glory goes to God." The couple is pictured here sitting with Congressman Steve Knight.

4. "Legacy is a place where students feel loved and challenged to excel beyond what they feel is possible," shared Audrey Welch, the school's Associated School Body chaplain. The ASB representative painted a vivid picture of the Academy, explaining that Legacy students are not just gifted with a vibrant scholastic environment, but one where they feel safe to develop socially and through Scripture, too. At Legacy, personal interests are validated, supported, explored and grown with time and attention to help students succeed.

5. Parents like Andrea White, mom to three Legacy alums, told the audience that her now-teen children all regularly thank her for sending them to the Academy. "They know how to speak in public, to debate, to give a presentation because they've been doing it since they were 5 years old," she shared. Each of her children are Honors students in college and high school. "I have amazing kids who've done amazing things - and that started here at Legacy," she said. Two of her children will be spending vacation time volunteering as instructors at Legacy Christian Uganda on the African continent.
The event, which was held on the Academy's expansive Valencia campus, featured a video update of Legacy Christian Uganda; speeches from Legacy students, alumni, parents, teachers and administration; and award certificates presented by local, regional, state and national dignitaries.
The ambience of joy and celebration was prompted by the Academy's impressive Blue Ribbon feat; Legacy Christian was, in 2015, the only private school in L.A. County, one of only four in the state of California and one of only 50 in the entire nation to earn a National Blue Ribbon School Award. The kinder-through-eighth-grade academically-accelerated institution was honored for being a school of excellence.