Why Middle School is Especially Important
For some parents, middle school/junior high seems like a vast wasteland of time - a spaceholder of sorts before the serious business of high school begins. "There can be a presumption that because middle-school grades don't 'count' toward college entrance, middle school isn't as important as, say, early learning or high school," explains Matt Millett, a local leader in education and the head of school at Legacy Christian Academy.
That presumption couldn't be further from accurate. New pedagogical theory argues that middle school is the time when children have the opportunity to develop strong study habits, an appreciation for education and a pro-learning attitude that will carry them through more difficult material to come.
"We hear from parents frequently: a positive middle-school experience translates to a successful high school one, too," shares Millett. It makes sense; middle school, when done right, will introduce your child to increasingly-challenging content in an environment that teaches processes for success. "It's not just about having the best curriculum," explains Millett. "It's about the culture. If a child is surrounded by other children who are also eager to learn, with teachers who are excited about education, with opportunity for deeper engagement and enrichment, they're going to love learning. That love will carry them through when calculus gets tough or studying for an AP History test produces lackluster results at the start. Tweens develop tenacity in middle school, a resilience that is buoyed by knowing that they've done the 'hard work' before and have succeeded. It's a time of confidence building, of taking on challenges in a safe place with educators who know them well and are incredibly invested in them."
Tours of Legacy Christian Academy's middle school are available now. 257-7377
"We are so happy that our children have had the privilege of attending Legacy Christian Academy; we've been an LCA family for nine years. Legacy has caring teachers, a purposeful administration team and the best science/math programs in the area. We believe in higher education; setting a strong foundation is crucial to succeeding in life. We wanted to give our children the best education possible while instilling core values - and we have found that here.

We have three boys who are currently in 10th, eighth and fifth grades, all of whom have experienced the best in education at Legacy. Our oldest son, Alexander, graduated from Legacy's middle school and went into ninth grade with a skillset most other students did not possess. He is performing at a very advanced level at Academy of the Canyons High School and is currently thriving in 10th grade. The middle school program at Legacy has built a strong foundation in him and has helped him succeed in high school.

Our middle son, Jonathon, is currently in eighth grade and has truly enjoyed Legacy, especially the middle school. With all his years at Legacy, we know he is fully prepared for high school because of our 10th grader. I look forward for our youngest boy, Nathan, the fifth grader, to have as great of a middle school experience as our other two children. Our family has experienced the most wonderful education at Legacy Christian Academy and we love it!"
Saber Patrus, MD & Fatin Patrus, Pharm.D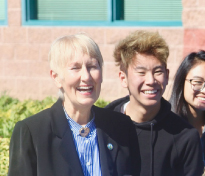 SCVi Honors Councilmember Laurene Weste at Vision in Education Event
SCVi, iLEAD's founding school, is pleased to honor Santa Clarita City Councilmember Laurene Weste at its 2019 Vision in Education benefit dinner on March 9. The SCVi Vision in Education Award recognizes a community leader who has made significant contributions to public education. The annual event will feature presentations from students at SCVi, as well as fantastic auction items and a stellar dinner with dancing to follow.
As a long-time supporter of SCVi, Councilmember Weste was also the perfect choice to help celebrate the school's 10-year anniversary. In 2009, while serving as mayor of Santa Clarita, she honored SCVi by taking part in the school's first enrollment lottery.
iLEAD Schools promote individualized instruction, active learning methods and opportunities for self-directed learning. The organization celebrates and fosters each child's individuality and supports them in discovering their highest potential in the environment which best suits their learning needs. The annual dinner will be held from 6pm to 9:30pm on March 9.
visionineducation.org/scvi/
Boys & Girls Club of Santa Clarita Valley Announces
2019 Youth of the Year Geneva Reyes
The Boys & Girls Club of Santa Clarita Valley announces Geneva Reyes as the 2019 Youth of the Year. Geneva was one of six teens selected by Club staff to interview for the honor. Staff nominate teens based on their involvement in the Boys & Girls Club and their demonstrated leadership skills at the Club, in school and at home. A panel of judges, consisting of Board members, selected Geneva among the group because of how well she presented herself, communicated her thoughts and exhibited a passion for the Club, school and community.
A junior at Hart High School, Geneva's dream is to be the first in her family to graduate college. She plans on pursuing a degree in kinesiology. She is proud to share that she has maintained a 3.9 GPA while working part-time and playing on the Hart High School Varsity Girls Soccer team. "It is, without a doubt, that I am where I am today because of all the extra help I received from the Club. With the guidance they have given me, it has helped me to set some of my highest goals."
Geneva joined the Boys & Girls Club of Santa Clarita in 2007 when her family moved here from Burbank. She is the second oldest in a family of four children. Her mother, Leticia, is a single mother who works to support her family. By enrolling her children at the Boys & Girls Club, Leticia knew they were safe after school with adult guidance, help with their homework and a snack. It is the extra support she needs, but Geneva says the Club has been much more, "[The Club] has never just been an after-school program but more of a second home." She goes on to share, "The Club taught me to be kind, respectful, driven, responsible, a leader, a good sport, and showed me that my education is extremely important. I learned that it is easy to be mean to others, but it shows true character to show people kindness. I learned that when I am driven towards something, nothing can stand in my way, I am responsible for all my decisions, and that I must lead others by showing them good actions. Staff at the Boys & Girls Club helped mold me into who I am, they taught me lessons that I will use for the rest of my life."
"We are incredibly proud of Geneva and all she has accomplished and overcome. She will represent the Boys & Girls Club and Santa Clarita well. I look forward to working with her throughout the year as she speaks on behalf of the thousands of children and teens the Boys & Girls Club of Santa Clarita serves," says Board President Ann-Marie Bjorkman.
"Geneva never lets obstacles that come in her way stop her from pursuing her dreams. She maintains a positive attitude, gives everything she does 110 percent and is an inspiration to her friends. We all are so proud of her," says CEO Matthew Nelson.
As the Boys & Girls Club of Santa Clarita Youth of the Year, Geneva wants to be a role model and inspire other teens. "I want kids and teens to be able to see that they are so much bigger than what they come from and what they have gone through. Kids shouldn't have to be scared to go back home because they don't know if mom and dad are fighting again. Kids shouldn't be afraid to walk down the street. Kids shouldn't have to have to worry because they are just kids." Geneva will have the opportunity to share her vision in the Los Angeles County Youth of the Year competition. Youth of the Year from each of the 20 Los Angeles County Alliance Boys & Girls Clubs will be represented. She will participate in pre-sessions at ABC7 Studios to help her prepare for the competition on Thursday, March 21 at the ACE Hotel in Los Angeles where the Los Angeles County Boys & Girls Club Youth of the Year will be named. The LA County winner then moves on to the state level. The state winner moves to the national level.
scvbgc.org
It's Time to Prepare for your Preschooler's Summer
March brings thoughts of spring and renewal; the first thoughts of summer filter into our minds. But if you have a preschool-age child, what do you plan for the summer months? Surely they need more stimulation than being caged up in the house day after hot day. But your child can't possibly be old enough for regular summer camp, right? Wrong. CBS Preschool offers a fun, safe, loving environment where your child will have social stimulation and plenty of interesting and varied playtime, including water play up to twice a week, as well as arts, crafts, music and activities like children's yoga. Sound fun? Imagine looking forward to summer and your child's excitement day to day. Give Director Carol Bloom a call and schedule a tour.
Congregation Beth Shalom Preschool 254-2411
Sunshine's Open Enrollment Begins March 1
Sunshine Learning Centers, Santa Clarita's premier family of early-learning centers for education, have two convenient locations: North Valencia and Wiley Canyon. Both provide opportunities for early learners, preschool, pre-kindergarten and transitional kindergarten.
Your family will appreciate Sunshine's low student:teacher ratios, accelerated curriculum, exciting technology, character education, hands-on learning and more - all in half-day or full-day programs.
Sunshine North Valencia 294-1970
Sunshine Wiley Canyon 254-6855
Good Dental Health is Vital to a Child's Education
Kids can't learn if they aren't in school, which is just one more reason to ensure that your child's dental health routine is well established.
According to a groundbreaking study using The National Health Interview Survey (NHIS), over 1.5 million school days are lost annually to dental problems in children. 5 million days of restricted activity were also logged, as well as 1.6 million days in bed. The study was limited to dental problems, like infection. Routine checkups, for example, were excluded in the findings.
What does this data tell us? Too often, children are missing out on vital education hours because of dental issues - many of which are avoidable with good home and office care.
Santa Clarita Children's Dental 735-1500
Model a Love of Reading
You can tell your kids to read, you can bribe them - or you can model a sincere love of reading yourself and encourage them to feel the same. Put down your own phone, pick up a book and see improvements - for the whole family. Need a push in the right direction? Santa Clarita Public Library's One Story One City Program can help.
Every year, the Santa Clarita Public Library's One Story One City program encourages discussion amongst Santa Clarita residents and promotes reading through the celebration of one story during the month of March. The Santa Clarita Public Library is excited to announce this year's 2019 book selection is "The Tea Girl of Hummingbird Lane" by New York Times bestselling author Lisa See.
"The Tea Girl of Hummingbird Lane" is a powerful tale about tradition, tea farming and the enduring connection between mothers and daughters. The moving story focuses on two women separated by circumstance, culture and distance.
Due to the nature of some of the topics covered in the book, this story is recommended for adults and not suitable for young readers under the age of 16.
"We encourage everyone to start reading the book now so when March rolls around, they can get involved in our conversations and book-themed activities. We have copies available at every Santa Clarita Public Library branch," says City Librarian Shannon Vonnegut.
One Story One City program events and activities will commence in March. The program is free.
santaclaritalibrary.com/onestoryonecity