Friday | September 1 & Saturday | September 2


Kris Kringle Boutique
So Cal's favorite boutique is back with unique gifts, holiday items, jewelry, clothing and a whole lot more. The Kris Kringle Boutique has over 30 quality vendors who know how to wow! Totally worth the drive (Northridge!), admission is free and you can even enter to win a prize when you bring the ad on page 89 with you!
www.facebook.com/kriskringleboutique
-----------------------------------------------------------------------------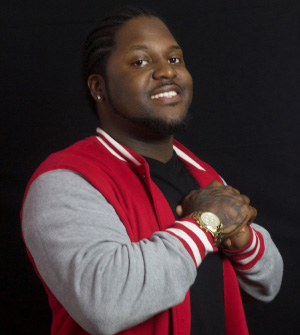 "My name is Keitrell Hamilton and I'm 25. When I was younger, I enjoyed making friends and family laugh. Seeing tears in their eyes from laughing so hard brought me happiness. My passion was stand-up comedy - but I later found another passion in acting. My introduction to that industry came as an 'extra,' but I soon realized I wanted to be a lead actor. I knew acting school was essential for my dream. I signed up at Santa Clarita School of Performing Arts to learn the different styles of acting. Several months later, I got an agent who was able to book me an 'Underworld' movie promo, 'Up Your Game' commercial, an episode on Oxygen's 'Cold Justice' and a Wienerschnitzel commercial. My biggest accomplishment so far, however, is the nationally-played 'Barbershop iPhone 7 Plus Apple' commercial released this May. Filming the commercial was a great experience! I was able to connect with other actors and it motivated me to go to the next level. Acting can be challenging at times; for me it's all about concentrating and getting lines correct. It's also about not smiling so big when 'Action!' is called!"
-----------------------------------------------------------------------------
The Best Start for your Young Child
Sunshine Wins "Outstanding School of the Year"
Do you have a child ranging in age from 2 to transitional kindergarten? If the answer is yes, you owe it to your child's future to consider Sunshine Learning Centers. With half and full-day options available and 20 years of providing exceptional care and education to SCV kids, Sunshine offers Early Learner, Preschool, Pre-k and Transitional-k options at two locations. Call to schedule a tour and find out for yourself why Sunshine won "Outstanding School of the Year."
294-1970
Back to School Insurance Smarts
"Back to school" is the perfect time to get your healthcare coverage details organized; you have to fill out all those school forms about your insurance, anyway! Gather together your family's insurance IDs and make sure they're all current; expired cards mean that you need to make a call and have new cards sent. Make photocopies - front and back - and place those in a safe place. Have teens or young-adult children who are "in charge" of their own card? Keep a copy of theirs in your wallet, too, just in case.
Henry Mayo Urgent Care 200-2500
When should Children get their Eyes Checked?
Everyone should be getting annual eye exams - so if you've delayed, get the whole family scheduled now! Yes... even babies; it's recommended to get your little one their first eye exam between 6 and 12 months old. If you have vision insurance, an annual routine eye exam is covered and it may even cover part or all of the cost of glasses.
Helm Vision Group sees children as young as 4 years of age. Although they may see younger children in special cases, it's usually recommended that younger children see a pediatric optometrist or ophthalmologist. Children often do not know what their vision should be and wouldn't know to speak up if it wasn't right. This is why is so important to get them examined early on and address issues before they become more serious.
A common one known as amblyopia, or "lazy-eye," is best corrected before age 10 during a window of critical development for vision. Treatment that begins before this time has the highest rate of success, so be sure to get your kids in for an eye exam soon!
Helm Vision Group 259-3937
The Right Amount of Fluoride for your Child's Dental Health
Fluoride, a naturally occurring mineral, is essential for proper tooth development and the prevention of tooth decay. In communities throughout the United States, tooth decay may still be a significant problem - but it is far less prevalent than it would have been, if not for the fluoridation of public water supplies. Of course, not everyone has access to fluoridated water. That's one reason why dentists sometimes recommend a fluoride supplement for your child and/or the use of toothpastes and other products that contain this important mineral. Because it is possible for children to get too much fluoride, it is best to consult with a dental pro on the use of any fluoride-containing product.
Fluoride ingested by children in drinking water or supplements can be taken up by their developing permanent teeth. Once a tooth has erupted, it can be strengthened by fluoride topically, on the surface. Using a fluoride-containing toothpaste is one way to make sure your children's teeth receive helpful fluoride exposure daily. Children's dentists recommend using only a pea-sized amount for kids ages 2 to 6 and just a tiny smear for kids under two. Fluoride should not be used on children younger than six months.
Valencia Children's Dental Group 294-1800