NBA star Russell Westbrook and his brother were taught to ask themselves, "Why not?" every time they were told they could not do something that would put them on a track to success. It is this encouragement, confidence and strength that Russell and his family want to instill in children across the country. That's why Westbrook launched his organization: the Russell Westbrook Why Not? Foundation.
From Thanksgiving dinners for underprivileged families (Complete with raffle prizes, turkey giveaways and fun!), Christmas parties for foster care kids (Westbrook gifted each child with a backpack filled with gifts and Jordan shoes.), partnerships with organizations like Citizens Caring for Children, "Russell" reading rooms in numerous elementary schools, free basketball camps and more, Westbrook has made community building an integral part of his life.
The majority of his efforts take root in the South Central Los Angeles neighborhoods where he grew up, as well as Oklahoma City - where he plays ball. "I am in a unique position to be able to give back to a community that has been so supportive of me and help children in need," says Westbrook.
Ready to test drive a different kind of dealership lead by a different kind of professional athlete? Visit Russell Westbrook's Chrysler/Dodge/Jeep/Ram of Van Nuys today - and shoot some hoops while you're there.
Founded in 2012, the Russell Westbrook Why Not? Foundation is dedicated to supporting community-based education and family service programs while encouraging youth to believe in themselves. "I believe education is the simplest and most direct path towards a better life, so I want to not only motivate these kids to read and get involved in their education, but also to provide them with tools necessary to successfully meet my challenge," explains Westbrook. That's why Westbrook has focused so much energy on opening Russell Reading rooms at elementary schools, gifting each child a book in the process.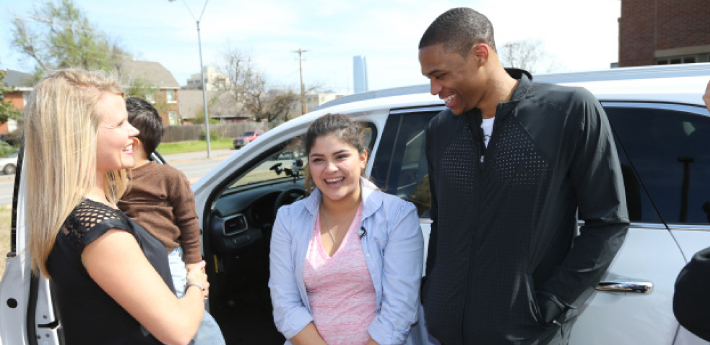 With her two young boys by her side, single-mom 19-year old Kerstin Gonzales raced into the offices at Sunbeam Family Services for a meeting - not knowing that her life was about to change thanks to Russell Westbrook, who would arrive moments later sporting his signature wide grin. The initial shock of seeing the NBA Thunder player turned into awe; the point guard quickly told Gonzales that he had a surprise for her - a new car. When he pulled the keys out of his pocket, she broke into tears. The gifted SUV was actually the car given to Westbrook when he won the Most Valuable Player award in the All-Star Game in New York City. When he received it, he immediately decided to find a recipient in the Oklahoma City community that truly needed it. "Kerstin has done so much to keep her family together," Westbrook says. "When you see somebody working hard towards a goal and finding ways every day to keep everything afloat for her two boys and her family, you can't do anything but help them out."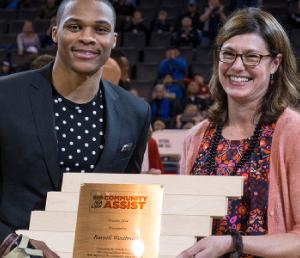 ------------------------------


Russell Westbrook received the NBA Cares Community Assist Award for his work with the Russell Westbrook Why Not? Foundation. The organization's mission is to inspire children and empower them to ask "Why Not?" while teaching them to never give up. The foundation works to help children that are facing hardships of any kind and, when encountering that adversity, fight to succeed and never give up.