Show them the Love!
The sweetest Valentine's gifts are the ones that come from the heart. Paint a keepsake they'll treasure forever at Paint A Dream and know that your present is one of a kind!
255-1177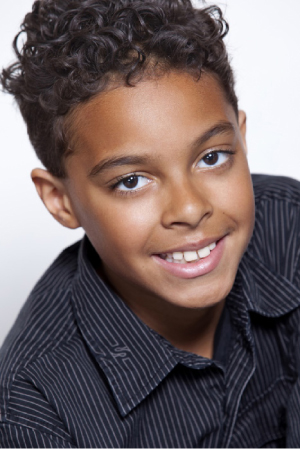 "I want to say 'thank you' for all SCSOPA has done for our son, David Mckee III. When we stopped by the Santa Clarita School of Performing Arts (SCSOPA) booth at the Antelope Valley Mall and went to the school to check out the classes, it was the start of a wonderful journey in the entertainment business. Because of SCSOPA's top-notch acting, dance and modeling teachers, David has learned the skills he needed to audition for the agents that go to the school every Saturday.

David has obtained two top agents - DDO Artist Agency and MO Artist Agency - and has been very busy. He had a great time doing the Smileland Dental commercial, Zipit Bedding commercial and music video. He was seen on the Kids Bop 25 commercial, which aired on Disney, Nickelodeon and Cartoon Network. He recently did the Father's Day 'Because we're Dads' promotion for American Greetings and can currently be seen on Disney channel's Friends for Change commercial. David also is working on a series that he was cast in with a supporting role in 'The Summoned,' which is coming out in January 2015. We are so proud of all that he has achieved and it is all because of Santa Clarita School of Performing Arts,"
~ David, Eleanor and David III
Family-owned Brent's Carpet One Celebrates 35 Years of Serving SCV Families
It'd be difficult to find a more family-friendly flooring store than Brent's Carpet One, the home-improvement store that's celebrating 35 years of business in 2015. That's because this "for families" shop is run by one.
Brent & Ben Griffiths are a father-and-son team that built Brent's Carpet One Floor & Home into the premier flooring company in the Santa Clarita Valley. In 1979, Brent began serving the flooring needs of the SCV as the owner of Brent's Fashion Floors. It rapidly became the place to go for quality flooring, low prices and installation excellence.
He later joined Carpet One and benefited from the buying power of over 1,000 stores. He was able to lower his prices and provide even better value for his customers. Brent's son Ben has joined the company and has lead the store to new heights in customer service and satisfaction.
Brent's Carpet One has repeatedly received readers' choice awards for being the "best" in the Santa Clarita Valley - and it's easy to see why! Their extensive products and knowledgeable service have earned them a coveted reputation.
Stop in today to check out our favorite family-friendly flooring: luxury vinyl tile. These laser-cut vinyl tiles look so much like wood or ceramic and have the feel and appearance of the real thing, without the high-maintenance drawbacks of being sensitive to water exposure, scratching and denting. 255-3337
The LOVE List
We asked - and you answered! Here's what you love most about your kids.
Join the conversation at www.facebook.com/insidescvmagazine!
"My children Kyle and Korey are the most amazing kids any parent could ask for! They rarely fought growing up and they are best of friends as adults. They both are in circumstances where they mentor young adults and they are wise beyond their years. I will be forever grateful that I was chosen to be their mom!"
Becky Rush Adler
óż
"My son Jason has grown into one of the kindest, most caring and compassionate people I've ever known. When I had to spend a few years in another state to care for my mom, he checked in with me almost daily to see how we were doing and had the patience of a saint when I went into a major depression after losing her. I wouldn't be here now if not for him."
Terrie Wiler Jones
óż
"I love that even though my kids are 14, 17 and 20, they still want to go places with me and we always have an amazing time!"
Susan Ord Jones
óż
"My kids hang with me through thick and thin and they are both really good kids. They are my reason for never giving up."
Carolyn Nouar
óż
"My Morgan's smile as she sleeps next to her doggie - she is so extraordinarily helpful and kind to everyone. My son David is super over-and-above the sharpest charming young teen you will find and loves to look out for and care for his sister and help his mom with everything."
Elsie Crowninshield
óż
"I love that my boys are grown and have become awesome young men who are raising strong, compassionate children of their own. What more could I ask for?"
JoAnn Kurtz
óż
"Our girls 14 and 11. Both have a gentle disposition, have each other's back, love each other unconditionally and are compassionate and loving towards others. Now, if they can only clean their room...."
Tina Phillips
óż
"My boys Austin, 12 and Ryan, 10 have grown a little too fast the past three years. Mommy has been fighting breast cancer and these two boys have been by my side helping me walk and put my shoes on. They have helped bring me food, lay by my side so I'm not by myself. We have sacrificed a lot since I wasn't working, but they didn't seem to care. They just wanted their mommy to beat cancer! I did and I owe it all to them!"
Joanne LoGiudice-Garcia
óż
"My sons Noah and Trey are so adventurous. They pushed me through my fear of heights, rooting me on while zip lining on our family trip. I cried the whole way but they believed in me and I finished it!"
Nikki Paradis Oerum
óż
"I love their smelly feet and baby breath!"
Genessy Safdari
óż
"My daughter Amie has overcome adversity with hard work and perseverance. Her tenacity and energy have enabled her to be a productive individual, working hard towards a degree in philosophy. I am so proud of her accomplishments and am overwhelmed with love and joy
for my sweet daughter."
Robert D Ichikawa
óż
"My daughter Emily is the most amazing little girl I've met. She is strong, courageous and brave, enduring two brain surgeries, two med comp catheter surgeries, plus LP to withdraw spinal fluid and a week of chemo, and she still manages to end the week smiling. I love you, you are my hero!"
Olivia Valdovinos Jarquin
óż
"My daughter Lauren is an amazing, brave spirit. In spite of having Asperger's Syndrome and a Chronic Pain Disorder, she makes us laugh all the time. I wish her health and happiness in the New Year and she is always my valentine."
April Goodman Hunter
óż
"Now that my daughters Katie (34) and Mackinsey (20) are grown, I love how I learn new things from them! They teach me to look at things with a different point of view, how to be more patient and that sometimes things are not what they seem."
Tracy Hallinan-Cookson
óż
"The best thing about my kids is that they are dogs."
Amanda Sincomb