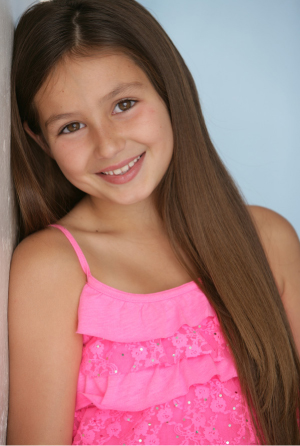 "Alexa has enjoyed Santa Clarita School of Performing Arts (SCSOPA) from the very first day she started taking classes. As her parents, we thought it would be a great idea for her to take classes like 'Runway,' 'Cold Read,' 'Audition Techniques' and 'Scene Study,' since she had shown an interest in acting. Never did we think things would happen so quickly. The school not only prepared our child to go on auditions, but also has provided the opportunity to meet reputable agents that come to the school. Alexa signed up with KSR, one of the top agencies in the west coast, and has had great success. Less than two months after signing, Alexa booked her first commercial with Hasbro Ponyville, but hat was just the beginning. Soon after, she filmed another commercial for FurReal Friends S'mores the Pony, a voice over for My Little Mommy Baby Knows, a commercial for Microsoft, a back up spot with Jif peanut butter, and another for Hasbro Baby so Soft. When we asked Alexa what she liked the most about SCSOPA, she said she likes 'all the teachers because they make class fun and you learn at the same time,' and that she really likes Mike because he is always in a good mood and gives her balloons. She also loves all the friends she has made. As far as filming goes, Alexa has had a blast. She is literally treated like a princess," - Alexa's Parents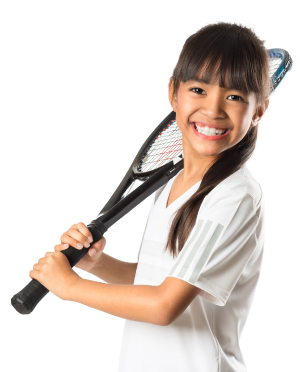 Kids Love Tennis at The Paseo Club Junior Academy
The Paseo Club Junior Academy is run by a team of dedicated tennis pros whose sole purpose is to inspire kids to love tennis and excel at it. Their programs and classes seek to achieve these goals:
1. Inspire kids to want to play tennis. They achieve this by keeping classes fun and interactive.
2. Inspire kids to want to compete. This occurs by setting achievable goals for each student, challenging them in practice and encouraging them to enjoy competition.
3. Inspire kids to excel in tennis. Showing kids how far their tennis potential can get them, challenging them, encouraging them and nurturing them on and off court is how this goal is obtained.
The coaches are all nationally certified and highly qualified, both as players and coaches, and they have all played competitively as juniors, college players, and/or professionals. They all love tennis and find joy helping children to improve their games and nurturing their love of tennis.
The Paseo Club boasts one of the most beautiful tennis facilities in the country with 15 championship lit tennis courts and a paddle tennis court spread out over eight acres of scenery as well as a state-of-the-art stadium court.
Classes are available for children ages 3 to 18. Elite and high school team training is also available. The Paseo Club 257-0044
Eight Reasons Why You should Consider Gymnastics for your Kids
1. Promotes high self-esteem
2. Helps develop hand-eye coordination
3. Enhances physical abilities that directly carry over to other sports
4. Improves balance coordination
5. Increases flexibility and strength
6. Teaches life skills like sportsmanship, hard work,
dedication and goal-setting
7. Develops reading-readiness skills
8. It's fun!
Wallers' GymJam Academy 251-3390
Cobblestone Cottage Expands Pandora Selection to Gold Level Status
Now You have More Ways to Celebrate Unforgettable Moments
Cobblestone Cottage is upgrading to Gold Level status, now providing shoppers a wider selection of Pandora jewelry. For more than 30 years, Pandora has been celebrating women and their individuality around the world through a universe of affordable luxury, hand-finished fine jewelry designed to capture life's unforgettable moments - and this season's collection is no different.
Available in store beginning March 12, Pandora's spring collection is a celebration of new beginnings. Embodying all the wonders of spring, the magic of nature comes alive with features like delicate daisies, a field of wild blooms, beautiful butterflies and more - with brilliant hand-set stones and floral bouquets with white enamel.
"Since 2008, we have had the pleasure of sharing countless moments with our customers as they selected from our assortment of charms celebrating birthdays, graduations, holidays and other memorable occasions," said Kathy Allie, Cobblestone Cottage owner. "Adding Pandora's hand-finished earrings, rings and necklaces to our assortment, we'll be able to also celebrate our customer's personal style." 253-0209
Family Time is Art Time!
How you spend time with your kids matters as much, if not more, than how much time you spend with them. When it comes to building quality relationships, few activities are more rewarding than art. Read on about the benefits of family art time, then drop into your favorite pottery-painting location to share the fun with your family.
Family art time is collaborative
kids learn how to share and provide appropriate feedback.
Family art time helps children learn
that there are multiple points of view and often more than one right answer.
Family art time builds a child's confidence
in themselves and those they love; they are better able to recognize the strengths each family member possesses.
Family art time helps everyone
adults and kids alike relax and think outside the box. Creative problem solving skills are developed.
Paint A Dream 255-1177