Take the Family to the New Farmers Market
The Old Town Newhall Farmers Market is back on a new day, new location and new hours - Saturdays from 8:30am to 12:30pm at the Newhall Community Center located at 22421 Market Street in Newhall. California farmers and specialty food purveyors will come together year-round each Saturday, rain or shine, to bring you and your fam the finest in fresh and seasonal fruits and vegetables, organic baked goods (Including gluten free!), flowers, herbs, cheeses, fresh fish and prepared foods. The Market offers patrons a chance to come face to face with their food source.
Kids will love to spend time each week at the "Buckaroo Corral" for pony rides and the petting zoo, at a minimal cost. The Children's Team from the Old Town Newhall Library will be doing story time on the first Saturday of each month at 10am. What do you do with a rutabaga? Find out the second Saturday of each month on the "Chef Walk at the Farmers Market!" Meet at the Market information booth at 9am to begin the walk.
The Old Town Newhall Farmers Market is sponsored by the City of Santa Clarita.
www.oldtownnewhall.com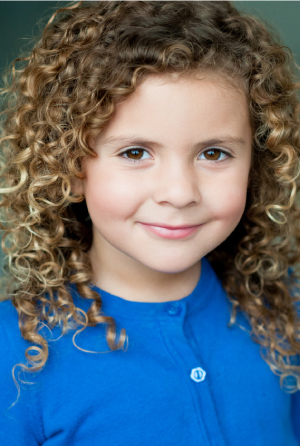 "Sophia is a happy kid who loves to have fun; she's full of energy and life. Ever since we could remember, she was very animated, opinionated and always managed to come up with something to say to make us laugh. She was the center of attention, be it during circle time at pre-school or a family get together. It did not take us too long to realize that the entertainment industry could be something for her. As her parents, it was our task to find a school that was good, close by and flexible with our already busy schedule. The Santa Clarita School of Performing Arts (SCSOPA) was recommended from many friends and acquaintances. We were greeted by a friendly staff, all questions answered. We were even given a tour of the school. Liking what we saw and heard, Sophia started the very next week. She quickly became accustomed to her new schedule and looked forward to her classes. She enjoyed modeling classes and was always eager to show us what she had learned that day. She would read back the scripts she had learned in acting class and was always quick to strike a pose when the camera lens cover came off. To our great surprise, within the first month of her attending SCSOPA, she was invited to join DDO agency for print, commercial and theatrical. The agent loved how well Sophia knew the script - the very first script she had learned at SCOSPA! Since her signing, Sophia has gone out on several auditions. We are optimistic that with the skills she is receiving at SCSOPA, she will be well on her way to a successful career," Elizabeth & Levon Mendelyan
The Hills are Still Alive, 50 Years Later!
Enjoy ESCAPE Theatre's Production of "The Sound of Music"
ESCAPE theatre is proud to present over 300 talented youth and teens in "The Sound of Music!" All families are sure to enjoy this beautiful story of the VonTrapp family as ESCAPE celebrates the production's 50-year anniversary.
Your whole crew will enjoy classic songs like
The Sound of Music
,
Do-Re-Mi
,
How Do You Solve a Problem like Maria
,
The Lonely Goatherd
and
Edelweiss
as well as the talented cast of the seven Von Trapp children, Captain, Maria, Elsa, Max and Mother Abbess. You won't want to miss her sing
Climb Every Mountain
! All student cast members range in age from 5 to 19 and are joined by two amazing women who will be playing the role of Mother Abbess.
Performances are at The Santa Clarita Performing Arts Center
June 19, 20 and 21 with shows Friday at 7pm and Saturday and Sunday at 2pm and 7pm.
Kyle and Elizabeth Burson started ESCAPE 12 years ago. ESCAPE is a non-profit organization that is designed to teach youth and teens about musical theatre and teamwork in a fun, supportive environment. For more information on ESCAPE, their summer camps and workshops, "Peter Pan" next fall or to make ticket reservations for "The Sound of Music," give them a call.
299-5264
Children's Bureau Offering Monthly
Family Foster Care Information Meetings
There are approximately 64,000 children in foster care in California. Los Angeles County's foster care population exceeds 21,000 children with 450 foster children waiting to be connected to a family who will adopt. For those interested in learning more about foster care or becoming a resource parent, Children's Bureau offers monthly information meetings in Santa Clarita. The next info meeting will be held on Saturday, May 30 from 10am to 12pm at the College of the Canyons Dr. Dianne G. Van Hook University Center, Room 222. 272-9996
Legacy Christian Academy
Instilling Leadership for Tomorrow
Legacy Christian Academy's middle school offers a challenging, yet nurturing, academic environment that addresses the distinctive needs of early adolescents. Legacy's program supplies support and guidance so that each student discovers new interests, develops intellectual integrity, grasps increasingly-challenging academic concepts, builds healthy relationships, grows in confidence and strengthens independent thinking skills.
The middle school provides traditionally-paced, college preparatory courses as well as accelerated math classes. Students take Algebra as a seventh grader and Geometry as an eighth grader; local public schools can no longer offer these classes in these grades. The program emphasizes the concurrent development of work and study habits to ensure success in meeting the increasing demands of academic studies. Students leave the middle school prepared for a rigorous high school curriculum with solid cognitive reasoning, communication and critical thinking skills.
Within Legacy's 21st-century focus, global education is a priority. Legacy's desire is to instill in students a deeper understanding of and appreciation for cultures, people and challenges around the globe. The program prepares students to address the complex issues our - and other countries - face in a rapidly-changing and increasingly-interconnected world. Legacy achieves these goals through:
Service learning projects
that teach students about key global issues and enable them to actively participate in solutions
School-sponsored
travel/missions opportunities
Guest speakers and performers focusing on
cross-cultural and international issues
Connections and partnerships with schools and communities
around the world
Year-long
foreign language and culture study
in seventh and eighth grades
A consistent focus on
current events
in the world
Legacy Christian Academy has officially been selected by the Council for American Private Education (CAPE) as one of its nominees for the prestigious National Blue Ribbon Schools Program. This nomination honors Legacy Christian Academy as an "exemplary, high-performing school." One of the major prerequisites for a school to receive this nomination is that its student scores on a standardized test must rank in the top 15 percent of either the country or the state. Legacy Christian Academy has a history of scores well within this mark. In fact, over the past five years, Legacy students had a percentile average of 91.5 percent on SAT-10 nationally-standardized tests when compared to other private and public schools throughout the country. Only 50 private schools across the nation were honored with this nomination in 2015.
At time of print, there are a few spots still available in Legacy Christian Academy's middle school. Call to arrange your customized tour. 257-7377