Sign your Child Up for Santa Clarita Optimist Foundation's
"Safety Town" Camp
The Santa Clarita Optimist Foundation will sponsor "Safety Town - Santa Clarita," a five-day, 3 ½ hour per day, safety education and awareness program for TK, Pre-K and Kindergarten-age children in the Santa Clarita Valley. Two camps will be held at North Park Elementary School - July 13 to July 17 and July 20 to 24.
During the camp, through repetitive, interactive instructional play, children will learn and practice essential safety skills they will use in their everyday lives - at home and at school. Safety Town is a miniature city built to the scale of a small child that will be assembled within a secured playground, with traffic lights, street and stop signs, striped walkways, crosswalks and streets.
Children learn under the guidance of California-credentialed teachers and youth volunteers how to safely cross the street, how to obey traffic signals while walking and while driving miniature cars complete with safety belts, and to evaluate "safe" from "unsafe" situations. Videos, craft projects, songs, games and role-play reinforce the safe conduct rules the children have learned.
Applications are being accepted now for both camps. Scholarships are available for families who qualify. 299-8942
Receive $1,000 a Month for Hosting a Cultural Student
Be part of a cultural exchange hosting an international student while earning a generous monthly stipend. You and your family will benefit with lifelong memories while having the opportunity to introduce a student to America.
www.ameristudent.com
The Hills are Still Alive, 50 Years Later
Enjoy ESCAPE Theatre's Production of "The Sound of Music" June 19 to 21
ESCAPE theatre is proud to present over 300 talented youth and teens in "The Sound of Music." Performances are at The Santa Clarita Performing Arts Center June 19, 20 and 21. Shows are Friday at 7pm, and Saturday and Sunday at 2pm and 7pm. All families are sure to enjoy this beautiful story of the VonTrapp family while celebrating the production's 50 year anniversary.
Enjoy the beautiful songs such as "The Sound of Music," "Do-Re-Mi," "How do you Solve a Problem Like Maria," "The Lonely Goatherd" and "Edelweiss" and the talented casts of the seven Von Trapp children, Captain, Maria, Elsa, Max and Mother Abbess. You won't want to miss her sing "Climb Every Mountain." All students range in age from 5 to 19, along with two amazing women who will be playing the role of Mother Abbess.
Kyle and Elizabeth Burson started ESCAPE 12 years ago. ESCAPE is a non-profit organization that is designed to teach youth and teens about musical theatre and teamwork in a fun, supportive environment. For more information on ESCAPE, their summer camps and workshops, "Peter Pan" next fall, or to make ticket reservations for "The Sound of Music," give them a call. 299-5264
Celebrate Summer
at Paint a Dream 255-1177
"We moved from Temecula, California to Santa Clarita in February 2015. We enrolled Levi in Santa Clarita School of Performing Arts knowing
SCSOPA
is different and better than all the other schools. Levi now trains with true acting industry professionals. He has learned diverse techniques in voiceover, comedy, drama, modeling, Hip-hop dance and Improv. SCSOPA has given Levi the opportunity to learn new skills necessary for auditions and acting and it has helped him grow as a person. As a new transplant to the area, Levi was nervous to start a new junior high school mid-year and attend a new acting school. However, the teachers and students at the Santa Clarita School of Performing Arts made him immediately feel welcome. This type of environment is a step above all the rest. Within a short time, Levi has been offered representation with the Brogan agency. He has participated in numerous modeling events and was also interviewed by a local reporter at the Santa Clarita Valley Television Studio. What has the performing arts given our child? When Levi is not auditioning or lighting up the stage, he is working hard to maintain his 4.0 GPA as well as participate in basketball. Levi has used the life skills he learned to be an active participant in student government, speech competitions and district spelling bees. I would like to thank all of the staff at the Santa Clarita School of Performing Arts for helping Levi accomplish his goals." The Leonard Family
Placerita Bible Church Offers Biblical Counseling for Every Member of the Family
Whether you're dealing with anger, depression, financial worry, marriage problems, anxiety, child-rearing issues or any other emotional malady, the common refrain you may hear goes something like this: "You should talk about it with a trusted counselor." Unfortunately, that's often easier said than done. Most health insurance policies don't adequately cover counseling sessions. And, even if you're able to find affordable options, the counseling service you receive may not comfortably coordinate with your religious views. For many believers, their ideal "trusted counselor" is not just an expert in matters of the heart but can speak with an informed theological framework that doesn't just bring your soul closer to resolution - it brings you face to face with the truth of the Gospel. This kind of guidance is priceless and, in this case, it's also free. Interested in learning more about PBCC's services? Log onto www.placeritachurch.com/counseling to fill out an online Personal Data Information (PDI) counseling form. Appointments are scheduled within 48 hours after receipt of your PDI. Counseling sessions last one hour and are held once weekly. You may also contact Placerita Bible Church directly with your questions. 259-2913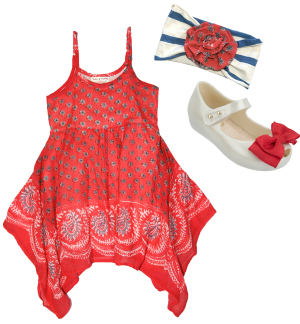 Shop Online, Locally!
Shopinjoy.com is an online retailer that offers local pickup and private appointments, too! They're the only SCV retailer to carry Livie & Luca, Melissa & Mini Melissa shoes and tons of adorable finds for kids and women. Their 50-percent-off Livie & Luca sale starts July 1 and you can take an additional 10 percent off sitewide when you use code INSIDESCV. 296-8625
The Family-owned Dealership that Treats You like Family
We were chatting with Valencia Acura owner Cheri Fleming the other day about our 10-year anniversary when we realized something: The last decade has been really good to us, but wow - it's been incredible for Valencia Acura! In the last 10 years...
Cheri was named Dealer of the Year out of a pool of 11,000 for her business acumen and community involvement. The award got her on the cover of Newsweek!
In 2013-14, Cheri served as the president of Soroptimist International of the Americas, leading over 33,000 women and 1,400 clubs in 20 nations, all of which work together to improve the lives of women and girls.
Owner Don Fleming continued to serve as president of the Santa Clarita Valley Auto Dealers Association, a position he's held for 17 years; and chair of Santa Clarita's Economic Development Committee, where he shares his passion for our community with business owners to bring jobs to the SCV.
Valencia Acura swept The Signal's "Best New Car Dealership" award every single year!
Valencia Acura earned numerous Precision Team Dealership of Distinction Awards from Acura, along with the Council of Excellence award, for their customer service and exceptional representation of the brand.
Valencia Acura 255-3000