Gift your Kids with Swim Safety & Fun
Swimming isn't just a lifetime skill - it's a skill to insure a long lifetime! Help your child become safer around water and pools with the assistance of the caring instructors at Jed Heller's Swim School. Just remember, no child, no matter how gifted a swimmer, is totally "water safe." Always supervise your child in and around the water. The school is celebrating their 39th season this year with something for everyone. From Water Exploration to Advanced Swimmer, each level is created using techniques recognized by the American Red Cross as well as ones devised by Owner and Director Jed Heller, who has spent the last 40 years directing and organizing programs for youth in the So Cal area. Lessons are conveniently scheduled at your home or your association pool Monday through Saturday from 8:30am to 7pm. Your cost is based on the hourly rate of $65 regardless of how many students attend. Book your time ASAP; lessons are going on now. 297-0275
Family Fitness Solutions
Wondering how you'll stay fit this summer while the kids are on break? Hoping to get your children in on the action? The Paseo Club offers kids ages 5 and up a wide-variety of award-winning tennis camps; high school and college kids sports-specific conditioning classes; and plenty of pool time. Use this as an opportunity to hit the court yourself, work out in the newly-remodeled Fitness Center, take a Pilates Reformer or Fusion class (Or choose from 72 other options!) or even dine with a friend in the awesome cafe. At the end of the day, regroup with your crew for family movie nights by the pool. The Paseo Club 257-0044
Pet Tip of the Month:


Have Fun Staying Cool
Fun ways to keep Fido cool include filling a Kong with mashed banana, then freezing it (Offer this chilly treat in the yard!); wetting a bandana, then freezing it, before popping it around your pooch's neck before a warm-weather walk (Ideally, you'll stick to early morning or evening jaunts, when it's cooler!); offering frozen watermelon cubes (A doggy fave!); playing fetch with the sprinklers on (Remember only to do so on your approved watering day!) and visiting a dog-friendly beach (Find one easily with the Dog Park Finder Plus app.). Beat summer-vacation boredom by getting the kids involved. Children can make their pets "pooch-cicles" by combining water with ingredients like peanut butter, honey, applesauce, chicken stock, real bacon bits, wheat germ, non-fat plain yogurt, finely-chopped chicken and blueberries. Use a carrot stick as the popsicle "stick" and pour into molds or Dixie cups.
Hollywood Dog Grooming 526-4125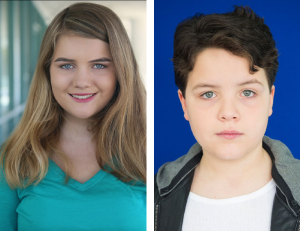 "My children, Veronica and Keith Hudgens, started at The Santa Clarita School of Performing Arts (SCSOPA) just one year ago and their transformation has been amazing. Veronica, 13 years old and in eighth grade, was initially a very shy young lady - but SCSOPA has taught her confidence in speech and carriage. She is comfortable speaking to and interacting with an audience because of this school. Through drama, Veronica has developed and even greater appreciation of the classics. She has walked in several modeling shows and is signed to the Bobby Ball Agency. Throughout his public school experience, Keith has been placed in speech therapy classes - classes he no longer needs because of SCSOPA. According to Keith, the best thing about SCSOPA is that it is fun and interesting. He enjoys expressing himself creatively. Keith is signed with the Brogan Agency. He has been on many auditions, including a few with Disney XD. We are so thankful for Mike and the Santa Clarita School of Performing Arts." Dara Bloom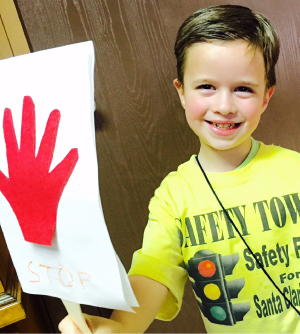 Kids have Fun & Parents Feel Prepared Thanks to Safety Town
Safety Town is a four-hour-per-day, one-week summer program that introduces safety education and awareness in a fun, interactive, miniature town environment. Each day, students learn safety lessons from California-credentialed teachers, along with visits from local community heroes including the Santa Clarita Sheriff Department, US Forest Service with Smokey the Bear, the California Highway Patrol, Fire Department and more!
"My son attended Safety Town last year
and it was one of his favorite experiences ever! NOT KIDDING - he has been counting down the days for camp to begin since his last day of camp in 2015! To say he had the time of his life would be an understatement. From the fun activities to the songs still sung daily to the amazing safety education, this is a crash course in preparedness for kids. Plus, they get to interact with everyday heroes! Our family is so happy to support the Santa Clarita Optimist Foundation and this extraordinary program!"
Jeanna Crawford, publisher of Inside SCV Magazine
Students get to drive pedal cars, sing, make arts and crafts and play games that reinforce the safety lessons. Applications are being accepted for the July 2016 camps being held at North Park Elementary School. Fee includes a tee shirt, school bag and daily snack. Some scholarships are available for families who qualify. Youth counselors in seventh to 12th grade are needed and can earn community service hours. Safety Town is sponsored by the Santa Clarita Optimist Foundation and is open to children in Pre-K, T-K and Kindergarten. Learn more at
www.safetytownscv.com or call Director Carrie Celaya. 383-7453
Treat your Family to the Valencia Country Club Lifestyle
There's a presumption that country-club membership only benefits Mom and Dad. Sure, Pop gets access to the best greens around when he joins Valencia Country Club, and the queen of the castle will have no shortage of social events to attend when she's a member (Not to mention the Ladies Club Championships!). But that's not all. The traditionally-styled clubhouse is home to a thriving community of couples and families whom partake in events like Family Pasta Night, copious all-ages Member Socials, holiday events with plenty of kid-friendly to-do's, junior memberships that get kids on the course, complimentary golf clinics and much, much more. Just don't think that you have to bring the kids! This is the place where parents workout, hang out and go out for date night, too. Contact Missy Carter at Valencia Country Club for membership incentives and further details. 799-1271