Hot Deals at Mountasia
make SCV Summers more Bearable
On any random week, you'll find birthdays being celebrated at Mountasia, along with fundraisers, troop and team parties, church lock-in events, corporate team building experiences, grad celebrations, family milestone parties and so much more. But it's the summer when Mountasia becomes something even more than a place to connect with your crew; it's also an air-conditioned oasis where the overheated among us (AKA "all of us!") can relax and truly "chill out."
During a Heat Wave...
Choose the Indoor Play Unlimited Package and revel in Mountasia's comfortingly-cool interior. For only $24.99 for three hours of unlimited rock wall and video games, plus two LAzer Street Missions, you get to play without breaking a sweat. (This offer doesn't include e-ticket or prize merchandise games.).
This might also be a good time to mention that Early Bird Miniature Golf is only $7 a game; you just have to start playing within 30 minutes of opening! It's a great way to get out and play on the cheap before the heat of the day sets in.
When You have to get the Wiggles Out...
Choose the three-hour Unlimited Outdoor Play Package for only $24.99, which includes Go Karts, Bumper Boats and Miniature Golf. Or, combine the best of both worlds for Unlimited All Park Play for $33.99 for three hours or $47.99 for six hours. That way, when things get too sweaty outside, kids and adults can head in for a chilling video game experience!
Mountasia's summer hours are scheduled for maximum fun!
They're open Monday through Thursday from 11am to 9pm; 11am to 10pm on Friday; 10am to 11pm on Saturday and 11am to 9pm on Sunday.
Mountasia Family Fun Center 253-4386
Parents Flip Out Over Wallers' High-energy Options
Wallers' GymJam Academy offers gymnastics instruction for pre-school-age children through high school for both boys and girls; tumbling and trampoline classes and, for the over-active boys, Ninja Zone! They are also located down the street from Santa Clarita Aquatic Center and Skate Park, making the gym a convenient stop. Everyone 7 years and up (Members and non-members!) is welcome to join Open Gym Friday nights from 7:30pm to 9:30pm for just $10.
Wallers' GymJam Academy 251-3390
----------------------------------------------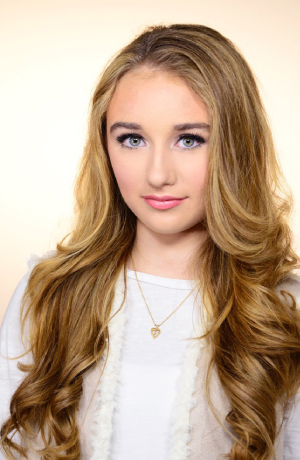 "My name is Rachel DeAngelis and I am 13 years old. Last August I was introduced to Santa Clarita School of Performing Arts through the Miss West Coast Pageant. When I walked into my first modeling class with Vano I completely fell in love with it. Mr. Mike greeted me with open arms and made me feel like family. The next day, I registered for as many classes as I could. I felt like I just couldn't get enough of SCSOPA. The teachers and staff are very knowledgeable about the industry and the instructors make it super fun. Saturdays are my favorite days because talent agencies hold auditions and many times there are different casting directors there, too. My mother drives me about one hour each way to get to class and we both feel it is well worth it. I have taken different kinds of classes including voice over, improvisation, scene study, monologue, audition technique and modeling. SCSOPA has taught me so much about how to act in front of the camera and how to prepare monologues. In the past year I have been featured in over 300 articles for modeling, community service and fashion design. I was even seen in Harper's Bazaar and Glamour Magazine. I have modeled for LA fashion week, Macy's, Bello Sanchez, the Noell store in downtown Los Angeles and I have modeled for designers Sherri Hill, Rachel Allen, Mignon, Nicole Miller, Lizaso, Blue Malibu, Stop Staring Dress and Phax Swimwear. In March, I signed with Peak Models and TMJ. This past weekend I walked the red carpet with my Miss West Coast Crown and had an opportunity to meet the reigning Miss USA! I can't say enough about Santa Clarita School of Performing Arts and how it has opened up so many doors for me. Thank you!"
----------------------------------------------
The Conversation You Need to have with your Teens
On Wednesday, August 24, teens and parents are invited to attend "Teens Talk Drugs," the City of Santa Clarita's annual hard-hitting drug awareness program. Beginning at 6pm, attendees can explore the informational and educational Resource Fair. In addition to the Resource Fair, interested attendees can take part in an interactive demonstration with impairment goggles. These goggles simulate the difficulties of performing simple tasks while under the influence. At 6:30pm, the discussion panel will begin as three youth share their experience with drugs and how drugs have affected their life and the lives around them. This symposium is the sixth in the City's "Heroin Kills" series and is free and open to the public. The event is held at 20880 Centre Pointe Parkway in Santa Clarita. www.santa-clarita.com
Help your Child be Safer Around Water
It's funny, the mixture of fear and enthusiasm we parents have around pools. Few other things can promote both the happiest of memories - or darkest moments. With news stories seemingly constantly telling us about "dry drownings," children found too late in the pool and more, it's no wonder that those who care approach any body of water with cautious optimism.
While no child is totally "water safe" no matter the number of lessons - parents and caregivers can gift a child with an essential skill: swimming. Help your child become safer around water and pools with the assistance of caring instructors at Jed Heller's Swim School, which is celebrating their 39th season this year. From Water Exploration to Advanced Swimmer, levels are created using techniques recognized by the American Red Cross, as well as ones devised by Jed himself. Lessons are conveniently scheduled in your home or association pool Monday through Saturday from 8:30am to 7pm. Your cost is based on the hourly rate of $65, regardless of how many students attend. 297-0275
<
strong>
Westfield Valencia Town Center Hosts Kid-friendly Events
Thursday, July 21 Little People "Healthy Competition"
Get ready for a fun-filled day when Eddie and Sofie share their favorite adventures with their new friends! They will be singing and dancing in their live interactive performance that teaches kids that it is Ok for friends to have different interests. The performance will include brand-new songs that will get kids up and moving! Eddie and Sofie will also be available to pose with kids and families for photos.
Performance Times:
1pm, 2:30pm and 4pm
Meet and Greet Times:
1:30pm, 3pm and 4:30pm
Sunday, August 14 Barbie "You can be Anything"
Get ready for a doll-tastic day as Barbie teaches her friends that "You Can Be Anything!" Barbie will inspire children with this new, live interactive performance as it makes its debut at Westfield centers. Barbie's show features brand-new songs that will get kids up and dancing all while discovering that they really can be anything. Barbie will also be available to pose with kids and families for photos after the show.
Performance Times:
1pm, 2:30pm and 4pm
Meet and Greet Times:
1:30pm, 3pm and 4:30pm
Westfield Family Summer events are held in the Sears Court across from the Carousel and are free and open to kids of all ages.
www.westfield.com/valencia
Pet Tip of the Month
No "Fancy" Coat? Fido still Benefits from Professional Grooming
There's a presumption that the only pets who require professional grooming services are those with curly, unruly coats or breed-specific styling. Not true! Here are three simple reasons why even the "plainest pet" should be treated to a professional grooming service ideally once a month - but no less than every three.
1. Dogs need their nails trimmed about once a month - but rarely receive that regular of treatment, as this task is usually dreaded by pet owners. (We get it. It can be nerve wracking. You don't want to cut too short and many pets fight the process with amateurs!). A professional groomer knows exactly how to trim those tootsies without upsetting or hurting your pooch. Your wood floors, and their nail beds, will thank you for increasing the frequency of this service!
2. Pro groomers will be able to detect early warning signs - health concerns you might miss. Pro groomers are taught dog anatomy; they're more likely to notice abnormalities in skin quality, bald patches, gum discoloration, lumps and bleeding. They're also more likely to note the presence of parasites, including ear mites and fleas. A professional groomer will let you know when it's time to head to the vet before most pet owners notice the areas of concern.
3. Your pro groomer will also be able to note whether your pup's skin is too dry or oily - and make dietary recommendations to fix the problem. Just like people, a dog's skin condition is one way their body alerts you about their overall wellbeing. Plus, these minor recommendations will help cut down on shedding.
Hollywood Dog Grooming 526-4125