Treat the Entire Family to Memorable Equestrian Experiences
Here's one fall must-do that you simply have to book now: horseback trail rides at Don E Brook Farms. The SCV-based facility is just a few minutes from the intersection of Copperhill and San Franciscito Road in Valencia, but it feels like another world - especially with the changing of the leaves this time of year. You won't find more perfect weather to be on the back of a horse, enjoying nature's seasonal showstoppers. What to book? Family excursions are an affordable blast when you book a traditional hour-long trail ride; it's only $35 per rider - and they're available nearly any time. And how's this for a swoon-filled date-night suggestion? Don E Brook Farms' dinner rides are incredibly popular - because they're awesome! Experience a one-hour trail ride, campfire and deliciously-catered dinner for only $50 a person.
Don E Brook Farms 296-9995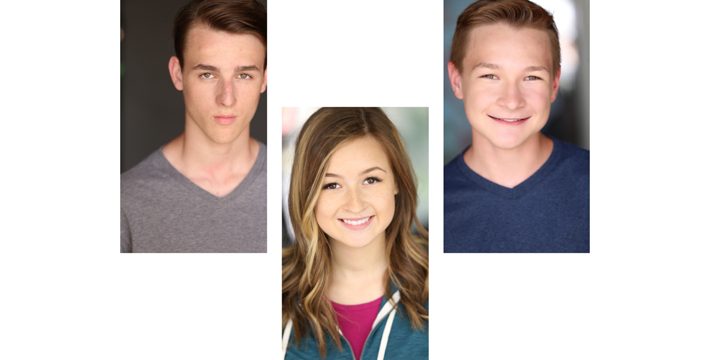 "We moved to California to support our children Tanner, Taylor and Torrin, to help them fulfill their dreams of working in the entertainment industry. Many hours were spent researching training, workshops, agencies, managers and more. After going to several acting workshops and schools we still were left with the same questions; it was not until we found Santa Clarita School of Performing Arts and attended the open house and had the opportunity to meet with the owner that we had answers and direction. We learned that SCSOPA offered a variety of classes that fit our needs - a one-stop shop. Our kids regularly attend classes like Scene Study, Improv, Audition Technique, Modeling and Voice Over. Every Saturday, students meet one on one with agents and managers. We met our current manager by taking advantage of this opportunity. Our kids are now signed with agents and are full-time working SAG-AFTRA actors. None of this would be possible without the knowledge and direction that we have learned from attending SCSOPA. Since attending SCSOPA, they have worked on amazing projects like 'American Horror Story,' Nickelodeon 'School of Rock,' Nickelodeon 'Nicky Ricky Dickey and Dawn,' Amazon 'Just Add Magic,' Disney 'Bizzaardvark,' Disney 'Walk the Prank,' 'American Vandal' and several national commercials. Thanks SCSOPA!"
~ Jason, Kelly, Tanner, Taylor and Torrin Kimberly
There's No Shame in the Pediatric Dental Game
by Dr. Kathy Mulcahey & Dr. Rose Kim
Recently, we had a mom in our Valencia dental office who burst into tears when we gently let her know that her 18 month old had a cavity. "How can a baby get a cavity!? I'm a terrible mom!" was her upset reaction. Now, first - let's be clear. Parents, you don't earn the "Worst Parent Ever" award when your kid needs a cavity filled. We reserve that award for parents who don't bring their kids in for their dental appointments. (Just kidding - mostly!). Second: Yes, even "babies," or a toddler, in this case, can get cavities. Sometimes it's genetic, sometimes it's ineffectual/irregular oral care, sometimes it's because Baby likes to fall asleep on the breast when nursing, sometimes it's because Babe's first foray into solids wasn't the healthiest. What it's definitely not, though, is that you are a horrible parent. You might just need some extra care and education - and that's where your pediatric dentist comes in.
It's our job to figuratively (Or literally!) hold your hand through your child's first introductions to dental care with a dentist - because it's not just your Little One who might be anxious. You probably are, too! No one likes ambiguity. We get it. We're moms, too!
Want to feel like the best proactive parent ever? If Baby is approaching the big "1," it's time to make their first dental appointment. You'll want to make sure you're also good about scheduling follow ups and their every-six-month check ups - because the earlier you teach your sweetheart to see trips to their dentist as routine, that's what it will become - for both of you! And that's the key, parents: Just show up! We'll take it from there - and we'll hold your hand (And theirs!) if they have a cavity!
Valencia Children's Dental Group 294-1800
Cold-weather Birthday Parties can Still be Jammin'
In So Cal, it always seems like the kids with the warm-weather birthdays have it the best; there's no shortage of pool parties, trips to the waterpark, water-balloon fights and squirt-gun spraying at their festivities. But does that mean that children with winter b-days don't get to enjoy the same fun and excitement? No way! Have a jammin' good time with a birthday party at GymJam Academy. Your party will include age-appropriate gym fun and games, obstacle courses, foam-pit play and more. You'll also have full use of the birthday party-room space. Bring your favorite foods and your cake and your done! Your guests will leave with a balloon and coupon for a free trial class.
Wallers' GymJam Academy 251-3390
Make a Difference at the Jacob Anthony Zamora Memorial Shoot
Oak Tree Gun Club and the Jacob Zamora Memorial Foundation will host the 14th annual Jacob Anthony Zamora Memorial Shoot at the Oak Tree Gun Club on Saturday, November 11. Registration begins at 8am and is open to all interested shooters. (There is a nice prize for the top shooter; you won't want to miss this!) Registrants will also receive a tee shirt and lunch. Non-shooters are also welcome to come and enjoy the festivities; there will be food and tees for purchase, a raffle with thousands of dollars in prizes and live music provided by Miles 2 Go.
Jacob Zamora, born May 1, 1984, grew up in the Santa Clarita Valley, attending Sulphur Springs Elementary, La Mesa Jr. High and Canyon High schools. He achieved the rank of Eagle Scout with the Boy Scouts of America and, after graduation, he aspired to become a California Highway Patrol Officer and became a member of the CHP Explorer Program, Post 540 in the Santa Clarita Valley. On November 22, 2003, Jacob was involved in an accident while working at the gun club. The utility vehicle he was driving went off the road and he died from his injuries.
The Jacob Anthony Zamora Memorial Shoot has become an annual event and its success has helped support the CHP Explorer program and aid for college funds for high school scholarships.
www. jzmf.org
Raise Money and make a Soldier Smile
Santa Clarita Advanced Dentistry and its non-profit, Smudde Operation Smiles (SOS), will be hosting its ninth annual Operation Gratitude: Halloween Candy Buyback event on Thursday, November 2 from 3pm to 6pm. They will buy your Halloween candy and send it to our troops serving overseas! They will also be honoring the Veterans of Foreign Wars, recognizing them for their bravery and service.
The candy buy-back process is easy and you don't have to be a patient of the office to participate in this free community event. Just bring your wrapped Halloween candy to the office, separating chocolate from non-chocolate (Leave the Pixy Sticks at home - they're too messy!). Once there, you'll be invited to write letters of gratitude for our troops and meet local military soldiers. Everyone will win a prize - and two schools can win a $500 donation! The school with the most number of participants and the school that brings the most candy will each win $500 from Santa Clarita Advanced Dentistry on behalf of SOS. All of the candy and letters received will be sent to our troops serving overseas via Operation Gratitude. Tell a friend - and call for details.
200-0677
Capture the Memories
"Everyone" does their annual family photo during the holidays; wouldn't it be fun and special to do something a little different? Capture all that holiday "baby love" with pictures and traditions that can happen any time of year. (And should happen more than once a year! Kids grow fast!) Cultivating family norms when your child is small allows them consistency through adulthood - and provides no shortage of fantastic memories to look back on later. Who's up for special kid pics for Halloween, St. Patrick's Day, Valentine's Day, the first day of summer, Fourth of July and more? Post yours on our Facebook page!
Catherine Manuel, MD, FAAP 253-1500
"1.25 MILLION Americans are living with Type 1 Diabetes, including about 200,000 youth less than 20 years old and over a million adults. 40,000 new cases are diagnosed each year."
www.jdrf.org
Diabetes: A Generation in Jeopardy
The numbers are staggering. Every 48 hours, 7,670 Americans are diagnosed with diabetes. That's one person every 23 seconds. In Los Angeles County, 44 percent of adults have prediabetes; 10 percent have diabetes. In a recent study, Californians experienced a 31 percent increase in diabetes-related amputations between 2010 and 2016.
Stand up and be part of the fundraising walk culture by joining thousands of area residents in the 2017 Step Out Walk To Stop Diabetes movement at Six Flags Magic Mountain on November 4. Every dollar raised plays an important role in supporting the American Diabetes Association's mission: To prevent and cure diabetes and improve the lives of all people affected by diabetes.
Team up with family, friends and co-workers to make a difference in the fight to Stop Diabetes. This year every walker can earn a free ticket to Six Flags Magic Mountain. Donate or fundraise $100 to receive a free ticket to spend the day at the popular theme park after the walk. Whether you are a physical walker or virtual supporter, your team will raise money for this inspirational event, not only because nearly 30 million people in the United States have diabetes, but because everyone more than likely knows someone who is living with the everyday challenges of this condition.
Registration is easy when you visit www.diabetes.org/stepoutgreaterlosangeles. There is no registration fee to sign up, but donations and fundraising are encouraged. Parking is free for walkers and volunteers arriving before 8am. Strollers and leashed canine friends welcome.
www.diabetes.org