Family-friendly Local Radio Debuts on FM 98.1
The Santa Clarita Valley has a new radio station - FM 98.1, officially launched this month. The station is a simulcast of Santa Clarita's only local radio station, KHTS AM-1220. "We've created a newer image, but our content is still hyper local, focusing on news, traffic, sports and lifestyle information for the Santa Clarita Valley," says owner Carl Goldman. "The addition of the 98.1 FM signal allows us to reach a broader audience with a very high-quality signal that covers the entire Santa Clarita Valley." The station will continue to broadcast local news and traffic in the mornings and afternoons, with a variety of talk shows throughout the day. KHTS will continue to broadcast high school football as well as remaining the local Los Angeles Dodger radio affiliate with all baseball games heard on both AM-1220 and FM 98.1.
---------------------------------------------------

"When we walked into SCSOPA, we did not realize how exciting our life was about to become - especially for our son, Sonny Bustamante! We met with Owner Mike Josten; he told us we were going to be very busy with our son's career and development. He and his staff helped us develop our son's talent and get started. After taking just a few training classes, we were excited to find out that the school is regularly visited by top-tier agents looking for talent. Our son had successful interviews and was selected by three agents. Our biggest problem was deciding which agency to represent Sonny.
It's been several years since we began and we have not looked back. Sonny has landed numerous commercials and some acting gigs thus far, including McDonalds Game Time Gold (With Jerry Rice!), VTech, Target (Back to school!), Chase Auto, Applebees, Walmart (Twice!) Honda Clarion and three episodes of "Law and Order: True Crime" ("Menendez Brothers"). Mike Josten, his highly-qualified staff and his contacts have been instrumental in getting us started in a field that we have been blessed in thus far - and look forward to sharing more in the future."
The Bustamante Family

---------------------------------------------------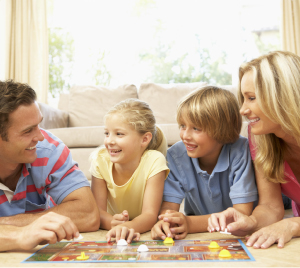 Is your Home Ready for Game Night?
A home is more than a combination of square footage, number of bathrooms and zip code. It's the place where your family creates memories and builds relationships. Is your home designed in a way that honors your unique needs? Here's a quick test. Make a quick list of all the things you'd like to do in your space, but feel limited. For example, if baking with the kids is at the top of your list, but your kitchen's too small to fit an adult and three kids, that goes on it. The next question is: Can you easily alter your home to improve your quality of life? If all your kitchen needs is the addition of a large island in the connecting dining nook, do it! But if expanding your space means that you'd have to spend tens of thousands knocking down walls and remodeling your space, it might be time to call a Realtor. The best of them will look at your list, and your goals as a family, and help you find a home that matches your sense of design - and your heart's desires.
www.remax-valencia-ca.com
Valencia Country Club is the Place to be for Families
Everyone knows that Valencia Country Club has the most awarded course in town - but you might not yet know about their celebrated social events, many of which are made with families like yours in mind. Enjoy holiday events that wow the kids, as well a vast collection of spaghetti socials, book clubs and so much more. Every member of the family benefits from a membership - even if they don't (Yet!) golf!
Valencia Country Club 799-1271
Why your Little Athlete should also Do Gymnastics
Your child plays soccer, hockey, softball or lacrosse. So, why add gymnastics to the mix? Besides the fun of it (And who wouldn't have a blast with foam pits and bars to swing on!?), they'll benefit from the boost in balance, coordination and flexibility, as well as an increase in mental focus, discipline and social skills. The vast health benefits are indisputable, too. Plus, your kiddo can participate all year long - keeping them cognitively and physically in shape every at every turn of the calendar.
Wallers' GymJam Academy 251-3390
Parent/Kid Dates are Everything
Life's busy - and it's easy to confuse quantity time with quality time when it feels like all you can fit into the week are a few cuddles in front of the TV. That's why the movement towards "dating your kids" is so popular. Mommy/Daddy dates provide the chance to talk, one on one, with children of all ages. It can be tough to fit it in, especially if you have more than one child (Experts suggest that one-on-one time is best, but if you have to bring the whole crew, the more, the merrier!) so keep the dates local (Freeway time is no fun for anyone!) and stick to what's memorable. When it comes to dates that won't soon be forgotten, combine the calming affects of nature with the soul-fueling movement that can only be found on the back of a horse. Trail rides are the perfect "dates!"
Don-e-brook Farms 296-9995