ALLBRiGHT 1-800-PAINTING Again Presents Paint It Forward
Do you know a deserving family or non-profit in need of painting but simply can't afford it? Send in their story and pictures. Each lucky winner will receive up to $10,000 in services, voted for by the ALLBRiGHT team and its customers.
Submit your recommendations online - and help change a life!
allbrightpainting.com/paint-it-forward
The Case for Dental Sealants
The most likely location for a cavity to develop in your child's mouth is on the chewing surfaces of the back teeth. Run your tongue over this area in your mouth and you will feel the reason why: These surfaces are not smooth as other areas of your teeth are. Instead, they are filled with tiny grooves referred to as "pits and fissures," which trap bacteria and food particles. The bristles on a toothbrush can't always reach all the way into these dark, moist little crevices. This creates the perfect conditions for tooth decay.
What's more, a child's newly-erupted permanent teeth are not as resistant to decay as adult teeth. The hard enamel coating that protects the teeth changes as it ages to become stronger. Fluoride, which is found in toothpaste and some drinking water - and in treatments used at the dental office - can strengthen enamel, but, again, it's hard to get fluoride into those pits and fissures on a regular basis. Fortunately, there is a good solution to this problem: dental sealants.
Dental sealants are invisible plastic resin coatings that smooth out the chewing surfaces of the back teeth, making them resistant to decay. A sealed tooth is far less likely to develop a cavity, require more expensive dental treatment later on, or, most importantly, cause your child pain.
Valencia Children's Dental Group 294-1800
----------------------------------------------------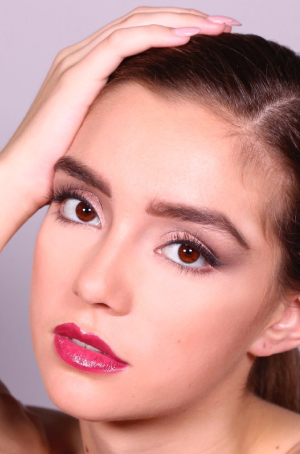 "Growing up, we all ask for advice and listen to those we trust. We make choices, explore our options and come to decisions. My name is Jailene Olson and I live in Southern California. One important dream and ambition I have is to become a model. Fortunately, I made the choice to go to Santa Clarita School of Performing Arts (SCSOPA). Mike and his staff treat the students like family. Vano, the modeling coach, is outstanding with great knowledge in all aspects of the modeling industry. I began my journey in April at SCSOPA and it's been amazing - it is the best decision I ever made! I have been invited and walked in San Diego Fashion Week, San Diego Fashion Fest, Fashion for a Cause and Freedom & Fashion. I have also walked for various designers at the San Diego House of Blues, Hotel Coronado San Diego and the Lafayette Hotel San Diego. Another great moment I had was modeling for a designer on CBS News San Diego. I always look forward to working with various photographers, going to the amazing classes at SCSOPA, and best of all, working with Vano. My ultimate goal is to gain the respect, acknowledgement and recognition as a hardworking professional actress and model. So far it has been a great run! Thank you SCSOPA for all that you have done for me." Jailene Olson




----------------------------------------------------



Giddy Up for Family Fun
Don-e-brook Farms offers a broad range of riding services, from classes for child or adult novices to barrel racing and jumping programs and a summer camp that has been top-ranked by SCV parents for years. But what really gets us giddied up are their specialized offerings, like the memorable Sunset Trail Rides, their affordable parties for kids and adults - and, this time of year - their incredible summer camps. Give your child the gift of a lifetime by signing them up for a week or more of hands-on horse training. They'll ride, laugh, connect with nature, make new friends (Of the human and equine variety!), grow their confidence and have the time of their lives. See their ad for dates and pricing.
Don-e-brook Farms 296-9995

SCV Kids Consignment is SCV Moms' Secret to Saving Money
Regular readers know that if there's one thing the entire staff and publishers of this magazine can agree upon, it's that buying and selling at SCV Kids Consignment sale is one of the smartest parenting decisions we've ever made. We love it because it puts like-new clothes and toys in our kids closets, all while helping us clear out piles of quality pieces our kids didn't use and abuse. We make, and save, money at every sale - and we wouldn't have it any other way.
Here are our insider tips for the very best experience:
Beat the crowd for the very best selection by volunteering for a three-hour shift before they open to the public. You can sign up easily online and get a pass to shop on Wednesday. Can't escape for three hours? Buy a pre-sale pass online. There are different entrance times to keep the crowds at bay.
Are you a new mom or a hero (military and first responders)? You can score a free pass to shop at 8am on Thursday morning. That means you're scoring deals before they open to the public at 9am. Register online for this free pass.
Love discounts? Purchase a Jumpstart pass for Sunday, when many pieces are 50 percent off. It'll only cost you $5 to shop at 8am Sunday, an hour before opening.
Want to see what's super new? SCV Kids Consignment restocks on Friday, meaning that additional consignors drop their goodies off after the sale starts. This is how they keep the selection amazing and accommodate more consigners. If you can't get there Wednesday or Thursday, shop Friday for a whole new selection!
You might want to leave the littles at home, but definitely take the tweens and teens! If you don't want to buy with Baby, we get that (But if you want to, no worries! Aisles are big enough to accommodate strollers - and lots of parents babywear at the sale, too.) - but remember: This sale has sizes for every age, so give your bigger kids a budget and let them do their own shopping. The Spring 2018 Sale is April 19 to April 22. We'll see you there!
Learn more online at scvkidsconsignment.com

The Fun Sculpting Class that is Building the Engineers of the Future
Fun Sculpting for Kids is the enrichment experience you wish you could have had as a child. Featuring every kid's favorite elements - brightly-colored modeling clay, tactile learning, animation characters, art, caring adult guidance and fun! - this opportunity for learning, growth and smiles to spare shouldn't be missed.
Led by professional clay sculptor Cody Pence, who has 25 years of experience working for Disney, Mattel and many more, your child will grow their abilities and confidence while learning how to translate a two-dimensional image into vibrant 3D. Kids get the step-by-step process, demonstrated patiently by Pence, in a private studio that accommodates no more than eight learners at a time - ensuring an exceptional amount of individualized attention.
Pence, who's sculpted figurine sets for Disney, including "Beauty & the Beast," "Toy Story," the "Princesses" sets and many more, selects a beloved character to sculpt with his students, capturing their imaginations while fine-tuning their coordination, artistic abilities, cognition skills and more.
Pence's purpose for these classes, broken into age categories to ensure the best experience for all, is clear: "Everything around you - everything engineered - was developed and created, at least in part, by an artist. To see children create something in their mind, and then be able to translate that thought into reality because of the skills they learned with me, that's the best feeling. I have kids who want to be artists, who want to be engineers, who want to be builders, designers, computer animators or video-game designers. Every single one is now more able to critically create, problem solve and produce really amazing work because of what we do here. And it's so much fun! Parents tell me that they've never seen their kids so proud of themselves. We have such a great time!"
Right now, your child can experience Fun Sculpting for Kids for free, via a complimentary trial class. See the ad on page 83 for more information.
Fun Sculpting For Kids 400-1514

How the Recent Fires & Floods Showed us the Real Value
of an Insurance Agent
by Tara Evans
Can you acquire insurance online, without ever working with a real human being? Sure. But should you? Nah - and here's why.
Think of the recent tragic fires and floods to hit Ventura County. In every news shot of the emergency shelters, you probably saw tables set up by local insurance agents who were eager to directly connect with their existing clients. These were humans helping humans - neighbors helping neighbors - during a time when comfort, convenience, emotional and physical support and answers were the most coveted of resources. These agents were handing out hotel vouchers, answering worried questions about coverage, providing assurances and getting an early jumpstart on the rebuilding and recovering process. Many went days with little to no sleep, ensuring that every one of their clients were safe, accounted for, in a safe place and getting every provision their insurance coverage provided for.
Can a website do that? Not really. Like in most emergencies, residents evacuated fast - leaving behind phone and account numbers. Those who didn't have an insurance agent they recognized by name and face were left to Google business contact info, wait on hold for hours and hope that they could get someone on the phone before they had to spend the night on a cot in a local high school gym.
It was a wakeup call for many of us in nearby Santa Clarita. If the worst happened, would you want to deal with someone you've met before, who knows about you and your family's needs, who is invested in doing right by you because of their morals - but also because of their community reputation - or a nameless giant only interested in saving as much money as possible on your claim? The answer seemed clear to us!

Family Matters
What to Think About when Choosing a Trustee
When you create a living trust, one of the most important decisions you make will be selecting someone to be your successor trustee. This person's job will be to fill your shoes and carry out your wishes when you're unable to do so yourself. Typically, this person will be a reliable family member or friend, but how do you know exactly who to choose to fill this important role? Does this person have to be a relative or close family friend - or could they be a trusted co-worker? Should it be your oldest adult child - even if your youngest adult child is more suited for the job? Are there concerns that your children who aren't selected will be hurt or offended? Does this person have to live in the same area as you or is it okay if they live farther away? Should you name co-trustees who will serve together at the same time? Deciding who to select for this important role can definitely feel daunting and overwhelming.
The person that you select as your trustee should be someone who is responsible, communicates well with your other loved ones and - most importantly - can be depended on to follow the wishes and instructions you have listed in your trust. Having a real conversation with an experienced estate planning attorney is the best way to navigate this process as they can share advice, and both good and not-so-good examples. They can help guide your decision making in selecting a trustee who will fulfill your wishes in a way that honors your life's work and blesses your loved ones in the way you intended.
Edward O'Hare of O'Hare Law 284-5000